Lavaliere microphones are commonly used by sports anchors, news reporters, conference
presenters, churches and more. They make a great option for podcasting on the go or
creating YouTube videos as well.
The microphone itself is well constructed and has an omnidirectional polar pattern, enabling
users to have more freedom of placement. The polar pattern also gives it idyllic natural
pronunciation, making it ideal for podcasts, interviews, meetings and general dictation. It has
good sensitivity and SNR, which ensures clear transmission.

It has a powerful and supportive clip system that is rotating and very easy to use, ensuring it
is quick and effortless to prepare for notification at a time. However, when facing two similar
products, it is difficult for users to make a choice.
So, in this article, I will introduce two kinds of lavalier microphones of maono brand,
hoping to help you select the suitable product.
Specification:
Transducer type: Electret Condenser
Polar Pattern: Omnidirectional
Frequency range: 50Hz to 18kHz
Sensitivity: -32dB+/-3dB/0dB=1V/Pa,1KHz
Signal/Noise: 74dB SPL
Output Impedance: 1000 Ohm or less
Output connection: 3.5mm(1/8 inch)4-pole gold plug
SKU: AU-100
Pros:
+ Good quality microphone.
+ Range of adapters.
+ Cheap and cheerful choice.
This is a very well-designed small collar clip type to provide a fairly professional level of
solutions to meet our requirements for modern life.
It features a standard 3.5mm jack connection, making it fully compatible with a wide range of
products. And this product has a built-in battery, easy to carry, for outdoor activities are very
convenient.
Purchase link:  https://www.maono.com/products/maono-lavalier-microphone-au-100/

SKU: AU-100R
Pros:
+ Widely compatible.
+ Extended functionality.
+ Value for money.
The AU-100R is an upgraded version of the AU-100. It provides the same functions as the
above microphones, and the price is almost the same.
One thing particularly good is that this AU-100R is rechargeable. If you are a
environmentalist, this product maybe suitable for you very much. This product is very
environmentally friendly, conducive to saving resources.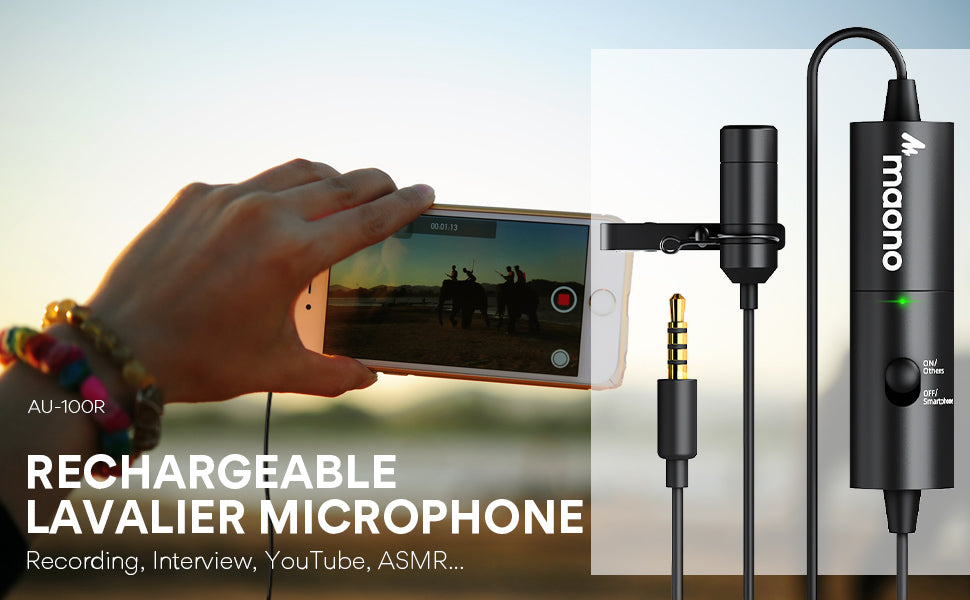 It is well integrated with a reinforced high-quality metal clip to help maintain a strong
connection, although the clip itself is detachable and shows greater flexibility in function.
It can be used for interview, social and audio-visual applications, and it has a laptop adapter.
Purchase link:  https://www.maono.com/products/rechargeable-lapel-microphone/