MAONOCASTER series of products have been well received and supported by global users in the field of personal use sound cards, especially in Western countries on Amazon and Southeast Asian countries on Lazada and other well-known e-commerce platforms, topping the BEST SELLER list.
AM200-S1 is a current hot-selling kit with complete functions, high playability and cost-effective performance. It is suitable for all kinds of singing, gaming, chatting, video recording (YouTube), live streaming (Facebook Live, Twitch) and other scenarios. First of all, let's get to know what real users say.
Here are 2 recent reviews of AM200-S1 by two video bloggers on YouTube.
Nelson, from the United States, sees it this way: AM200-S1 is a compact and portable podcast production studio. It is lightweight, so it can be carried on the road. The product has multiple interfaces; therefore, it can be connected to cell phones, computers, tablets and other devices at the same time. Due to the COVID-19, Maono does not want to raise the price of the product, so the outer packaging is smaller than the previous box, reducing some space. Maono got some feedback from consumers that they basically don't use three audio cables at the same time, and most of the users only use two audio cables at most. Therefore, Maono has reduced one audio cable in the latest product set. Maono has really listened to consumers' opinions. The microphone cable is of high quality. This product is great for novices. It is also a best choice for people who have never tried podcasting before.
Gonzalves, from Philippines, thinks it this way: If you are looking for some products to take your live streaming to a higher level, this product is definitely suitable for you. You can plug in three cameras or other devices so you can see yourself from different angles, which is amazing. The functions of AM200 are amazing. It's very straightforward to use and even a kid can quickly learn how to use this product.
It can accurately muffle and isolate noise when podcasters make a live broadcasting. Custom sound effects can be recorded and updated at any time. The newly upgraded electric sound touch button allows users to adjust the sound without the influence of noise. It supports four devices connected simultaneously to meet the needs of users with multiple accounts and multiple platforms for live streaming.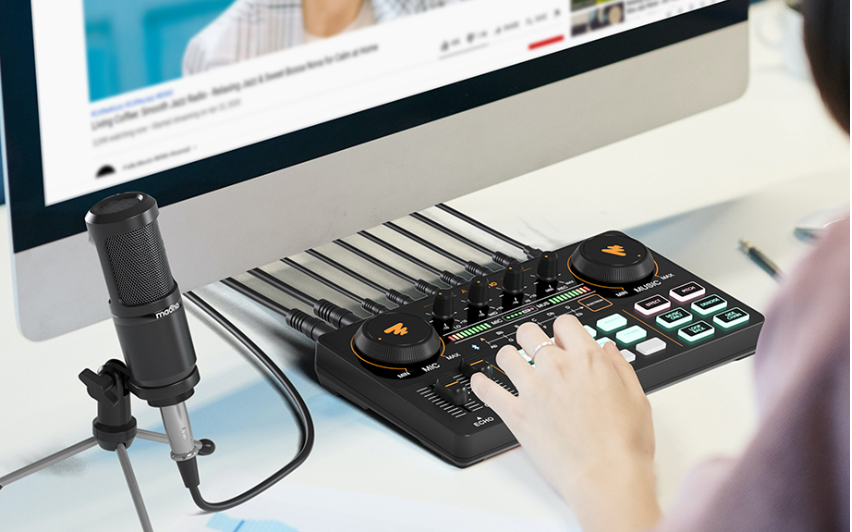 AM200-S1 is a cost-effective product. Its method of operation is intuitive and simple, so if you are a podcasting novice looking for the right product, why not try the AM200-S1?