Maono has always been ranked top in the list of USB microphones in the market and as the global best-selling microphone brand, we believe that no Gamers doesn't like the thrill of enjoying the game under RGB lighting and an environment without interruption. If you have tried the sound of DM20 Gaming USB Microphone, you will be pleasantly surprised by its' price and sound.
Most users express their impressive and happy with the DM30 microphone since its' Launch, and many suggestions are collected from users since the launch of DM30 as well, we decided to have the DM20 USB microphone for users who doesn't have much budget and would like to enjoy more functions of RGB gaming microphone . as both of the microphones are designed for gamers and with RGB light, may some customer feel confused about what are their differences and which one you should get. You will also find out in this article.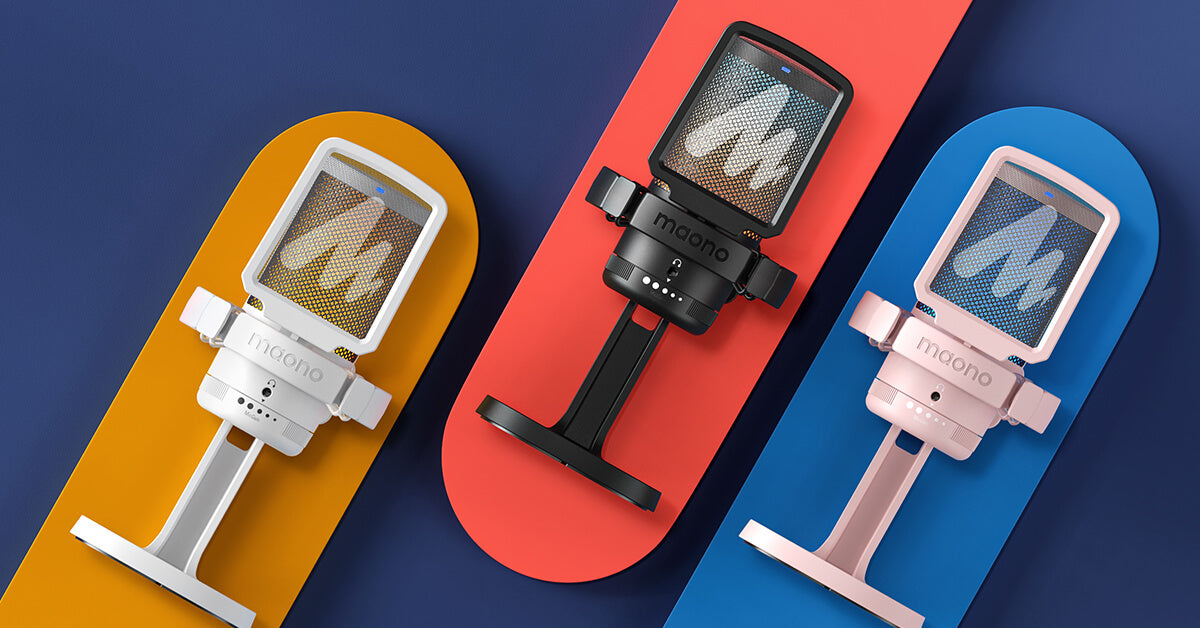 DM20 USB Microphone Main Features
A growing need for efficient, simple recording solution comes with the games market revenues growth, despite supply constraints, global economic challenges, and the return of non-home leisure spending. Maono developed the DM20 RGB USB gaming microphone to meet and exceed the expectations of users to improve their audio experience during gaming, streaming, chatting, and other online recording applications.

● A compact RGB USB Microphone
Featuring a compact size and adjustable RGB lights with stunning dynamic effects, the Maono DM20 USB microphone is ready to mark its space in your gaming setup by adding colorful characters and a classic look.

● Plug-and-play
To save your setting time, Maono offers plug-and-play design and all-in-one construction. You can use the microphone immediately when it is out of the box.

● Noise-canceling, one-button muting, mic gain control, and more
Maono DM20 USB Gaming microphone comes equipped with tap-to-mute, noise-canceling functionality, and easily-accessible gain control adjustment into its compact size. With all the functions, you can expect it to improve your communication during gaming, streaming, online chatting, and calls.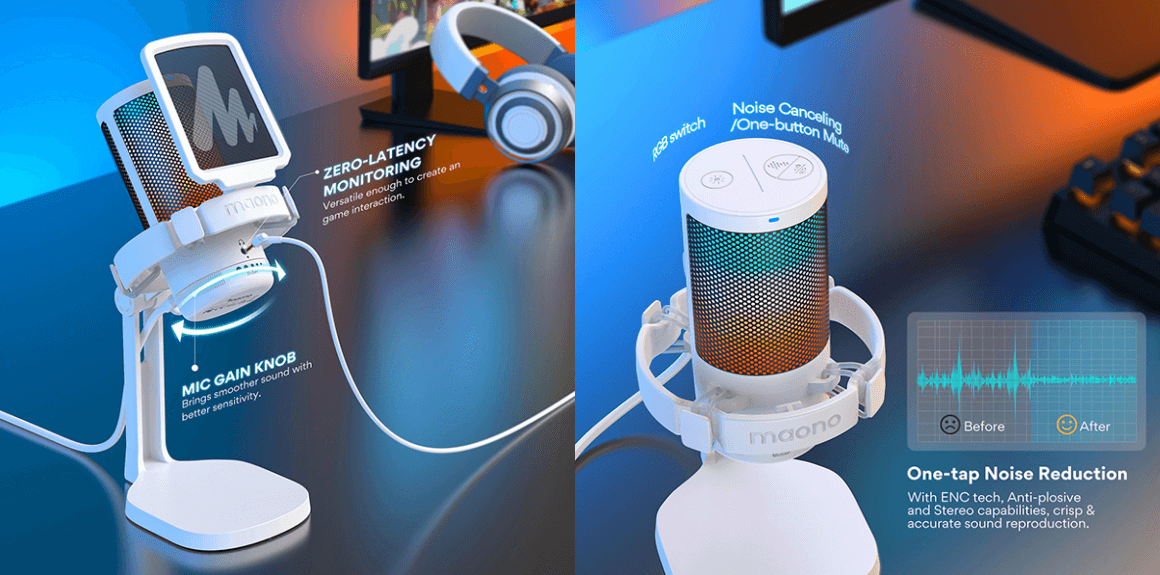 The DM20 microphone features a cardioid polar pattern, which is perfect for prioritizing sounds directly in front of it. Along with the noise-canceling function, the microphone is a capable gear that delivers clear audio. To activate the function, you just need to press a button on the top of the microphone.
DM20 & DM30 USB Microphone Comparision
Let's begin with the same advantages of both microphones first, both the DM20 and DM30 gaming microphone come with USB/USB-C ports, which are quite easy to plug & play and specially designed for all gamers, and you can easily record on a desktop or laptops by plugging the USB cable directly. Strong output, no distortion, low power consumption.

Secondly, Both of the microphones come with high sensitivity condenser microphone cores, pickup 24bit/48kHz high sampling rate, and are equipped with a Cardioid pattern with excellent off-axis noise suppression performance. and both of them have the one-click mute function as well. but the position is different.

Thirdly, Both of them feature 3.5mm headphone real-time monitor output, so you can feel reliable playing with headphones if you want.

I believe that no gamer doesn't like enjoying the excitement and delightful come from the RGB lighting atmosphere, don't worry, no matter which microphone you select, both of them will be your favorite.
What Are the Main Differences?
Compare to the DM30 microphone, DM20 comes with a special unique out-looking design different from other kinds of Maono microphones, and comes with the pop filter itself,

Also, as mentioned previously, both the DM20 and DM30 microphones come with RGB lighting, the difference is that the DM2 also featured an RGB switch button on the top to allow you to easily turn off the ambient light on and off anytime you want.

The position where the microphone gains control is different, DM30's microphone gain control button is on the front of the microphone while DM20's is set under the microphone. so as the noise canceling mute button, DM20's button now is set on the top of the microphone while DM3 features the same click-mute function on the same knob button.

Also, DM20 can not be used with Maono link software while DM30 is compatible with the Maono-link software, which provides mic gain, headphone volume, mic tone, RGB lighting customization, equalizer, limiter, compressor, and more. if you care to have more functions, we recommend you to get the DM30 microphone.

How about the price?DM20's price is $39.99, which will be a bit cheaper than $49.99. now DM20 is on pre-sale and there will be $5 off, you can get it at $35.99 only here.
Which Microphone Should I Get?
In fact, the prices of these two microphones are not much different, and they are both suitable for beginner gamers. It depends on what functions and designs you like. Our DM30 has been favored by gamers in terms of functional design and price since its' launch. The DM20 USB microphone has a brand-new unique appearance design, controllable RGB effect, and one-button mute function that are also quite special, and different from the DM30, which makes it also a very worthwhile RGB arsenal tat deserves to have.
No gaming setup is complete without the right microphone, the easy-to-use DM20 gaming microphone will make audio capturing more fluent. Thanks to its quality build and multiple functions, Maono DM20 stands out among entry-level USB gaming microphones in the same price range by serving up an immersive audio experience.