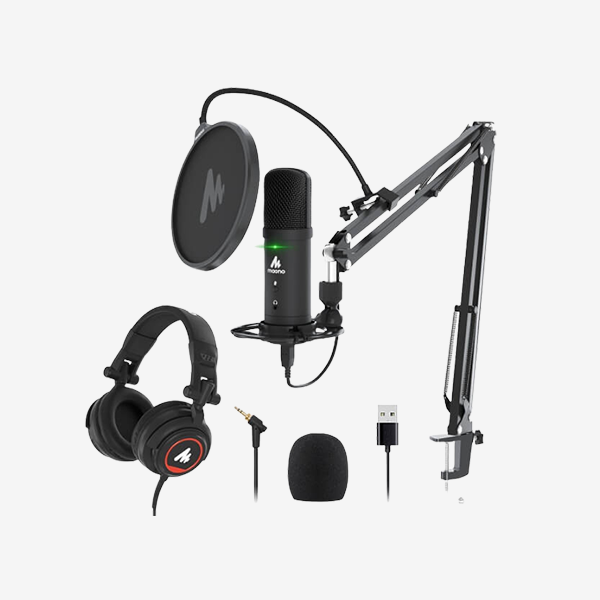 MAONO PM401 Plug & Play Monitoring USB Microphone
The PM401 easy-to-use USB microphone.it's the perfect microphone for gamers, podcasters, musicians, streamers.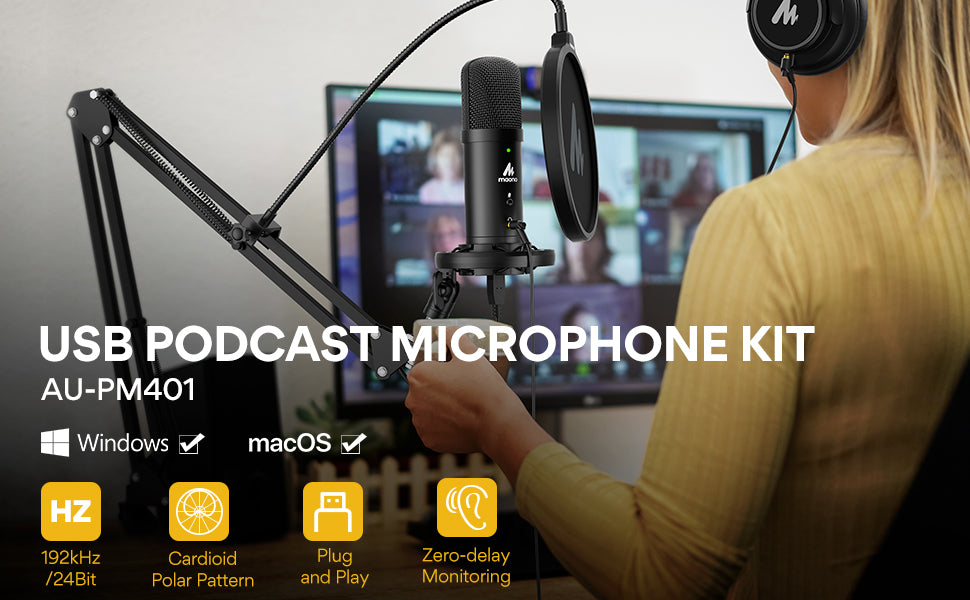 Since MAONO launched the basic microphone, it has been loved by users. In 2019, we released an upgraded version of the AU-PM401USB Microphone Kit.
The condenser microphone can realize real-time monitoring and has a mute button. You can adjust the recording status at any time as needed. This mic will bring you a better experience.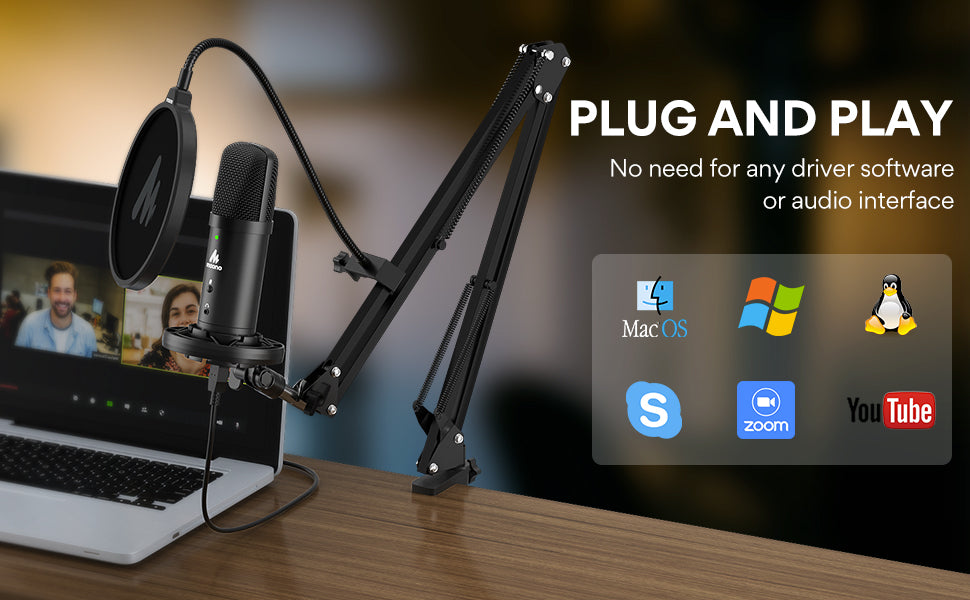 MAONO PM401 USB Condenser Microphone has been designed with Dia.16MM mic capsule and professional sound chipset, which let the USB microphone hold a high-resolution sampling rate. The podcaster microphone picks up sounds of different frequencies very well. Reproduce your sound perfectly to prevent distortion. Cardioid pick-up can effectively reduce background noise interferences to ensure you can record more perfect recordings. Perfect for project/home-studio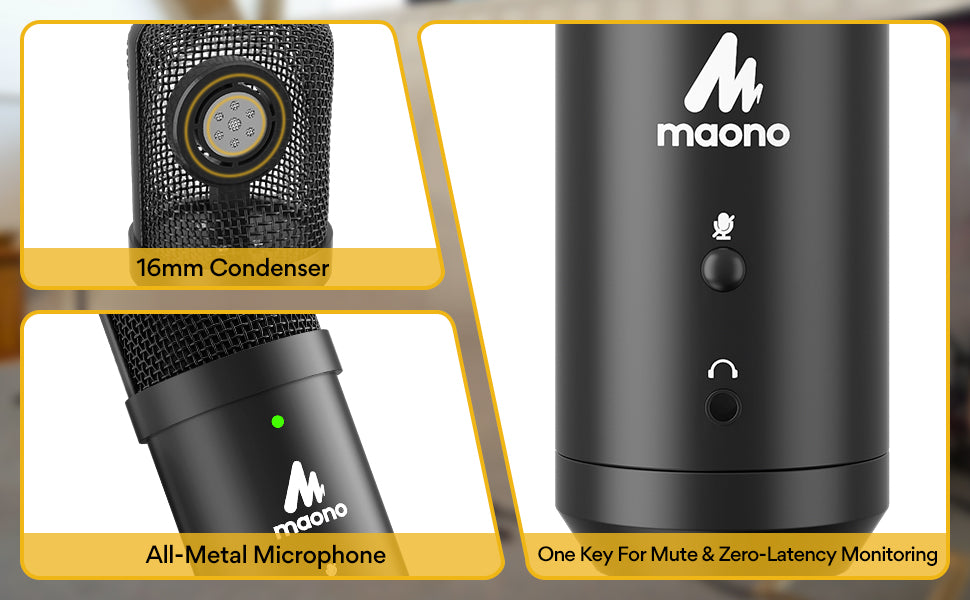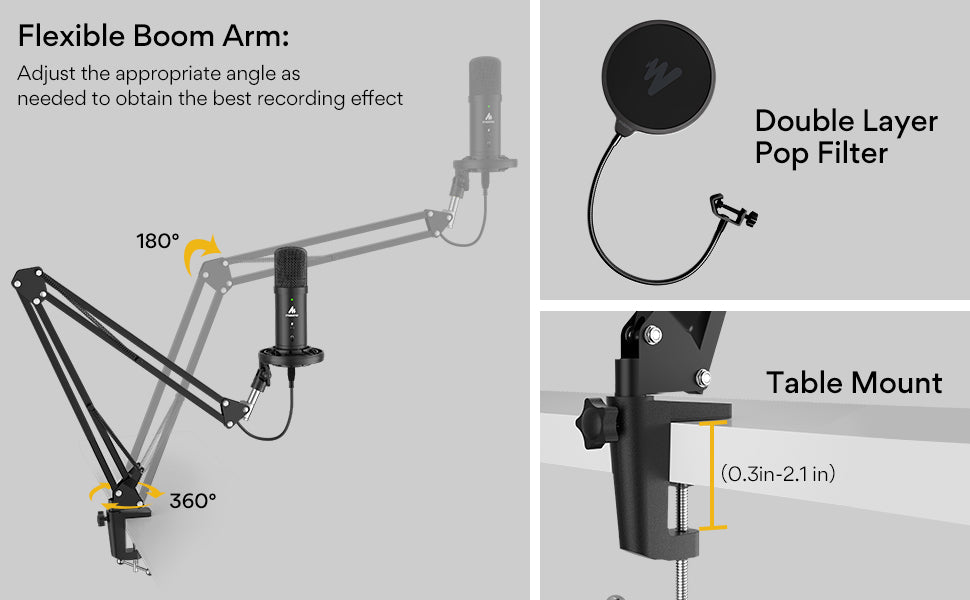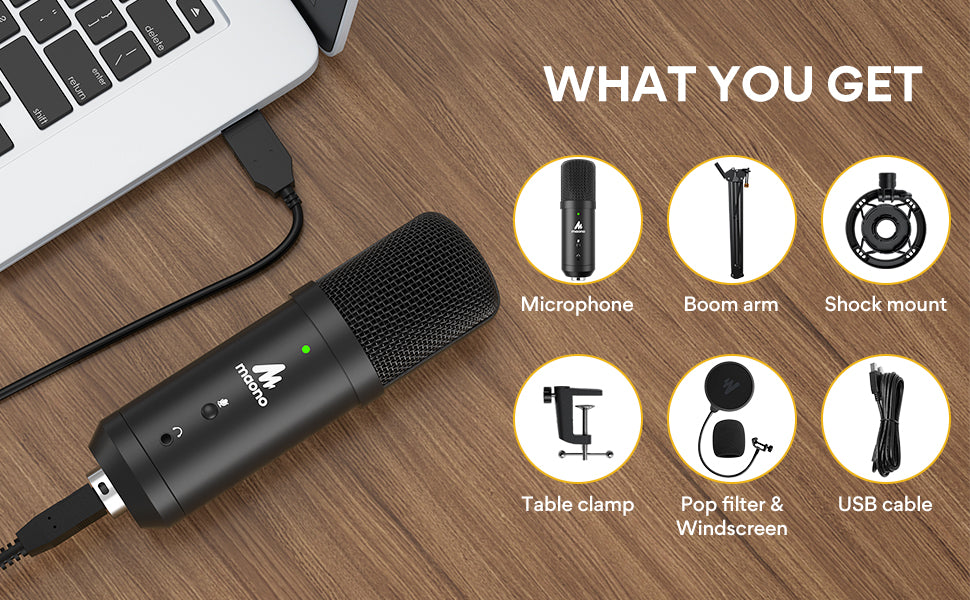 Specification
| | |
| --- | --- |
| Microphone-core | Dia.16mm Condenser |
| Polar Pattern | Cardioid |
| Frequency Response | 20Hz-20kHz |
| Sensitivity | -13.2dBFS ±3dBFS (94dB SPL @ 1kHz) |
| Maximum SPL | 120dB |
| S/N Ratio | 70dB |
| Working Electrical Current | <50mA |
| Working Voltage | 5V |
| LED Indicator Light | Available (Mute:Red; Unmute:Green) |
| Mute function | Available |
| Monitor function | Available |
● ONE-KEY MUTE BUTTON AND 3.5MM MONITORING JACK
The PM401 USB microphone has Quickly mute/unmute, which can indicate when the podcast microphone is active to speak. The built-in LED indicator tells you about the working status(Green Light: Working, Red Light: Mute). Powerful headphone jack feature for zero-latency monitoring. Perfect for streaming, recording, podcasting, gaming, youtube, zoom meeting, and so on

● UPGRADE USB CONDENSER MICROPHONE 192KHZ/24BIT
MAONO PM401 USB Microphone kit has been designed with a Dia.16MM mic capsule and professional sound chipset, which let the USB microphone hold a high-resolution sampling rate. The microphone picks up sounds of different frequencies very well. Reproduce your sound perfectly to prevent distortion

● PLUG AND PLAY
Compatible with Mac, PS4, and Windows PC laptop. No need for extra driver software, and no need for an external sound card, You only need to set the microphone as the default input device for your computer. You can instantly start recording and streaming with this USB microphone. (◆◆Incompatible with Xbox◆◆)

● CARDIOID POLAR PATTERN
The cardioid pickup pattern picks up the sound directly in front of the microphone, effectively reducing the interference of noise from other directions. Ensure you record clearer and crisper sounds. Perfect for project/home studio

● ALL IN ONE STREAMING MICROPHONE KIT
The arms stand prevents the microphone from accidental dropping, noise generation, and shaking. A metal shock mount holds the computer microphone steady, which avoids the adverse effects of constant movement and vibrations. It has a table mounting clamp and protective layers of sponge. An adjustable positioning screw can easily clip on any desktop with a thickness of 2". Pop filter and foam windscreen remove the rush of air caused by vocal plosives

● PACKAGE LIST AND 12-MONTH WARRANTY
1x USB Condenser Microphone, 1x Adjustable Scissor Arm Stand, 1x Metal Shock Mount, 1x Pop Filte, 1x Foam Mic Windscreen, 1x Table Mounting Clamp, 1x USB-B to USB-A Cable. MAONO products provide a 12-Month warranty to ensure a better shopping experience
● Question: Does this USB mic work for MacBook and audacity?
• Answer: Yes, it's plug and play, no need for extra driver software, and no need for an external sound card, You only need to set the microphone as the default input device for your computer. High compatible with Windows, MAC OS, and PS4.

● Question: Does this product come with headphones?
• Answer: No, you better off getting a good pair of headphones anyway.

● Question: What's the difference in the sampling Rate between 192khz/24bit and 96khz/24bit?
• Answer: If the sampling rate of the USB microphone is 192khz/24bit. It can provide you with a clear, smooth, flat response of voice.

● Question: Is the stand plastic or metal?
• Answer: The metal shock mount and the shock mount holds the microphone steady with a damping function.

● Question: Is the cord USB or headphone jack? Can this mic compatible with windows 10?
• Answer: It has a 3.5mm TRS Audio Jack: Extending a 3.5mm TRS audio jack can help you quickly hear the recordings, You don't need to listen to the recording through the computer or the player. And it provides USB-B to USB-A Cable and a 3.5mm to 6.35mm Adapter.
it has wide compatibility, plug, and play. Not need to download any driver software, You only need to set the microphone as the default input device for your computer. Perfect compatible with PC, Windows, and MAC systems, PS4