In the past weeks, 266 backers have pledged US$42,796 for Maono PD400X Dynamic Microphone Kickstarter project. We are so excited to receive some feedback from users on Kickstarter. One user name Richard Cartwright is very nice saying that her sister is a hopeful YouTube creator. I really hope u guys have a great product here. And looking forward the product.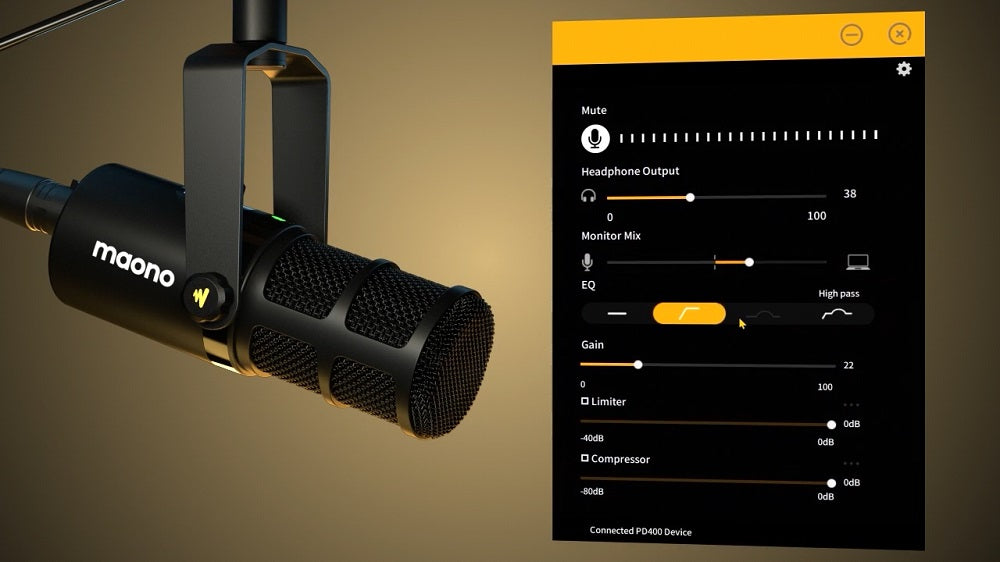 Here are also some questions coming from our users, let's take a quick check what they are talking about?
1. Is Maono PD400X both a dynamic and condenser microphone depending on how you hook it up?
Answer: PD400X is a dynamic microphone with XLR and USB outputs. Compared to other dynamic XLR microphones or dynamic USB microphones, the dual outputs design of the Maono PD400X microphone provides more flexibility and functionality.
2.Can XLR and USB ports be used at the same time?
Answer: Yes. Both of XLR and USB can be used at the same time you want.
3.What are its construction components?
Answer: Maono PD400X dynamic microphone body is made from zinc alloy.
4.Are there any options for 2 or 3 mic bundles? I don't want to miss out on savings if I want to get more than one
Answer: Yes, there are three available bundles including one Maono PD400X for US$159, Maono PD400X DUO for US$288, and Maono PD400X TRIO for US$427.
5.Do I have to install the Maono Link to use the microphone?
Answer: No. You can use the Maono PD400X cardioid microphone without Maono Link. Maono Link allows you to experience more advanced audio processing features.
Maono Link- Brings Advanced Audio Processing Features to Maono PD400X
As PD400X's release, Maono-Link software comes close to users' eyes as well. With the emergence of PD400X, Maono Link, a simple and easy-to-use software, has caught the eyes of creators as well. The birth of Maono-link, also the first software of Maono, symbolizes that Maono has officially entered the product field of combination of software and hardware. PD400X, also the first microphone used with Maono link software, its function upgrade will be more distinctive and powerful than previous Maono microphones,  Now let's take a short look at how this software is different.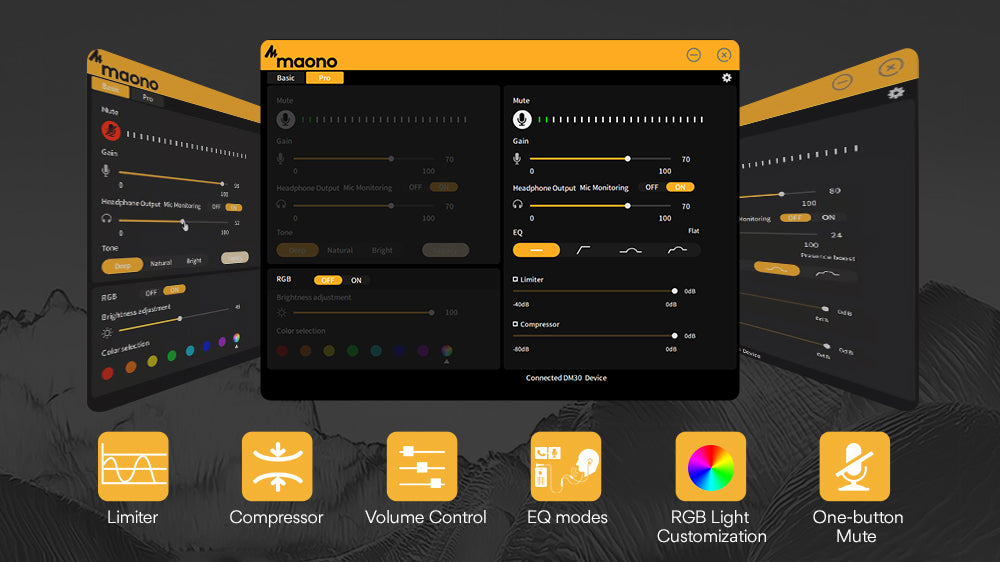 As the first kind of Maono software, Compared with other kinds of software, Maono link is more simple and easy to use, as considering that some users are newbies to the dynamic microphones, it will be easy for users to understand and control the function of the microphone. It is available for both Windows 7 or later and macOS 10.14 or later. The standard version of Maono Link can be used to control Maono PD400X dynamic microphone, also our upcoming microphones like Maono DM30 condenser microphone, and more Maono microphones in the future.
After connecting Maono PD400X XLR/USB microphone to a computer via USB cable and starting Maono Link software, you will see some standard features, such as mute, headphone volume, mic gain level, and RGB on/off. These standard features are also available via physical button/knob control. The convenience of adjusting microphones saves your efforts to reach hands to microphones when you are creating content via a computer.
What's more, Maono Link Desktop software provides advanced features to fully unlock the hardware potential of Maono PD400X. Such as EQ options, limiter, and compressor to satisfy a specific need.
The EQ options offer four types of audio filters, including flat filter, high-pass filter, presence boost filter, and lastly, high-pass filter and presence boost filter. You can use high-pass filters for removing rumble and other noise from instruments, in another word, high-pass filters allow us to make cleaner, tighter mixes. The presence boost effect can help vocals cut through noisy environments and dense audio mixes. The compressor works by attenuating the loudest parts of the signal and boosting the result.
After compression, the quieter signal is more apparent since the dynamic range has been reduced. A limiter turns down the volume of a sound more strongly than a compressor does. Whether you are using the microphone for gaming or using the microphone for the podcast, applying these features will make your recording more professional and gives you more confidence.
Maono Link marks Maono's first step in developing hardware products as well as smart software. With Maono's continuous efforts on developing functional audio products, users will experience greater satisfaction.
Why Maono Launched PD400X Kickstarter Project
In 2020, Maono launched Maonocaster project in Kickstarter. Thanks to backers' great suggestions on the product, we were able to improve Maonocaster before mass production.
We are devoted to developing great microphones for content creators and we value constructive opinions from users,so recently we launched the Maono PD400X Dynamic Podcast Microphone project to let Maono supporters participate in the creation process. The product is already one of the best dynamic microphone, but we want to improve it by listening directly to users and improving the microphone as much as possible.
Maono will always committed to becoming a global leading brand of Internet audio products that deliver a pleasant sound experience. With the mission of making the world's best microphones and audio products, we will continue to work hard and never give up.
The Maono PD400X dynamic podcast microphone is built to satisfy content creators' need for a multi-functional XLR/USB dynamic microphone. Audio processing is made easy with the features in the Maono Link desktop software.PD400X now is available on our Kickstarter, Why not grab to chance and be the first one to try out the PD400X microphone Now.