Maono dynamic microphone PD400X is a broadcast-grade microphone specially designed for podcasting, gaming, streaming, and other voice-based applications. The microphone features high-performance XLR/USB-C outputs and professional-level functions at an accessible price, making it an ideal choice for content creators, whether you are looking for a microphone for streaming, or a microphone for recording. and the PD400X mic recently will be launched on Kickstarter, Let's move on for more details about it.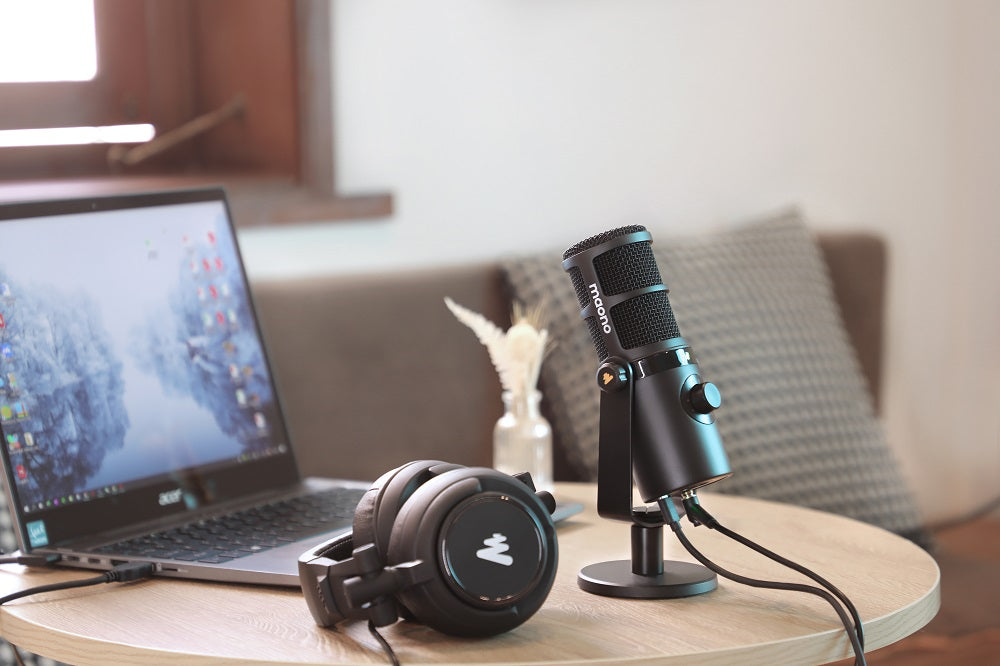 Microphone Market Analysis
Unlike condenser microphones, dynamic microphones are less sensitive to sound, quite durable and do not require external power. Most stage microphones use dynamic capsules because a dynamic microphone is better for capturing loud sounds, like drums or loud vocals, particularly in a live stage. Singers and other performers prefer to use a dynamic cardioid microphone on stages to deliver best show to audiences.
Most of the best dynamic microphone have an XLR output instead of a USB output. To get enough gain, you will need to connect an XLR dynamic microphone to an expensive, high-performance audio interface, or the mic level will be too low to be heard.
You may often use a USB condenser microphone because it is quite affordable, requiring no digital audio interface to connect it to a computer, cutting down on the expense. Plug the condenser mic into the USB port on your computer, and then you can start recording.
Without having to consider phantom power source is also one of the advantages of a USB microphone, which cuts down on the amount of gear you have to use when you are gaming or podcasting.
However, you may gradually realized that it is also great to use a USB dynamic microphone for gaming, as dynamic microphones usually sound warm and features less proximity effect. What's more, it is less sensitive to noises such as mouse clicking, keyboard clicking, or appliance electrical hisses.
USB dynamic microphones packed advantages of USB microphones and dynamic capsule. As a creative complex, it will allow you to enjoy more recording pleasure.
Why Maono Develops PD400X Dynamic Microphone?
After understanding the great needs for the best dynamic USB microphone at a budge-friendly price, Maono developed the dynamic microphone PD400X, an XLR/USB broadcast-grade microphone with a classic look, high performance, and functional features that can be accessed via microphone physical knob as well as the companion software Maono-Link.
The dual connectivities design offers great conveniences to creators who want to use it both on a PC/Mac or on traditional audio mixer/interface. Also it saves the initial investments in gears for vloggers, streamers, and podcasters who need flexible setups. 
In addition to dynamic microphones' great audio performance, Maono supercharged PD400X with various of audio processing features on USB mode.
PD400X- An excellent XLR/USB Dynamic Microphone
Microphones with dual outputs can mean great conveniences to gamers and podcasters, now such a dynamic microphone at an affordable price can rarely be found in the market.
Maono PD400X XLR/USB connectivities system allows you to connect the microphone to computers, phones, tablets, or audio mixers like Maonocaster AME2. It is a XLR microphone as well as USB microphone. The great compatibility and professional-level audio it offers will take your gaming and podcasting to next level.
Maono offers a companion software Maono Link to elevate your content-creating experience. Aside from basic functions available via the microphone physical knob, the software offers settings like limiter, EQ, tone, compressor, etc. The functions are free, which saves you the money to purchase expensive audio software or audio interface.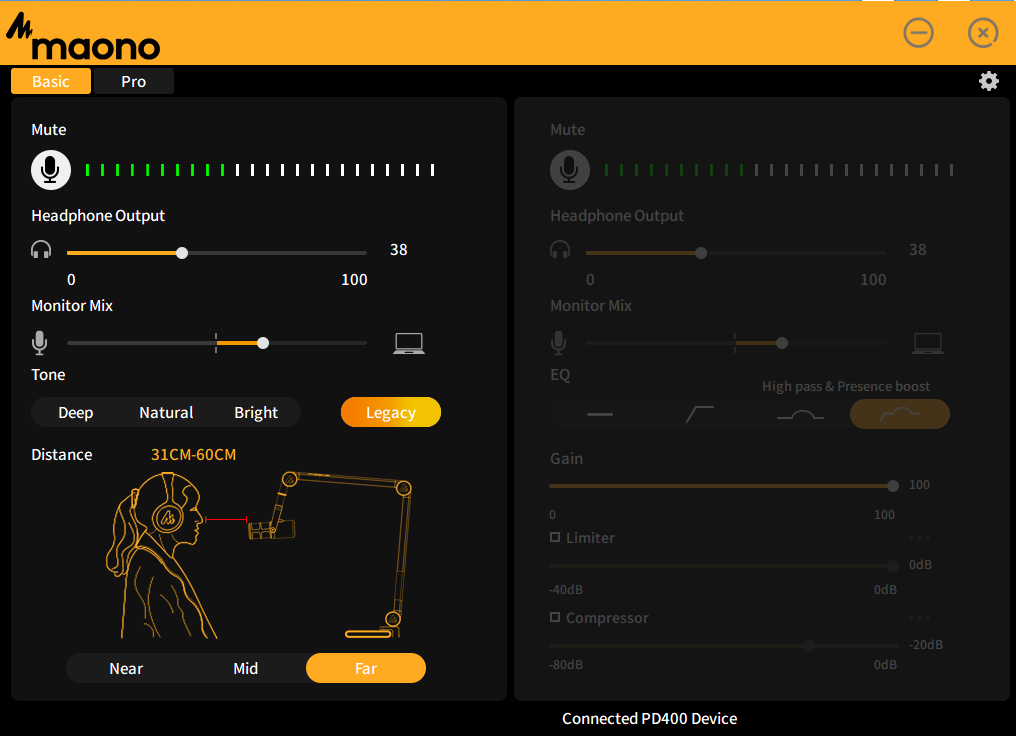 Maono Link is available for both Windows 7 or later and macOS 10.14 or later. To download the software, please go to Maono download page.
Maono PD400X focus on your voice while rejecting noises of loud hums of computer, air conditioner, and other ambient nonsense. For it is a cardioid polar pattern microphone, which is most sensitive to sound coming from the front, less sensitive to sound from the sides, and sound from the rear is greatly rejected. In addition, the dynamic capsule makes Maono PD400X less sensitive to noises.

On the microphone central, there is a 3-in-1 knob offering controls on microphone gain, headphone volume, monitor mix. Tapping the knob will easily mute microphone, which means during gaming or podcasting, less clicking will be recorded.

Maono PD400X has a robust construction delivering durability and includes a metal base. It can fit 3/8-inch and 5/8-inch threaded podcasting or gaming setups.
During podcasting or gaming, even your room is acoustically untreated, the microphone's great noise rejection performance can ensure clear capture of your vocal. In which way, you can focus on content without worrying about the audio clarity issue.
Maono monitor mix function can help you to adjust microphone recording volume and computer audio volume separately. In most of USB microphones, you can only adjust the recording audio and background music volume at the same time.
Via Maono PD400X's 3-in-1 digital knob, If you want to lower down the computer background audio volume and emphasize microphone recording, just turning the knob to lower down computer audio volume.

Combined with the Maono Link features such as Tone, EQ, Compressor and more, Maono Dynamic Microphone PD400X will gives you an enjoyable recording experience.

Maono Link features can be applied to satisfy a specific need, whether to avoid audio distortion, reduce low-frequency noise, or enhance audio. You can have precise control over audio recording, delivering best audio to your audience.
For example, the EQ Adjustment offers four types of audio filters. An audio filter means a barrier is placed over the track so that only certain frequencies can pass through. The four filters available in Maono Link includes flat filter, high-pass filter, presence boost filter, lastly, high-pass filter and presence boost filter.
As a podcaster who need a perfect microphone for podcast, you may need to slightly adjust voice tone to a bright one or deep one, reduce the low-frequency noises or just want a original voice. Clicking the feature buttons on Maono Link will easily meet your needs.
Maono is about to launch a Kickstarter campaign for Dynamic Microphone PD400X, don't forget to subscribe to Maono and get notified of the latest launching news and early-bird price of PD400X.