Don't rely on the wimpy mic built into your phone or laptop. Depending on your budget and needs, here's how to pick the best USB microphone for conferences, podcasting, or recording music.
1. 

Maono AU903

- Best Desktop Budget USB Microphone for Zoom Meeting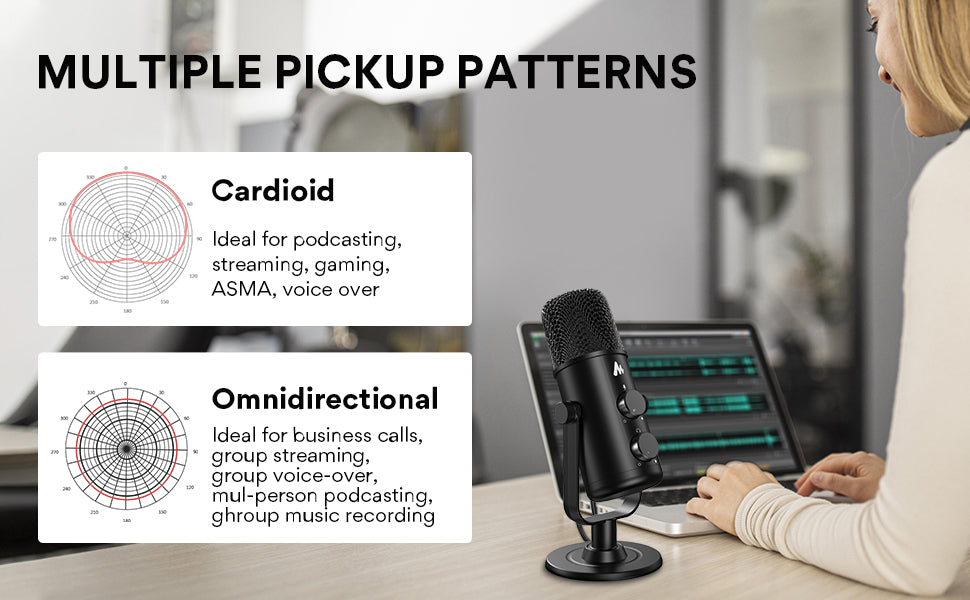 With two Selectable Polar Patterns: Cardioid polar patterns can reduce noise effectively. The omnidirectional pickup mode is more suitable for multi-person use. Two polar patterns bring you different recording experiences. The user can change the microphone pickup mode with the polarity switch on the back.
Clear Recording: Condenser Microphone Frequency Response: 20Hz ~ 20KHz, Sampling Rate: 48kHz/16bit Microphone plug and play. It can reproduce your wonderful sound perfectly, especially suitable for vocals.
HIGHLIGHTS
Excellent Sound Quality
Headphone Monitoring and Quick Audio Controls
Quick Mute Control with Led Indicator
Plug and Play
Easy Installation and Versatility
Recommend Videos for You...

2. Maono PM421T - Best Desktop Budget USB Microphone for Computer

 The PM421 With a good cardioid polar pickup pattern, high output and low self-noise function, the USB microphone can accurately reproduce even the most subtle sound.

This computer microphone is suitable especially for studios, recording, broadcasting, podcasting, meeting and gaming etc.

Whether you need a mic to voice call from home or you need to record outdoors on your phone or computer.
HIGHLIGHTS
One-touch Key Mute
Mic Gain Knob
Clear and Warmth Audio
Cardioid Pickup
Plug and Play
Premium Arm Stand Set
Recommend Videos for You...
3. Maono BM10 -Best Desktop Budget USB Microphone for Conference
  It is not a Speaker or Speakerphone, it is a condenser microphone. Updated version table microphone with mute function, you just need to touch the mute button slightly when you don't want to record your voice, and the indicator light will turn to red. Also mute doesn't mean pause recording.
Easy to set up, it can be automatically identified after plugging into your computer or other devices. You don't need to download other drivers to run it. Please remember to set this microphone as Default Device on the sound setting of your computer
Recommend Videos for You...