A lavalier microphone, also known as a lapel microphone, clip-on microphone, lapel microphone and neck microphone, is a miniature microphone that is usually worn on a performer or interviewer. A lavalier microphone allows the speaker to move appropriately during the performance without interfering with the pickup of the human voice, unlike a directional overhead microphone that must be kept square and not far from the front of the device.
Lavaliere microphones are commonly used by sports anchors, news reporters, conference presenters, churches and more. They make a great option for podcasting on the go or creating YouTube videos as well. 
This article will discuss what a lavalier microphone is, how it works, and how to choose the right lav mic for you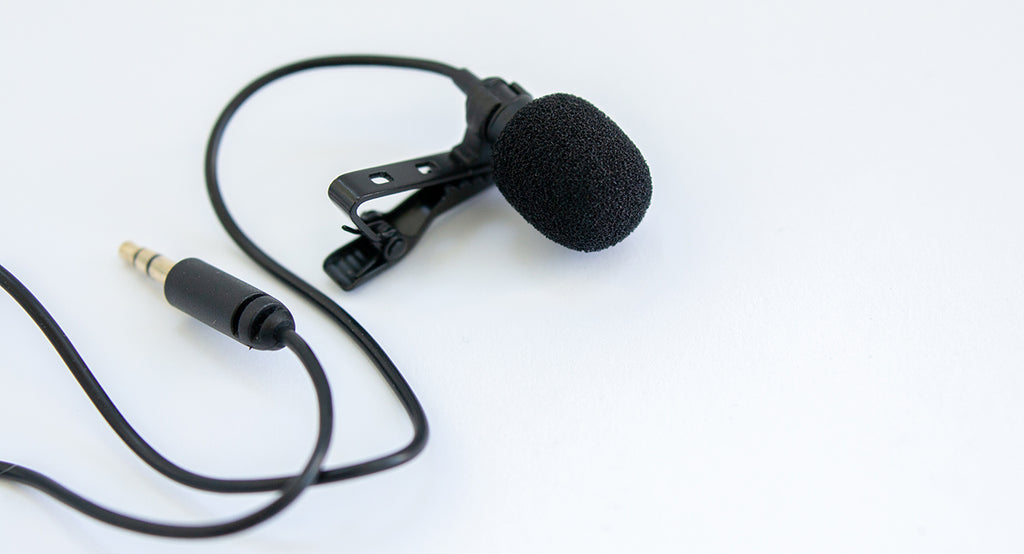 What Is A Lavalier Microphone?
Lavalier microphones are very small microphones that can be attached directly to the actor's body or clothing. They come in both wired and wireless types and are designed to be self-contained and lightweight. A wired lav may restrict the actor's movement, but a wireless lav mic requires only a small transmitter package that is usually clipped to the actor's belt or placed in their pocket.

A wireless lavalier microphone transmits its audio feed via RF directly to a receiver that the mixer can control and adjust. There are lavalier microphones on the market of varying quality, but the best choice will produce audio comparable to that of a standard boom microphone.
Pros and Cons of Lav Mics
Pros:Clip on your shirt and follow your subject, perfect for interviews. Very convenient for you to use on the go.
Cons:Noise on the shirt, possibly distracting background noise that can be seen on the camera, and sometimes connection issues.
How to Use Lavalier Microhpne?
Most good quality lav microphones have a clip that attaches to the microphone lead.

Depending on the clothing being worn, you can.
If there is a collar, you can clip the microphone to the edge of the collar and usually, you will align the microphone capsule to your sternum (in other words, facing inward). Facing down is fine, as it will reduce the possibility of bursting sounds.
If there is no collar to clip the mic to, you can always hold a bit of fabric with two fingers and clip the mic to it.
How to Choose the Correct Lavalier Microphone?
1. Maono WM820 A1/A2 Wrieless Lavalier Microphone - Prefect for Youtuber
The Maono WM820 A1/A2 Wireless microphone is an ultra-compact and extremely versatile wireless microphone system consisting of a receiver and transmitters. Universal compatibility with cameras, mobile devices and computers, extended range (164ft line of sight), and improved transmission stability.

Maono-Professional Audio Innovation
With vast combined experience & excellent abilities in electrical engineering, industrial design, software engineering, we design and manufacture the best quality audio products in house, sell directly to end-users
Highlight
2s auto pairing, plug and play

Ultra-compact wireless audio

2.4GHz digital transmission, crystal-clear audio at up to 164ft, optimized for extremely stable operation in dense RF environments

Built-in Omni mics and external lavalier microphone, meet the needs of different scenarios

Fine mic adjustment for easier audio post-editing

Professional audio chip for clear and natural sound
Recommend Video for You...

2. Maono WM820 B2 Wrieless Lavalier Microphone - Prefect for iPhone
Sometimes we need the freedom of cable-free recording, but that doesn't mean we need to sacrifice audio quality. Maono WM820 B2 wireless microphones allow us to record incredible audio without limitations when you're on stage, on set, or in the field.

The Maono Wireless Microphone is an ultra-compact and extremely versatile wireless microphone system consisting of a receiver and transmitters. Maono WM820 B2 has passed Apple MFi certification. It offers the best performance and maximum compatibility on Apple iOS devices.

What's the difference between Maono wireless and another brand wireless microphones?
1. MFi Certified
The Maono has passed this certification with strong R&D and manufacturing strength.
2. Excellent Performance and Maximum Compatibility on Apple
No pop-ups; real plug and play, no damage to your devices. Don't worry about not working after iOS system update
3. Good Sound Quality
Maono WM820 B2 wireless mics use a high-class professional audio chip providing intelligent noise reduction. The S/N(SIGNAL-NOISE RATIO) is 82dB(82db S/N Ratio). which is suitable for capturing every audio detail.
3. Maono AU100R Lavalier Microphone 
The AU100R lavalier microphone is a universal lavalier microphone, which compatible with smartphones, PC, cameras, Mixer, DSLR and other recording devices, etc
Low handling noise, High-quality condenser is ideal for video use
Built-in rechargeable battery to make it available for over 90 hours working time, charging cable is included
LED Indicator of Battery Capacity, avoid embarrassment without electricity
"OFF" is for smartphone mode, ON" is for DSLR camera mode, 3.5mm to 6.35mm adapter is included too to meet your more needs
So there you have it! A crash course in lavalier microphones. No matter the size of your production or budget, don't neglect sound. Everything we've covered here today is affordable and will help boost the overall production value of your next project.