A good podcaster may also be proficient not only in creation but also in video post-editing and promotion. Time is always too limited to distribute on each part. How to separate your time to achieve the best? It would be a wise choice to choose a correct tool--All-in-One Podcast Studio for Recording and let it do its part while you could focus on your creation.
Top 1 - Maonocaster AM100 is that tool which could save you from the hard situation
Maonocaster AM100 audio mixer is designed with the intention to simplify the way to start podcasting anywhere and anytime for those who are into streaming and podcasting.
MAONOCASTER AM100 is exactly what you need when you want to get your podcast, radio shows, or Twitch streams off the ground easily but are not sure what gear to buy. It is so easy and intuitive to use that you can jump headfirst into podcasting within minutes, and focus on providing valued content and interacting with your audiences rather than being distracted by the complicated operations.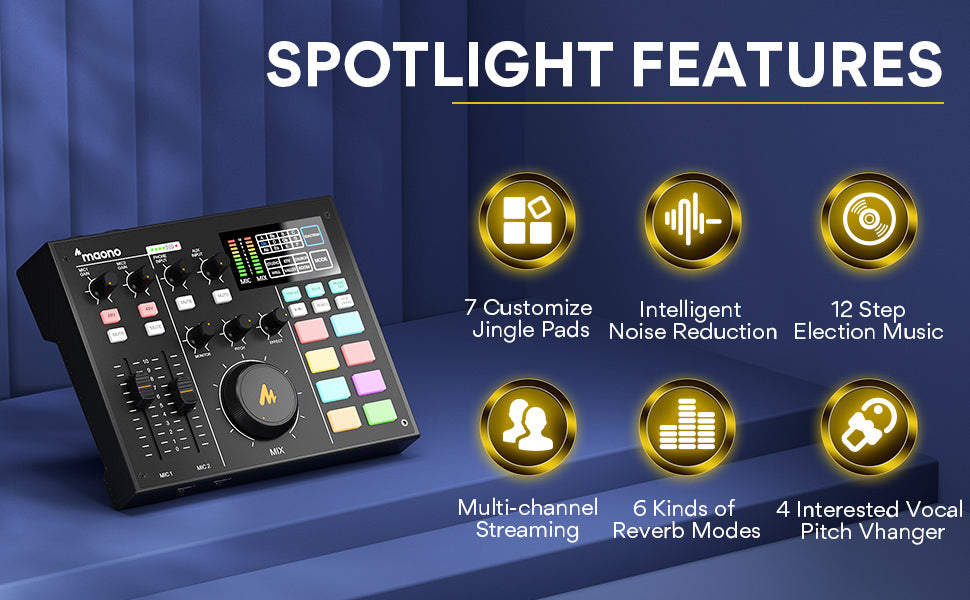 Its sturdy structure is built to last, and the durable aluminum-alloy enclosure not only looks and feels elegant but also acts as RF shielding to keep your podcasts away from unwanted noise coupling in the environment.
RECOMMENDED VIDEOS FOR YOU...
Top 2 - Maonocaster AME2 is that tool which could save you from the hard situation
The story behind the MAONOCASTER AME2 Podcast Mixer:
After shipping over 200,000 units of Maonocaster Lite to over 50 markets around the world, we are now launching the successor MaonoCaster AME2 series podcast console. It is an all-new product with a brand new design, substantial performance improvements, and new features. We also improved user experiences and fixed glitches based on valuable customer feedback.
MaonoCaster AME2 kept every feature that our users loved and we have also added XLR microphone support on top of it. It has built-in phantom power and premium microphone amps with a gain switch. You can use any of your favorite XLR condenser or dynamic microphone and record ultra-clear sound with it.
RECOMMENDED VIDEOS FOR YOU...
Top 3 - Maonocaster Lite is that tool which could save you from the hard situation.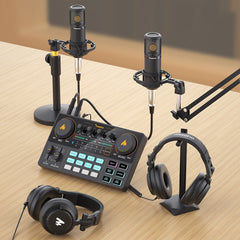 Make podcast easier for solo & partner podcasters
It offers great convenience to solo podcaster as well as partners podcasters for its jack access to/ it supports dual microphones. What's more surprisingly, even though your partner or you guest is thousand miles apart from you, you could still have their voice clearly recorded into the episode in call by connecting your phone with monocaster lite via companion music jack. It greatly improves the audio quality and makes long-distance interview easier.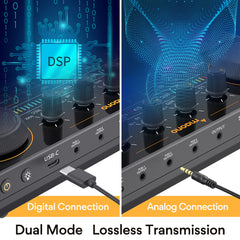 Capture clear sound and nuance of it
There is no doubt that sound quality really matters in podcast regardless of the great creation of mind. Obviously, it's one of a reason why we need soundcard. Compared with Maonocaster, Maonocaster lite has more compatibility in both microphone and system. It is compatible to Window and MAC OS system, and supports both XLR microphone and microphone with 3.5mm plug. Maonocaster lite has built-in driver and advanced noise-cancelling algorithm to reduce ambient noise and produces a crystal-clear sound, which help avoid the process of the post-editing.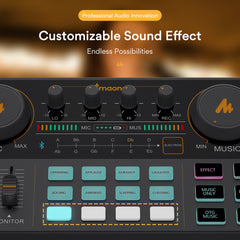 Add more flavor with fun to your podcast
But the best of all, it not only output clear sound but also be able to process your sound to get a specific effect, such as rotate the knob at the top the machine to emphasize different part of your voice. Besides that, the pitch changers add more fun to you podcast.
MAONOCASTER Lite comes with 6 vocal FX (pitch, effect, denoice, sidechain, PK, music only) preset buttons, 8 sound FX (opening, applause, gunshot, laughter, booming, awkward, slapping and cheering) preset pads, and 4 programmable pads to upload your own sound FX or jingles. Instant playback of infinite custom vocal and sound effects make your podcasts more entertaining to your audiences.
By enabling the Side Chain button, it will help your vocals automatically cut through over the music when podcasting.
By pressing the Music Only button, you can effortlessly fade the vocals in any song, leaving only the background music for you to sing along in podcasts.