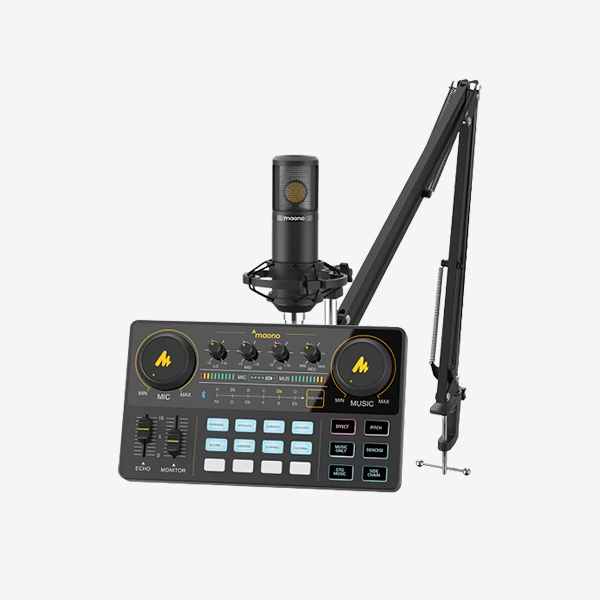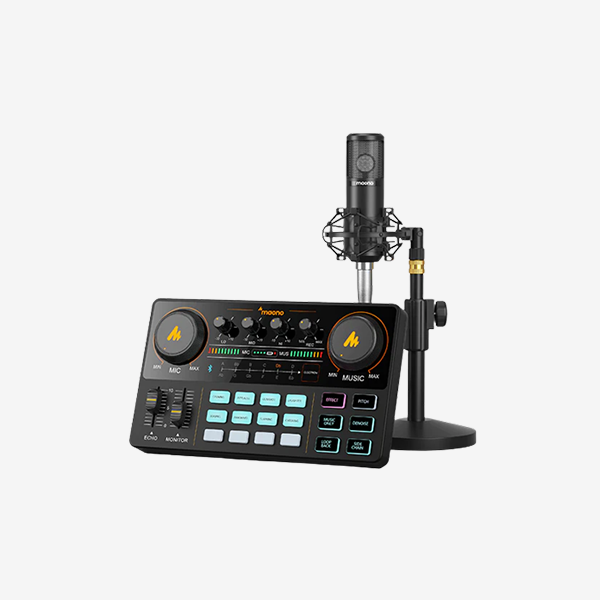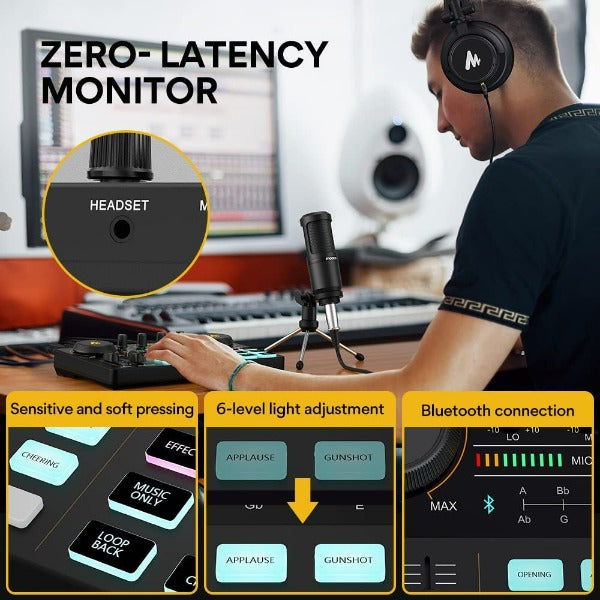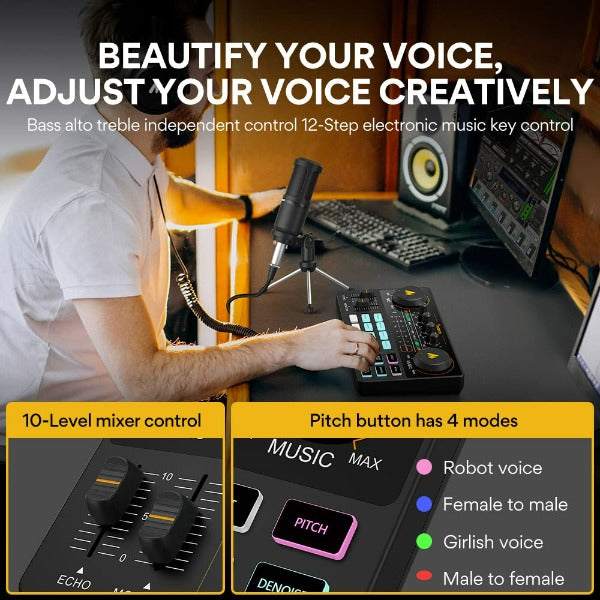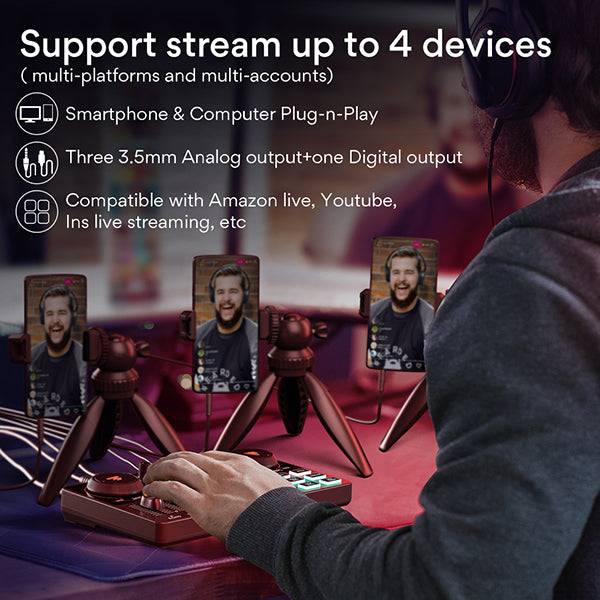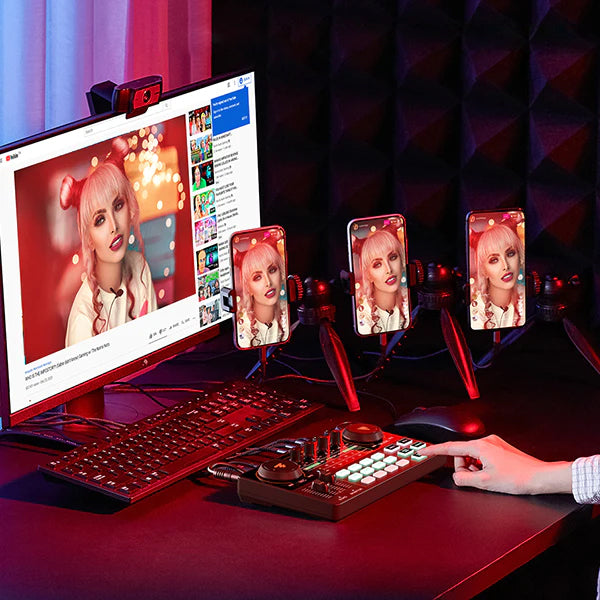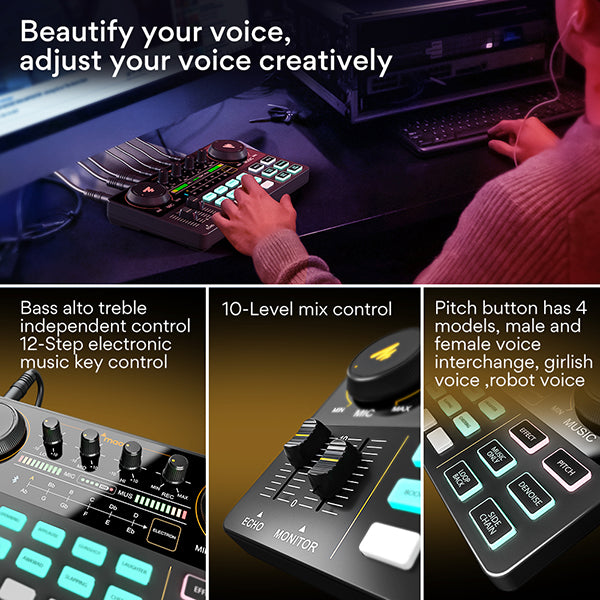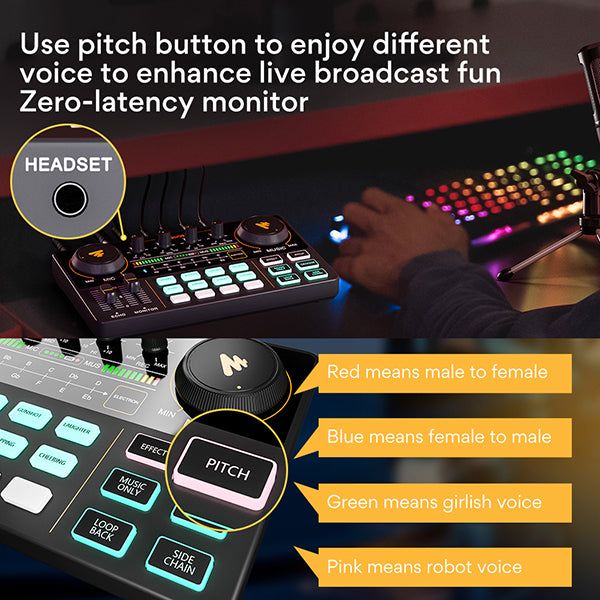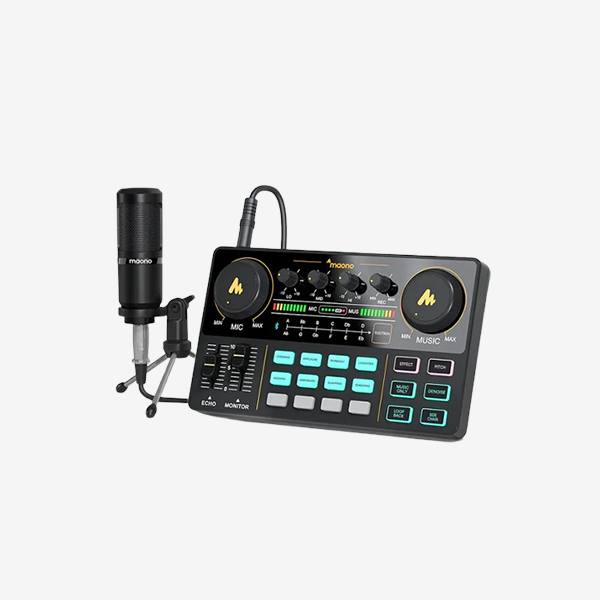 Maonocaster Lite AM200 Podcast Equipment Bundle Sound Exceptional Always
● EASY TO USE
Works as an audio interface plus mixing station and Integrates audio mixing equipment into 1 comprehensive solution. It delivers superb sound quality and offers intuitive and full control to optimize vocal and sound effects. The AM200 S1 podcast equipment bundle comes with a condenser microphone that lets you start podcasting or live to stream easily in no time. Start recording when you plug into the smartphone or PC.
● BORN FOR LIVE STREAMING
MAONO podcast equipment soundboard supports up to 2 people, 4 devices, and 4 platforms to stream simultaneously. Highlights of this set, you can change your voice to the male, female, or girlish, robot. With two mic inputs, One Accompaniment input, and real-time monitoring, good noise reduction effect after pressing the DENOISE button. It is compatible with IOS and Android systems.
● SPECIAL EFFECTS
Four user recordable, eight Built-in special audio effects, and various adjustments available for your creation. Fixed audio effects like APPLAUSE, LAUGHTER, CHEERING...Note please record your own audio effects you like to audio interface according to the instructions.
● START YOUR OWN CONCERT
10-step reverb & 12-step electronic music & 3 modifiable tones (Treble, mid-range, bass) make this audio interface more entertaining and meet more live recording needs.
● COMPATIBLE WITH MOST iOS
For most Laptops, PC, Windows, MAC OS, smartphones, iPhones, and tablets. But if your phone does not have a 3.5mm jack, you need an OTG adapter (not included).
MAONOCASTER LITE AM200
All-in-one solution design for podcasting, streamers, and musicians. is all you will ever need to record incredible audio for your content. Maonocaster Lite Portable Podcast Studio is exactly what you need when you want to get your podcast, radio shows, or Twitch streams off the ground easily but are not sure what gear to buy. It is so easy and intuitive to use that you can jump headfirst into podcasting within minutes, and focus on providing valued content and interacting with your audiences rather than being distracted by the complicated operations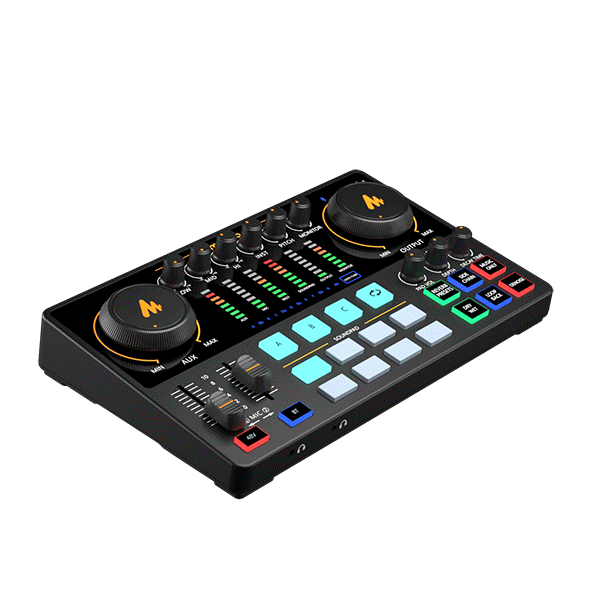 STORY OF AM200
We're honored to be awarded a CES Innovation Award in CES 2021 for our all-in-one podcast studio MAONOCASTER AM100 series after it was successfully launched on Kickstarter in May 2020. Building on the success of this flagship product, we designed the new entry-level product MaonoCaster Lite AM200 to support the needs for learning and entertainment, after realizing a large demand for a cost-effective solution through a similar product that incorporates microphone interfaces, mixer, sampler, and entertaining pitch changer.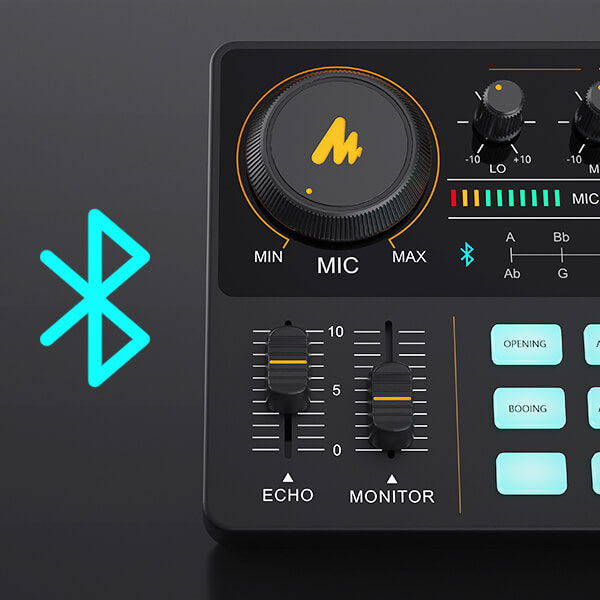 Bluetooth Wireless Accompaniment Music Input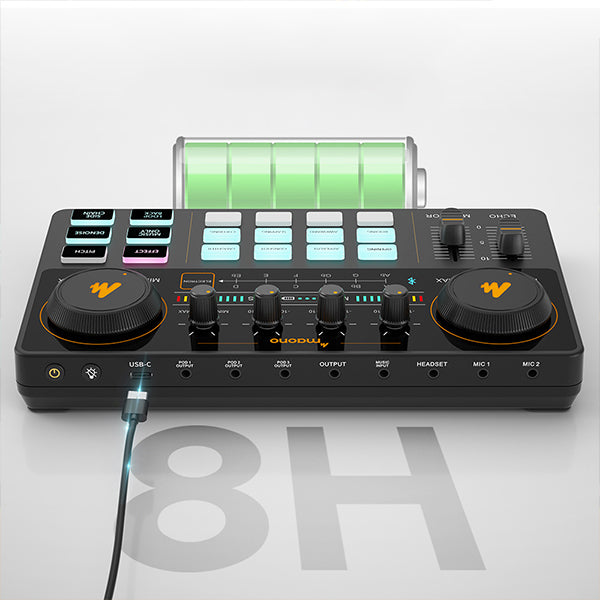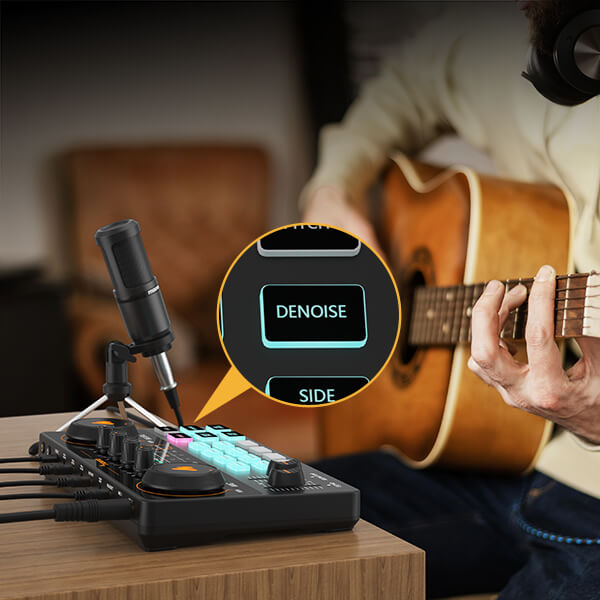 Intelligent Noise Reduction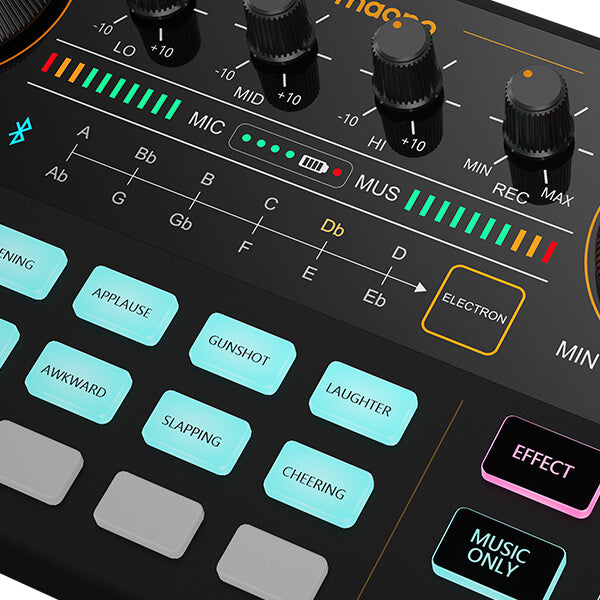 Acrylic Panel and Touch Electronic Music Key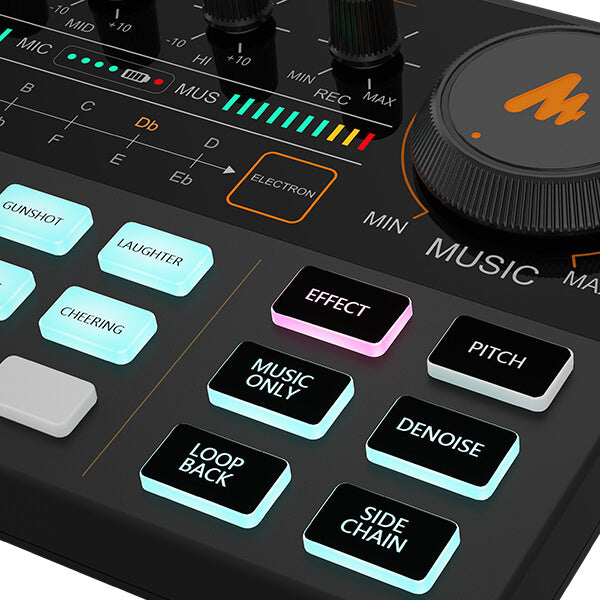 Sensitive and Soft Pressing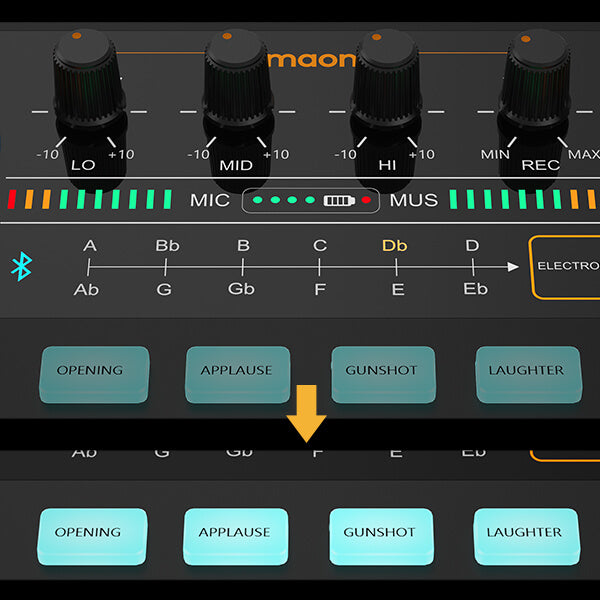 6-Level Adjustment Enhance Live Broadcast Atmosphere
NOTIFICATIONS:
Considering the complexity and affordability of the product, the product may have some shortcomings in your application. We kindly suggest that you read the following notes carefully before making your purchase decision.
Ⅰ. Compatibility: It performs well on PC, however, we can't make sure that it is 100% compatible via digital connection as iOS and Android systems are constantly updating. If the USB digital connection doesn't work, please use the 3.5mm TRRS input (USB-C or Lightning to 3.5mm adapter may be required but not included) to connect your device.
Ⅱ. Sound quality: It works well for streaming and podcasting, but the sound quality might not be as good as a professional DJ mixer.
Ⅲ. Connection: Cable 1 is suitable for remote current protection of mobile devices. Please do not connect cable 1 when charging or PC.
READ BEFORE ORDER:
1. OTG adapter or Y adapter is not includ
2. Not compatible with a USB microphone or XLR to XLR microphon
3. Not support Phantom power
If you need any help with the AM200, welcome to leave us the message to angela@maono.com
Specification
| | |
| --- | --- |
| Data Transmission | USB-C |
| Frequency Response | 20Hz-20kHz |
| THD | THD<0.5% 1kHz |
| Headset Output Power | 35mW, 32Ω (1KHD+N=1%) |
| Sample Rate | 48kHz/16bit |
| Wireless Connection | Bluetooth 4.2 |
| Battery Type | Li-Polymer |
| Battery Capacity | 1200mAh |
| Charge Parameter | 5V/1A |
| Charge Time | Appr. 3h |
| Battery Life | Appr. 8h (Highest keypads brightness) |
| Dimension | L24*W14*H4.2CM(button included) |
General Product Questions
• Please check whether the external audio source is connected to the 'Music Input' interface of the podcast console.
• Please check whether the 'Music' volume control knob on the right is turned on.
• Please check the volume of the accompaniment device.
• Turn on LOOP BACK
• Please use line 1 to connect the USB-C port of the Audio interface, and use line 2 to connect to the computer. (Note: Do not fold the wire during use to avoid damage.)
• Please check the computer's sound settings after the connection is complete. Both the input and output are' MAONO AU-AM200 '(right-click the speaker on the right side of the desktop to open the sound settings)
• When you need to record the computer accompaniment sound, please turn on the loopback function.
You need to turn up the REC knob above the audio mixer to output the sound.
Recording: Turn the product on, connect it with either one microphone, external audio input device, Bluetooth device. Turn on the"LOOPBACK" mode. Hold any custom key until the button light flashes to start recording. The audio input will be recorded and saved. Release the button to end the recording.

Note: If you do not release your hand during recording, the recording will stop automatically when there is not enough space, and the light will automatically turn off.
• Please check whether the "recording" knob on the podcast console is turned on, and rotate the "recording
• knob" clockwise to slowly increase the volume of the live broadcast.
• Please check whether the podcast console "MAONO AU-AM200" has been set as the default playback and recording device of the live broadcast software. If not, please set refer to the " Live Streaming on the Computer " part.
We basically will arrange the order delivery within 1-3 days once the order is received, and the delivery time depends on where you live. here is the delivery time for your reference, but the specific time is subject to the delivery time. Maono owns the final interpretation.

1. If you are from the US, we will deliver the product from the US warehouse, it will take 3-5 days for delivery.

2. Out of the US area, it will take 7-20 days for delivery, The specific needs depend on the country you are in. it will take much longer if it is a remote country.
if you would like to know how long it takes, you can write to angela@maono.com. my colleague will get back to you ASAP.
There will be three kinds of situations of return & refund, please read carefully before you place the order, thank you very much.

ⅠThe product was unpacked and is good & Delivered from the Original Factory: Maono will confirm with the warehouse first and then send you the return address. it will basically take about 1-2 weeks. please kindly be patient & remember not to send it back to the original address. otherwise, we won't be able to receive the product and it may have tax charges.

Ⅱ The product was unpacked and is good & Delivered from the US Warehouse: We will send you the returned address within 1-2 weeks once the return detail is confirmed.

Please learn that in the two situations mentioned above, the relevant freight will be borne by you as it is not a product defective issue. Please remember not to return the product to the original address on the box, otherwise, Maono will not be able to receive the returned product and we can not issue a refund to you. Once we receive the returns, we will issue a refund for you within 1-2 days. Thank you very much for your understanding.

Ⅲ. The product is defective or has product issues: no matter shipped from China or a local warehouse. Maono will confirm with the warehouse first and then send you the return address. it will basically take about 1-2 weeks. please kindly be patient & remember not to send it back to the original address, otherwise, Maono will not accept it and we will not refund you. And the relevant freight will be borne by Maono. Once we receive the returns, we will issue a refund for you within 1-2 days. Thank you very much for your understanding.

Note: Maono has the final interpretation of the return & refund terms above.
For the two situations you mentioned above, we strongly suggest that users check the package first when receiving the product, carefully making sure that the package is not damaged, has not to be opened, or does match the actual weight of the product it should be, please remember to take pictures of the entire package and the entire product or take an unboxing video for the product for subsequent submission of after-sales support for verification and negotiation with the seller for claims if it is one of the phenomena of above.

How to Take Pictures:turn on the camera function of the mobile phone - save after taking pictures of unpacked packages - take pictures of the inside packages after removing the outer box and save them - take pictures of products and parts inside and save them, make sure everything is brand new and didn't damage.

Video Content Shooting Steps:Open the mobile phone video - show the integrity of the unpacked package - unpack - take out the product and components for installation - test - save

Please check ourshipping policy page and move your mouse to the bottom to check more details carefully and learn how we deal with these two kinds of situations first before placing the order. we take that you have read carefully by default if you have successfully finish placed the order on Maono official online store.