If you are planning to start your own podcast and make a splash on the airwaves, then you will need one of the best podcast microphones to make sure you capture every word. Podcasting is now an absolutely tremendous medium. The simple act of a voice telling a story, conducting an interview, or teaching the weird and wonderful has made it one of the most important and fastest growing forms of communication in the 21st century.
One microphone stands out on our list of the best podcast microphones for a number of reasons. the Maono PM422 is one of the newest additions to the podcast microphone scene, but it really impressed us. Maono makes one of the best podcast microphones you can use right now.


MAONO PM422 PROFESSIONAL USB MICROPHONE
The microphone built-in professional sound process chipset, the sampling rate up to real 192kHz/ 24bit and is equipped with a USB output for applicate on computer easily. Cardioid polar pattern reduces the pickup of sounds from the sides and rear, improving the isolation of the desired sound source. The microphone has studio-quality articulation and intelligibility perfect for singing, podcasting, voice-over, field recording, and home studio recording.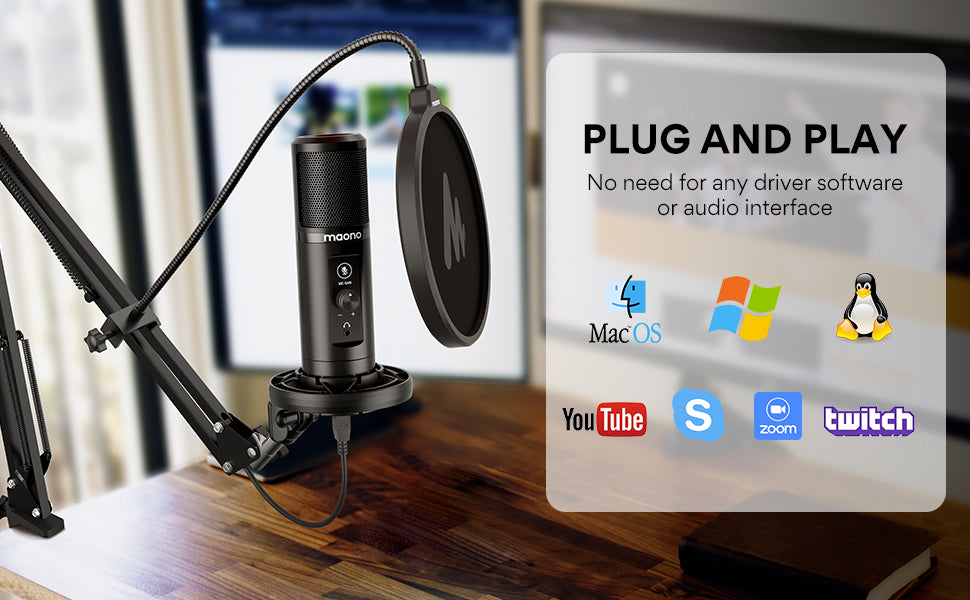 All-in-one set improves your user experience. You will feel convenient, portable, cool. All you need to do is to enjoy your recording, podcasts.
PREMIUM MATERIAL OF MICROPHONE
At this time, we use IRON NET, ACRYLIC MIRROR, and ALUMINUM ALLOY to design this PM422 USB microphone to be fashionable and durable. You would get a value microphone.
RECOMMENDED VIDEOS FOR YOU...