What is exciting is that after the Maonocaster AM100 podcast audio inteface won the CES Innovation Award in 2020, this year Maono achieved another success. The brand's USB microphone DM30 programmable USB microphone won the CES Innovation Award! It fully recognizes the extraordinary strength of the Maono brand!

The CES Innovation Award is an annual competition honoring outstanding design and engineering in consumer technology products. As the remarkable vane of the consumer electronics field, the "CES Innovation Awards" is sponsored by CTA, the owner and organizer of the CES exhibition. It is the largest and most influential annual technology event in the world. In recognition of the year's global excellence in design and engineering in consumer electronics.
In the list of CES innovation awards announced in the past, there are many international brands such as SONY, Harman, JBL, Huawei, Lenovo, and DJI. Maono, is also listed among them.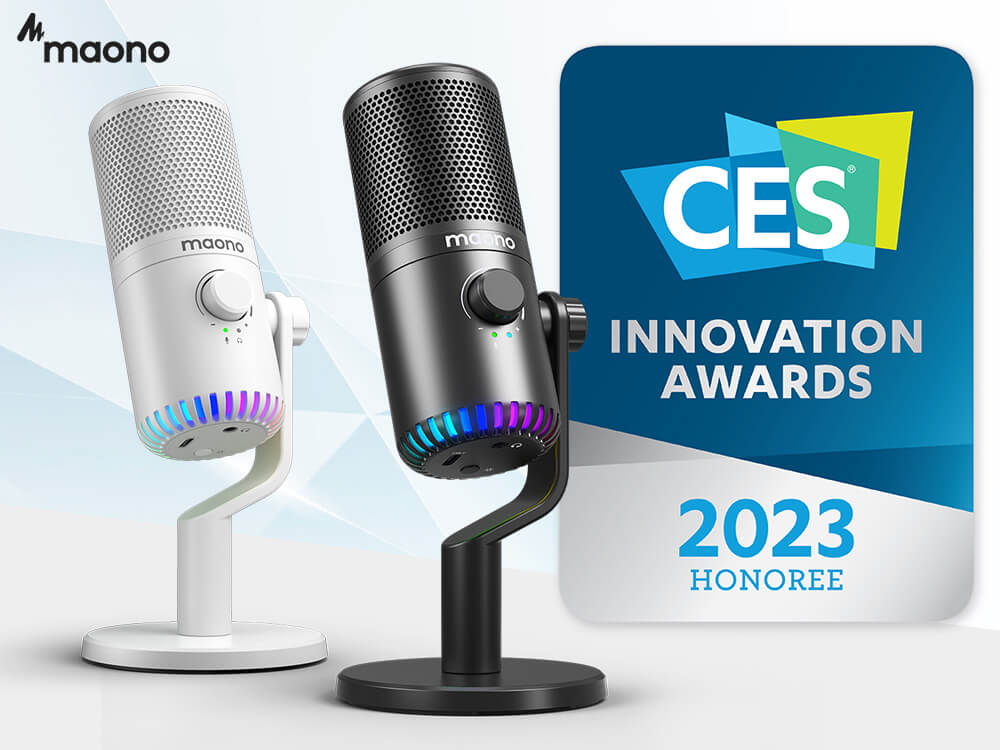 What Makes the DM30 Stand Out
Maono's winning USB microphone showed bold innovation by packing a multiple-functional 3-in-1 knob, RGB lights, and companion software Maono Link into its compact size. The 3-in-1 knob enables controls of muting, microphone gain, and headphone volume. Programmable RGB lights bring more immersion to users' gaming experience.
The companion software Maono Link brings more audio processing functions to users. Aside from basic controls available on microphones, users are enabled to adjust advanced functions like RGB customization, limiter, EQ, and compressor on Maono software.

With its quality build and wide range of functions, the DM30 stands out among USB gaming microphones in the same price range. It is a reinforcement of Maono's commitment to making the best audio products and bringing users more pleasant audio experiences. 
Today, with the prevalence of the Internet, the Internet celebrity economy and the live broadcast economy are exploding. many prospective anchors think that it is very simple to do a live broadcast, but they don't know that there is another way behind the glamorous anchors. Such as the purchase of various professional audio equipment, correct use, how to play the lights, etc., especially the research of radio equipment requires considerable experience to achieve professional standards.

In order to simplify professional audio, Maono, a brand that has been focusing on audio products for 6 years, Maono has always been committed to making the world's most useful microphones and audio products and has never stopped. Winning the CES 2023 Innovation Award this time further this time gives us more confidence to make good products. Maono will continue to work hard to realize the goal of becoming a global leading brand of Internet audio products. we will be glad that you join us and witness our growth together.

While continuously improving its own strength and product reputation, after 6 years of comprehensive expansion, its professional audio products such as microphones, earphones, and sound cards have been exported to 153 countries around the world, including North America, Europe, Japan, South Korea, Latin America, Southeast Asia, and Australia.
Bangkok International Photo Fair 2022
At Bangkok International Photo Fair 2022, which runs 10.00 AM-08.00 PM, 23th-27th November 2022, Maono will display the DM30 USB microphone, as well as some other latest and greatest Maono audio Products, including Maono PD400 XLR/USB dynamic microphone, Maono WM821 Wireless Microphone, Maonocaster AME2 Audio Interface, etc. We look forward to meeting you and talking to you at Booth A5.
Also, Maono website is running the best Black Friday sale of getting a DM30 USB microphone at a price of only $39.99, don't miss the chance to get the best deal of the year. Learn More Details Now.