Maonocaster AM100 Podcast Production Studio
The Maonocaster AM100 audio interface is designed with the intention to simplify the way to start podcasting anywhere and anytime for those who are into streaming and podcasting.
US/CA Countries: Free Shipping & Ship from US Warehouse
Estimate Shipping Time: 3-7 Days
Other Countries:Free Shipping to Most Countries & International Delivery
Estimate Shipping Time: 7-15 Days
Lifetime Support & 30 Days Return Allowed  (If any quality issue happens) 
Maonocaster AM100 audio interface is designed with the intention to simplify the way to start podcasting anywhere and anytime for those who are into streaming and podcasting.
MAONOCaster AM100 podcast production studio greatly simplifies the podcast production process by integrating several digital audio mixing equipments into one comprehensive solution at a highly affordable budget. It is very easy to set up and use in any room to record or broadcast live. It delivers superb sound quality and offers intuitive and full control that suits the needs of both beginners and seasoned broadcasters.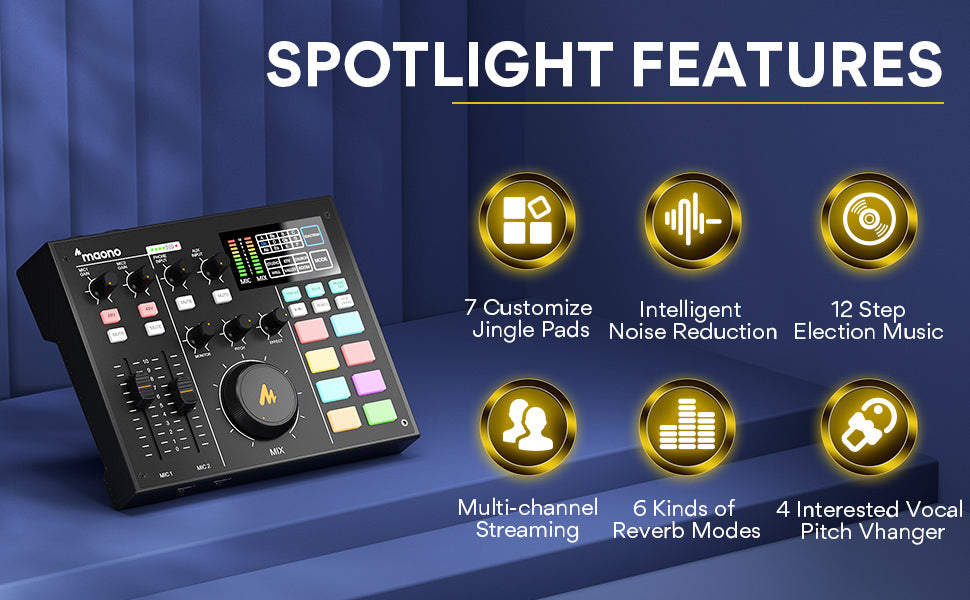 CONVENIENT ADJUST

It supports up to 4 presenters at the same time through easy connections to 2 mics for vocals, 2 audio sources (smartphones, MP3 players, musical instruments, any audio-playing devices with a 3.5mm AUX jack).

PRO SCENE MODE

MAONOCASTER AM100 audio mixer can turn your sound into various typical reverberant versions: Studio, KTV, Church, Hall, Valley, and Room while you closely monitor the signal levels of MIC and MIX.

POWERFUL ENDURANCE

It features a 5000mah built-in battery which is capable to support at least 8 hours non-stop podcasting. With MAONOCASTER, you can continue live streaming during a blackout, when you are outdoor or even on the move.

WIDE COMPATIBILITY

You can live stream to YouTube, Twitch, Spotify, Hitbox, BeamPro or record to your favorite recording software.

UPGRADED PADS

4 sound FX preset pads, and 3 programmable pads to upload your own sound FX or jingles using MAONOCASTER PC app.

INDEPENDENT DENOISE

reduce background noises, you will get clean, distortion-free audio with rich, warm tone as in professional studios.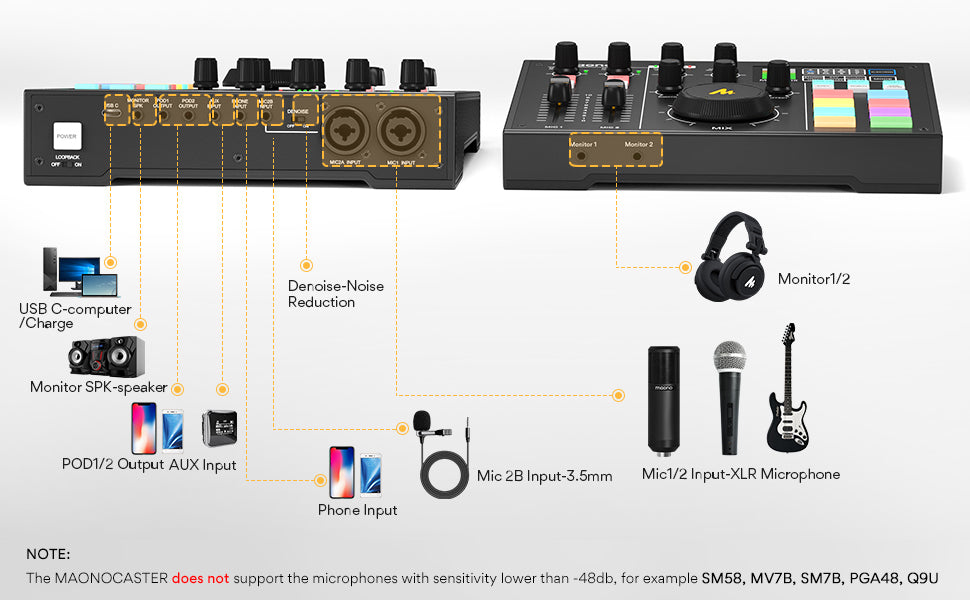 Maonocaster AM100 audio mixer is designed with the intention to simplify the way to start podcasting anywhere and anytime for those who are into streaming and podcasting.
MAONOCASTER AM100 is exactly what you need when you want to get your podcast, radio shows, or Twitch streams off the ground easily but are not sure what gear to buy. It is so easy and intuitive to use that you can jump headfirst into podcasting within minutes, and focus on providing valued content and interacting with your audiences rather than being distracted by the complicated operations.
Its sturdy structure is built to last, and the durable aluminum-alloy enclosure not only looks and feels elegant but also acts as RF shielding to keep your podcasts away from unwanted noise coupling in the environment.
NOTE:
The MAONOCASTER does not support the microphones with sensitivity lower than -48db, for example: SM58, MV7B, SM7B, PGA48, Q9U
Specification
MIC TO MAIN OUTPUT
Gain
48dB
Max

THD+N
0.07%
@-40dBu Input,1kHz
Signal to Noise ratio
78dB
Denoise OFF
85dB
Denoise ON
Frequency response

80

~15000Hz

±

3dB

PHONE/AUX TO MAIN OUTPUT
Gain
0dB
MAX
THD+N
0.07%
1kHz,0dB Input
Signal to Noise ratio
85dB
1kHz,0dB Input
Frequency response

20

~20000Hz

±1

dB

POD
Output Level
-20dBu
Typical
MONITOR 
Max power
80mW
Load=32OHM,1kHz,THD+N=1%
BATTERY
Capacity
5000mAh
Live streaming
Charge current
1A
Typical
Quiescent Current
460mA
battery voltage 4V, Typical
Digital
sample rates
48 K
Bit depth
16 Bit
sound effects
Electronic sound ADJ
12 steps
Pitch ADJ
16 steps
Pitch range
50%~200%
Typical
Pitch Preset
4
customiz 
7
customiz Preset(1KHz)
1
Other
Music Only
YES
Side Chain
YES
MIX/POD Volume ADJ
YES
Pitch ADJ
YES
Level display
YES
Power display
YES
Effect ADJ
YES
Monitor Volume ADJ
YES
AUX/PHONE Volume ADJ
YES
Microphone gain ADJ
YES
Microphone Volume ADJ
YES
Microphone Phantom power
YES
Denoise
YES
Mute
YES
Loop back switch
YES
Mixminus
YES
Phone call
YES
● MULTI-CHANNEL MIXING/STREAMING AND MONITORING
It offers four channels of audio mixer and easy connections to microphones, smartphones, PC, Mac, and other sources; Advanced engineering that allows the user to control the sound levels and add live vocal and sound effects through a comprehensive set of tools to avoid difficult post-production and editing. Built-in rechargeable battery for even more portability.

● FINE-TUNE YOUR AUDIO
MAONOCASTER AM100 audio interface has 6 reverb modes, auto-tune, and 4 pitch changers. Each microphone input is independently controlled and can be muted with one tap. Pro features like sidechain, mix-minus, noise-canceling, and loopback switch are also included.

● PROGRAMMABLE JINGLES
All seven jingle pads are programmable with our PC/Mac APP. We have preloaded four audio effects. You can upload any audio effects you like to the MAONOCASTER. In addition, there is a cough button so you can let it all out while keeping your content clean!

● XLR, PHANTOM POWER AND SUPPORTS PREMIUM MICROPHONES
MAONOCASTER AM100 podcast production studio features two separate premium-quality MIC amplifiers with XLR interfaces. This Single Mic Bundle also includes a PM320T XLR Cardioid Condenser Microphone: Built-in professional condenser capsule, Custom-engineered low-mass diaphragm provides extended frequency response and superior transient response. High-SPL handling and wide dynamic range make wide versatility.

● PERFECT RECORDING OR GUITAR TAKE
MAONOCASTER AM100 features separate premium-quality MIC amplifiers with XLR interfaces and adjustable 48V phantom power. Your recordings will retain all of their sonic qualities so that you can sound like the artists you admire. 6.35mm instrument input to record guitar or bass, capture your instruments in all their glory without any unwanted clipping or distortion.
● Question: Why is there a delay in hearing the sound in headphones?
• Answer: AM100 no latency, you use the software in the computer for real-time monitoring function of the delay, it is recommended to adjust the parameters of the application, or use the computer's own recorder to record.

● Question: Where do I download the software for mac?
• Answer: We publish audio import software programs compatible with Windows and macOS in our "Manuals and Drivers". They are placed in the same location. You can check them carefully. If you can't find them, you can contact our support and they will answer your questions.

● Question: Can I bring two headsets for face-to-face interviews for this product?
• Answer: AU-AM100 has two monitor jacks and two microphone jacks, can meet two people at the same time using monitor headphones and microphones.

● Question: Are you able to save recording to an SD card?
• Answer: AU-AM100 doesn't have an SD card interface. If you want to save to an SD card, we recommend that you use a computer to record, and then transfer the recorded audio files from the computer to the SD card.

● Question: Does this work with Xbox?
• Answer: The AM100 may not work with Xbox One. If you want to connect musical instruments, computers, mobile phones, etc. to it.Thank you.
We publish audio import software programs compatible with Windows and macOS in our "Manuals and Drivers". They are placed in the same location. You can check them carefully. If you can't find them, you can contact our support and they will answer your questions
AM100 no latency, you use the software in the computer real-time monitoring function of the delay, it is recommended to adjust the parameters of the application, or use the computer's own recorder to record