Are you having trouble deciding between the PD200X and PD400X when you visit the Maono shopping website? Have a PD200X XLR/USB RGB microphone that you have already purchased but are unsure how to use? From setting up the microphone to adjusting its settings, this article covers everything you need to know about the PD200X XLR/USB RGB podcasting microphone. With clear instructions and helpful tips, you'll be able to start using your new microphone in no time.
Step 1
If you're still trying to figure out how to pick a microphone, here you can learn more details about What Microphone Do You Need For Podcasting? 
Step 2
Please click to view details if you can't tell the difference between PD200X and PD400X. Maono PD200X,PD400X,PD100 Dynamic Microphone Comparison
Step 3
If you have already bought the product but had issues using it or if you are still debating whether to buy PD200X, then we will thoroughly introduce PD200X.
How did PD200X get its design inspiration? 
Inspired by the Maono PD400X, Click the link to learn more about the difference between the PD400X and the PD200X. The Maono PD200X was designed to satisfy people who need a versatile dynamic microphone for podcasting, gaming, voice-over, and other applications.
What are the features of the product?
- USB/XLR output (XLR cable not included).
- Adjustable GRB lighting: dynamic multi-color gradient and 8 static solid color effects.
- MAONO LINK: The perfect blog mode can be adjusted to make the radio more perfect.
-2 in 1 rotary button: adjustable microphone gain, headphone volume.
- Built-in dynamic microphone capsule: helps you capture deep bass, detailed highs, and crisp mids. 
If you are still confused about it's function and is it the budget microphone for most of the users, you can read our Maono PD200X Dynamic XLR/USB Microphone Introduction to learn more details.
Then What's in the box?
Dynamic Microphone, Shock Mount, 2.5m USB-C to USB-A/C Cable, 5/8'' to 3/8'' Adapter, User's Manual.
Note: please noted that the PD200X microphone doesn't come with XLR cable together, you might have to buy the xlr cable seperately if you need.
What are the devices is it compatible? well, the PD200X dual mode podcasting microphone can be work with Desktop,Laptop,Computer,Mixer,Audio Interface,PS4,PS5,MAC OS,WINDOWS.
How do I set up the PD200X XLR/USB RGB Microphone ?
1. Attach the microphone to a desktop stand base
Turn the table stand base Counterclockwise to install it to microphone.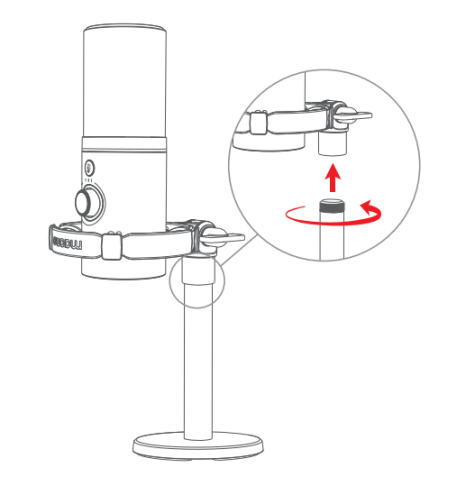 2.Turn the table stand base counterclockwise to install it on the microphone.
Turn the microphone counterclockwise to install microphone to a boom arm.
3. Connect the microphone to computers
Connect the microphone to computers.Connect the microphone to a computer using a USB-C cable.Connect your headphones to the 3.5mm headphone jack on the microphone if you want to take advantage of real-time monitoring.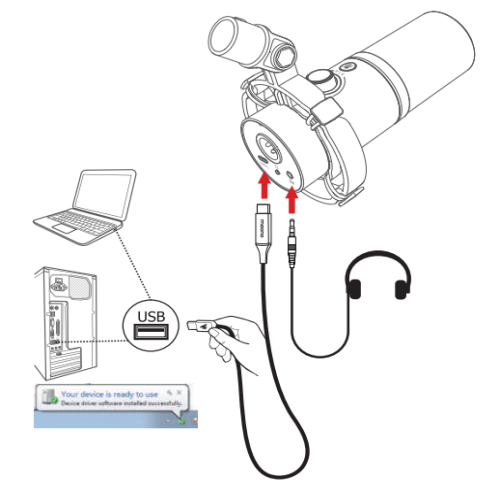 4. Connect the microphone to an audio interface
Connect the microphone to an audio interface with the XLR-XLR cable. Connect the headset to the audio interface headset.interface if you need to use a headset. Connect the headset to audio interface or headphone interface if you need to use a headphone.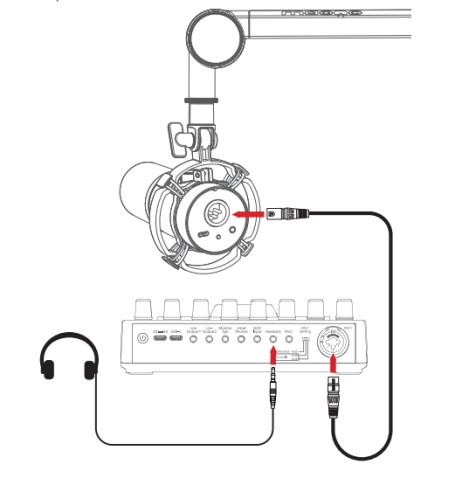 Podcasting and Gaming
Then where you can use the PD200X usb/xlr dynamic microphone? PD200X RGB microphone is actually a rgb microphone that can be used on podcasting and gaming, which is quite a wide selection for most of the beginners.
1. Podcast

ing
The Maono PD200X XLR microphone is a stunning and powerful audio solution perfect for podcasters, streamers, and content creators who seek high-quality audio combined with a visually appealing design. This microphone is perfectly suited for recording pod casts, streaming sessions, and various other content creation activities, ensuring that your audio sounds professional and crystal clear.
2. Gaming
The PD200X boasts a clean, contemporary design with a visually striking RGB light strip that adds a touch of personalization and flair to your recording setup. When it comes to the gaming world, 90% of your rig needs to be RGB. Its lightweight construction and minimalist design make it an ideal addition to any workspace, ensuring seamless integration without cluttering your desk. More conductive to the operation of the game.
What Others Think of PD200X Microphone?
The maono PD200X USB/XLR dynamic microphone features an exclusive custom dynamic mic core. And the 40Hz–16kHz ultra-wide frequency response makes it deeper in the lows and more detailed in the highs. The cardioid polar pattern effectively suppresses unwanted background noise when users are podcasting, gaming, or streaming.
This microphone also comes with Maono Link software, where users can adjust EQ, compressor, limiter, and more, giving them a more convenient experience. The dual interface design makes this microphone more compatible: the USB port can be connected to a computer, PS4/PS5, etc.; the XLR port can be connected to a professional mixer or audio interface. The microphone has a narrow RGB ring in the middle, which has a dynamic multi-color gradient and 8 static solid-color effects. 
Its stylish lighting effects make your creations more attractive. The microphone has a 2-in-1 smart knob that adjusts microphone gain and headphone volume. And the mic body has a one-key mute button and an LED indicator. Users can plug their headphones into the 3.5 mm jack to monitor their recordings in real-time.
This microphone is covered with high-quality materials to enhance its durability and protect the microphone's exterior and internal structure from damage. It's hard to find a microphone at this price range that has great sound quality, practical features, and software, and the Maono PD200X offers users more than its price.
Which device is more suitable for matching with the PD200X

?
To be exceptional, every podcast broadcast needs certain tools. But choosing one can be one of the most important things. It ought to be efficient and cost-efficient. Here is a list of products to use witha list of products to use with.
1. Headphones
Headphones allow you to monitor the sound as it's recorded. Stay away from soft-shell headphones—those that only have foam on the outside. These do not suppress sound, which may cause feedback. It's best to use a pair of hard-shell headphones, one with a sturdy plastic or rubber outside that traps the sound.
Cheap headphones give you cheap sound, but you don't have to spend a lot of money on them. If you don't mind, go ahead, but if you intend to eventually dabble in multitrack audio mixing, you'll want a pair that's discriminate enough to let you adjust your audio. similar to the Maono MH601 headset.
2. Microphone Boom Arm Stand
The best mic mounting options to save desk space and enable mic positioning adjustment are boom arm stands and desktop stands. The Maono B01 boom arm and other boom arms are some of the best for podcasting.
3. Digital Audio Interface/Mixer
The only audio in a podcast can be yours. Because it's an easy method to use or because they are aware that the information they provide doesn't require improvement, many podcasters automatically default to a straightforward presentation. Recording and editing are made comparatively simple by free software tools like MAONO LINK. Audio mixing requires a little more effort than simply recording audio. Select maonocaster AME2 audio interface & podcast equipment.
I hope you can solve the problem of using PD200X by studying this guide. Please click the link below for more information about Maono products.