In recent years, podcasts have really grown in popularity as more and more people are tuning in on this type of content. Podcast Insights notes that there are more than 
850,000 active podcasts
available in 100 languages that people can access online ⁠— showing how much people love making and consuming podcast content. Other than being able to impart their knowledge and expertise, podcast creators are joining this expanding industry because it can be incredibly lucrative. In fact, the total ad revenues in podcasts are expected to 
reach $1.34 billion by 2021
.

If you want to cash-in on today's podcast craze, we've listed below a few tips on how you can get started.



Podcasts should be consistent, structured, and talk about specific interests, topics, and subjects. While spontaneity almost always works for radio shows the same can't be said for podcasts, as most listeners will have tuned in for a specific topic. Having a topic to focus on can also help you get into a niche set of subscribers who are also interested in your chosen theme. So, before you start recording, be sure that you've taken a hard look at your interests as you settle into one topic or theme. Having a theme or topic will keep your podcast going for more than just a few episodes and help you map out the timeline of your podcast.



No podcast listener listens just for the sake of listening. Most look to podcasts as a distraction or source of information they can passively listen to during their spare times. So, podcast creators should have a plan in mind before starting their podcasts. If you're doing a show by yourself with a co-host, it's best to have set times for different segments of your podcasts. You can also prepare a script, but most times, a rough description is all you need to keep the show going. If you're planning an interview podcast, be sure to do your due diligence and know all about your interviewee's work and expertise so the conversation sounds more natural in the recording.



Another aspect of podcasting that needs a lot of attention is the equipment you'll use. While you don't have to go out of your way to buy expensive gear, there are some must-haves and nice-to-haves that'll help you create better content. One of these is a good microphone.

However, there's a ton of microphones on the market that come in different sizes, configurations, and price points ⁠— making it difficult to settle on one. That said, the best mics for podcast often share some key characteristics. They are reliable, generally adaptable for when you're speaking alone or with a guest or partner, and suitable for the human vocal range, which is between 85 and 255 Hz. For product recommendations, you can check out the Maono PM422 and get it as your podcast mic since it performs really well without breaking the bank.
MAONO PM422 PROFESSIONAL USB MICROPHONE
The microphone built-in professional sound process chipset, the sampling rate up to real 192kHz/ 24bit and is equipped with a USB output for applicate on computer easily. Cardioid polar pattern reduces the pickup of sounds from the sides and rear, improving the isolation of the desired sound source. The microphone has studio-quality articulation and intelligibility perfect for singing, podcasting, voice-over, field recording, and home studio recording.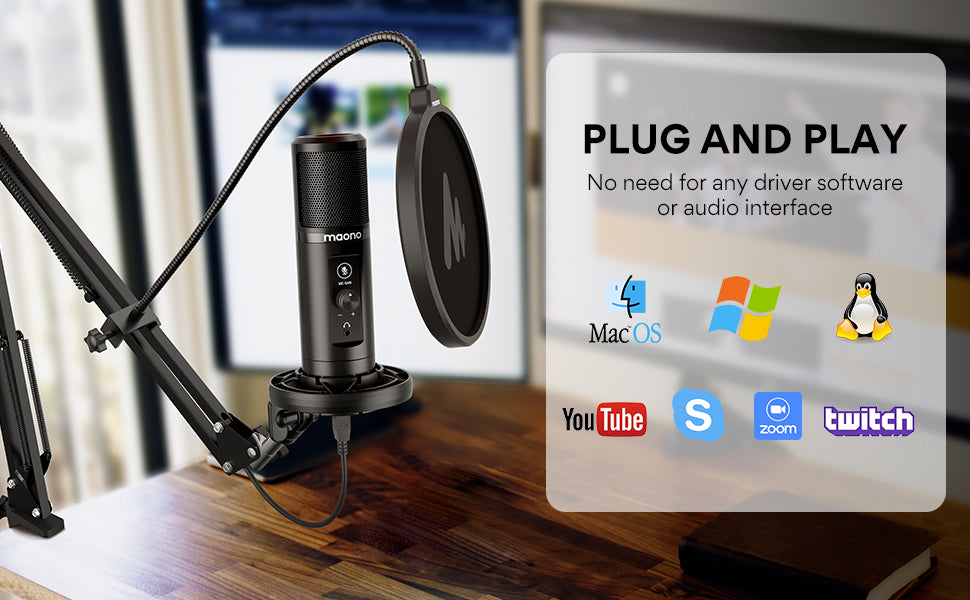 All-in-one set improves your user experience. You will feel convenient, portable, cool. All you need to do is to enjoy your recording, podcasts.
RECOMMENDED VIDEOS FOR YOU...
At this time, we use IRON NET, ACRYLIC MIRROR, and ALUMINUM ALLOY to design this PM422 USB microphone to be fashionable and durable. You would get a value microphone.

All in all, there are a lot more considerations to put in before you can start your own podcast. But with enough determination and a burning passion to create fun and informative content, you will be able to launch your podcast in no time.