What's DM30?
Maono DM30 USB condenser microphone is designed to satisfy the all-dimension needs of gamers, whether you are beginners or professional gamers.
It is a USB condenser gaming microphone with an ultra-high performance-to-price ratio. You may know that to record high-quality vocals or instruments, such as voiceovers, interviews, and podcast shows, content creators normally use an XLR microphone as well as an audio interface.   


Unlike those content creators who require great audio quality for content, gamers require less audio quality since they just need a recording device to talk to teammates during gaming, which explains why many of them choose USB condenser gaming microphones.

Most entry-level USB microphones feature no ability to modify volume, mic gain, or software controls, they just offer limited recording capacity. Reasons, why gamers invest in USB microphones, are because they are built to be portable and flexible, easy to use, and not expensive. The price of the best condenser microphone is about 100USD-200USD, and the entry-level ones are under 50USD.
As a USB gaming microphone under 50USD, Maono DM30 packs various audio processing features, companion software, and programmable RGB light, delivering an efficient and budget-friendly recording solution for gamers. Some of the features can only be found in professional condenser microphones. With these functions, gamers can enjoy gaming recording more than ever. you may be interested in learning more test review about the Maono DM30 USB microphone here>>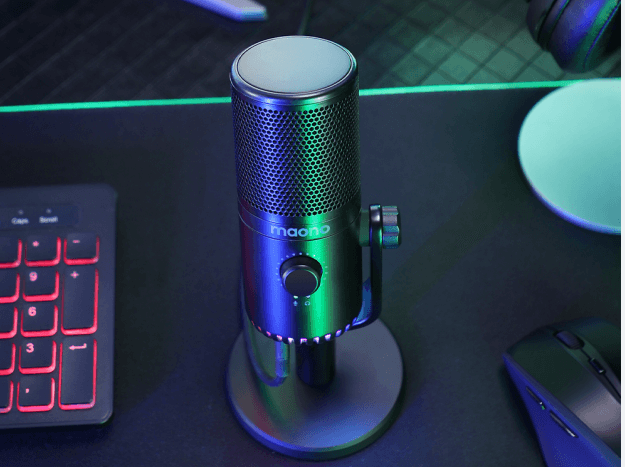 How does it work?
As a condenser microphone with a cardioid polar pattern, Maono DM30 is ideal for gaming and game streaming applications. You may wonder what is the condenser microphone definition, in short, condenser microphones rely on a sensitive vibrating diaphragm to capture sound. They have a louder mic level and are more sensitive than dynamic mics, which makes them great for recording vocals and acoustic instruments.
However, condenser microphones are more fragile, as a result, they are typically held up by a shock mount or a microphone boom arm to suspend the microphone in the air, which can effectively prevent the microphones from being shocked or falling to the table. In a condenser microphone kit, a shock mount will usually be included.
A polar pattern is one of the most important specifications of a microphone. It defines how well a microphone picks up audio signals from different directions, in another word, the directional sensitivity of the microphone.
The cardioid polar pattern is one of the main polar patterns applied for both condenser microphones and dynamic microphones. The cardioid polar pattern doesn't accept sound from all directions, it is most sensitive to on-axis sounds, which means where the microphone points. Sounds come from the rare and won't be picked up. During gaming, a cardioid condenser microphone will capture your sound easily, you don't have to speak loud to be heard. What's more, when using a condenser microphone, you can more likely to record with a proximity effect.
The Maono DM30 condenser microphone features a metal body for durability and high signal anti-interference performance. The included metal base can be removed, and then you can use the microphone to fit 3/8-inch and 5/8-inch threaded gaming setups. This microphone is compatible with both Windows and Mac OS.
Many entry-level USB gaming microphones are merely recording devices and lack features like muting, headphone volume control, and mic gain control. The Maono DM30 stands out among all the entry-level USB gaming microphones with a variety of functions it offers, for example, a smart 3-in-1 knob to control microphone gain, headphone volume, and muting. Microphone gain control allows you to turn up or down microphone gain levels according to real-time needs. Headphone volume control works when you plug a headphone into Maono DM30 for monitoring audio.
On the microphone bottom, there is a 3.5mm output jack for monitoring audio, a control button to choose RGB light modes, and a USB-C charging port.
Why it is outstanding?
Aside from the basic features available on microphones, Maono developed a companion audio processing software for DM30. DM30 USB microphone is the first entry-level USB microphone that comes with Maono companion software. Generally, you can only enjoy specially designed companion software when you get a professional condenser microphone.
Maono Link provides advanced features such as compressor, limiter, EQ, and tone control. The microphone can be remotely controlled using Maono Link, which is available for both Windows 7 or later and macOS 10.14 or later.
Maono Link consists of standard and advanced sections. Both sections allow you to do basic control on microphone gain, headphone volume, and mute.
In the standard version, you can adjust microphone tone, selecting from deep, natural, and bright to deliver the most comfortable audio to your teammates. If you prefer to have a dime or bright RGB light, you can adjust RGB brightness.
In the advanced version, you will see EQ, limiter, and compressor controls. The EQ options offer four types of audio filters, including flat filter, high-pass filter, presence boost filter, and lastly, high-pass filter, and presence boost filter. The filter options are developed to satisfy different needs during gaming or game streaming. For instance, you can use high-pass filters for removing rumble, in another word, it will help you to have cleaner audio, with the rumbling sound removed.
The presence boost effect can help vocals cut through noisy environments and dense audio mixes, which is ideal for gamers if the gaming room is acoustically untreated. If you need professional audio processing features, you can use Compressor and Limiter. The compressor works by attenuating the loudest parts of the signal and boosting the result. After compression, the quieter signal is more apparent since the dynamic range has been reduced. A limiter turns down the volume of a sound more strongly than a compressor does.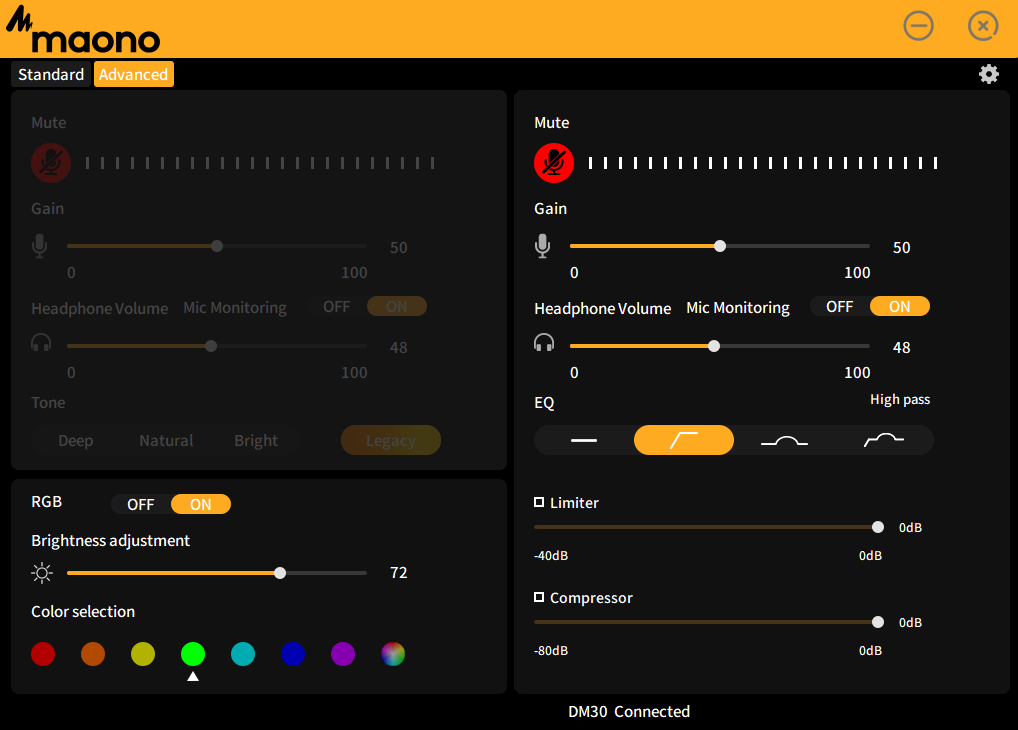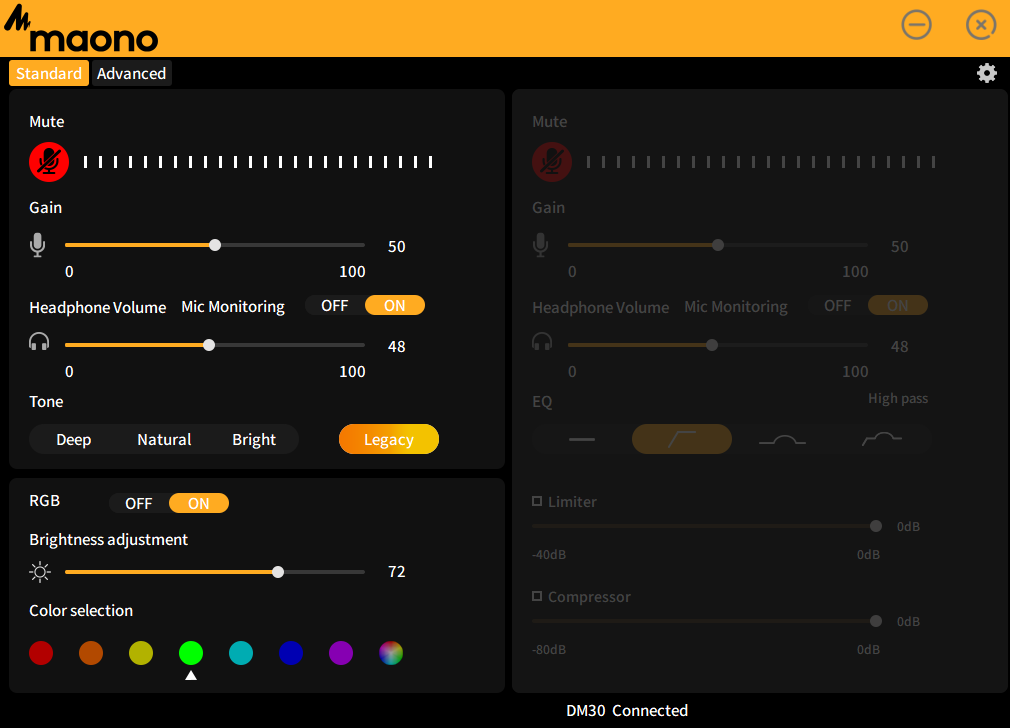 DM30 USB Microphone Specification
You can find the specification of Maono DM30 USB Condenser Microphone below.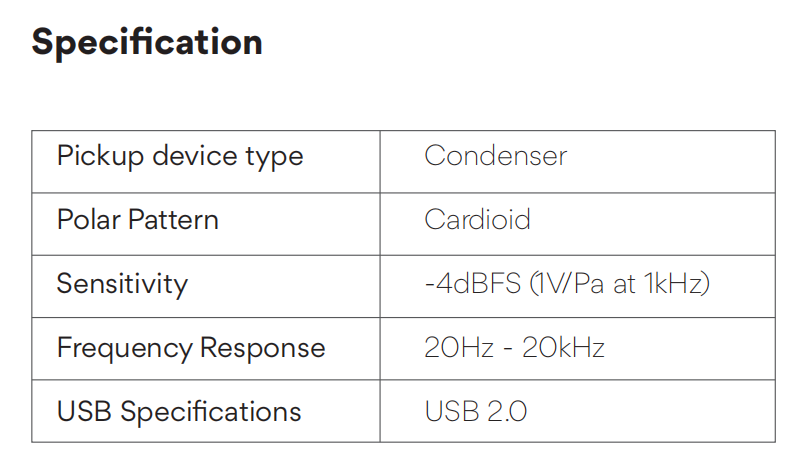 Try it out
As an entry-level microphone, the Maono DM30 USB condenser microphone provides unbeatable performance and will definitely elevate your gaming experience. It is a must-have gaming microphone with its audio processing features, good sound quality, companion Maono Link software, and accessible price. We will release the microphone on our official site soon, don't forget to try it out.