Are you looking for the best gaming microphone? Look no further than a high-quality condenser USB microphone. These microphones are designed specifically for recording clear and crisp audio, making them the perfect choice for gamers who want to communicate with their teammates or record their gameplay.

Not all condenser microphones are created equal, however. To find a better gaming microphone, you'll want to look for a model that offers clean sound quality, noise cancellation features, and a comfortable design that won't interfere with your gameplay.

Of course, you may notice that Maono's 2023 had released several kinds of USB RGB gaming microphones with different price ranges for users selection, which include DM30, DM30RGB, Gamerwave, and PD200X.
Some users may hesitate to make the decision as there is barely any information about learning what are the similarities and differences between these microphone. Now, let's dig out more information about them, especially the DM30 and DM30RGB gaming microphones by reading this article.
Maono Gaming Microphone Similarities:
Then what do these microphones have in common? First of all, these microphones are plug-and-play cardioid microphones with USB ports designed for all gamers. In order to offer users a better gaming experience, these microphones are equipped with a one-button mute function. It keeps you away from the interference of the surrounding environment, and at the same time has the function of headphone monitoring, you can adjust the volume you'd like by yourself.
Most of the time, for gamers, the sense of game atmosphere is also what most gamers look forward to. Who doesn't want a game room with controllable RGB lighting effects? Gamerwave, DM30, DM30RGB, and PD200X are all equipped with RGB controllable lighting display effect, which allows you to enjoy the fun of the game while making your voice clear and pleasant to your teammates and even your live audience.
Furthermore, in order to meet different users' pursuit of RGB effects, Maono's DM30 series microphone has designed different RGB lighting effects, like DM30RGB microphone is including RGB lighting effect switching that fully covers the entire microphone, and DM30's RGB lighting effect design only covers the bottom of the microphone.
These four microphones are compatible with systems such as desktop/laptop/computer/PS4/PS5/MAC OS/WINDOWS, you can choose the product you need with confidence. also, If you want to upgrade your RGB microphone to a boom arm, then the $29.99 B01 boom arm is undoubtedly the best partner for these microphones.
USB connectivity
Controllable RGB light Mode
Gain Adjustment
Cardioid Pick Up
One tap mute function
Compatible with Desktop/Laptop/Computer/PS4/PS5/MAC OS/WINDOWS
Now, let us answer some doubts of the majority of users, besides the difference in appearance, what are the differences between these four microphones, and which microphone should I choose.
Maono Gaming Microphone Differences:
First of all, for these microphones, different price range means different sound quality effects. There is no doubt about this information. If you want to use it for game live broadcast, then your first choice should be the PD200X RGB microphone, although the price is a bit Higher, compared to the other three microphones, the sound quality of PD200X will be better.
In addition, the PD200X microphone is also a microphone with XLR socket, and it is also compatible with sound card equipment, allowing you to switch freely when you want to use podcasts in the future. The adjustment of functions will also be more abundant. The prices of Gamerwave, DM30, and DM30RGB are more suitable for beginners who are just getting started and want to set up their game rooms. the price is relatively more reasonable for them.
Many users are very interested in our Maonolink software, as it is not only easy to use, but also provides more professional audio parameter adjustments, allowing you to achieve richer sound presets.
So, what functions can Maono link achieve? It is fully including the function of Limiter settings, Compressorsettings, Volume control, EQ modes, RGB lighting customization and One button mute. Currently our DM30, DM30RGB and PD200X microphones can use this software function, but please noted that Gamerwave microphone cannot be compatible with the maono link software.
Blowout Prevention Function
Both Gamerwave and PD200X microphones have built-in Blowout prevention function. When some users buy PD200 microphones, they have this idea to buy the pop filter seperately, but in fact, PD200X comes with Blowout foam already, you don't need to buy additional pop filter and it is not perfectly used on PD200X usb microphone.
The RGB functions of the Gamerwave and DM30RGB microphones are somewhat similar. The head and tail of the microphone are equipped with controllable RGB lighting effects, while the DM30 and PD200X are partial RGB lighting effects. You can check the pictures below to distinguish their light show function effects.
The Design of the Function Adjustment Button
the volume adjustment design of Gamerwave is at the bottom. If you want to adjust the volume, remember to adjust it only from the bottom. And the one-button mute function and RGB lighting effect switching are designed at the top for users to directly select and adjust.
DM30 and DM30RGB products are designed with 3 and 1 all-in-one button functions. One button can simultaneously satisfy one-key mute, microphone volume adjustment and monitor earphone volume adjustment. RGB lighting control is adjusted at the bottom according to the design.
The PD200X come with two-in-one button design. The volume of the microphone and earphones is adjusted on the same button, and the one-button mute function is designed below.
In order to make it easier for users to understand the differences between these products, you can better understand the differences between them from this picture as follows: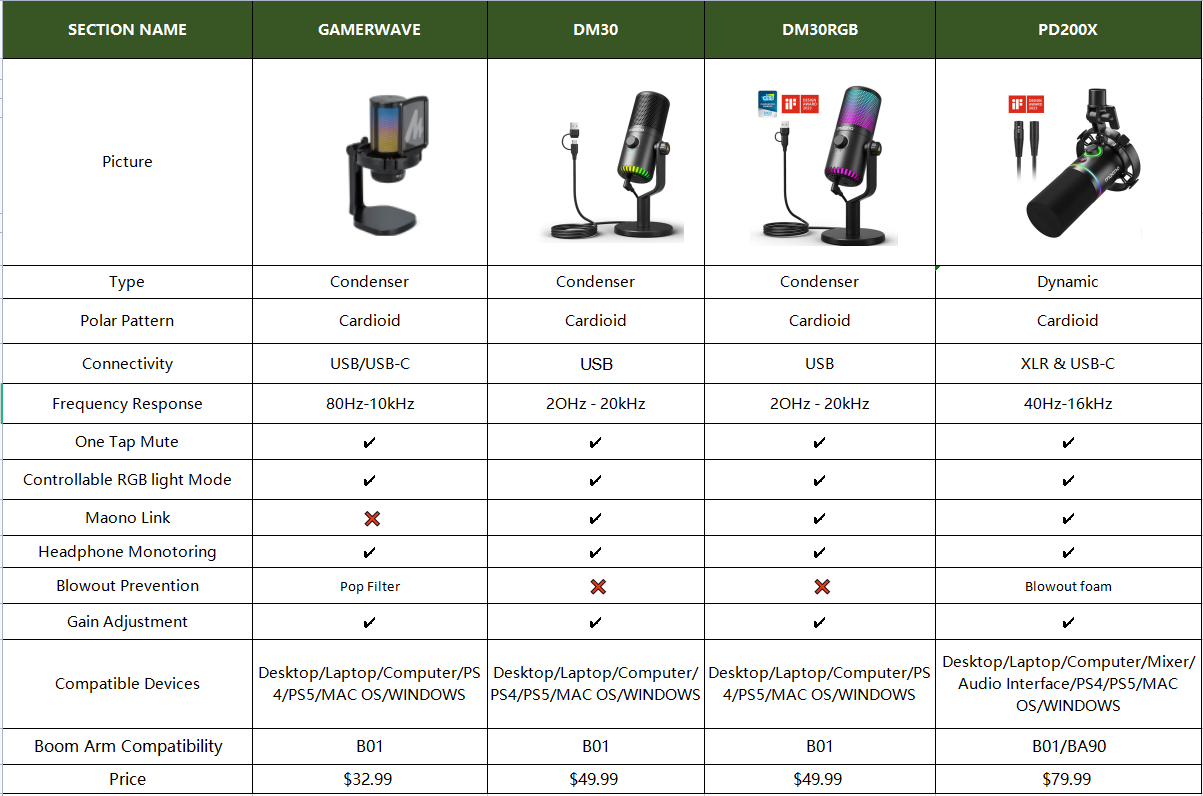 Different users have different requirements for microphones, so how to choose a gaming microphone that suits you? First of all, understand your own budget range. Microphones with different prices have different positioning and functions. like If your budget is around $50 and you are just getting started, you want a experience with a new general game atmosphere, then it is recommended that your selection would be either DM30RGB or Gamerwave microphone.
If you want to upgrade more EQ settings through software and have higher requirements for RGB effects, then I suggest you try the DM30RGB gaming microphone, which is a wonderful microphone suitable for beginners.
Furthermore, if you have a certain requirement for the sound quality of the microphone in addition to sufficient budget and RGB lighting effects, it is recommended that you purchase a PD200X microphone. Not only can USB plug and play when using the game mode, but the XLR socket can also meet your subsequent upgrade of the sound card function. Base on the information above, I bet you already know what microphone should you take.
Now take actions and start setting up your gaming room with a perfect gaming microphone.