2022 Perfect Christmas Gift Brings Happiness
People are always excited to spend holidays and share happiness with families and friends. During the Christmas holidays, people would exchange gifts, share delicious food, and pray together. While considering the different preferences of people, selecting a perfect holiday gift can be tricky. You may spend several hours selecting a gift but end up finding nothing satisfactory.
Actually, a gift that brings happiness is always a good idea. Maono MKP100 Wireless Karaoke Microphone would be the best-buy karaoke microphone gift that will win over everyone from kids to grandparents. As a holiday gift, it is ideal for family members of any age and is sure to bring them happy moments.
Maono MKP100 is quite an entertaining microphone choice that is easy to operate, even for elderly people. Parents or grandparents can easily pair the microphone with phones, and tablets via Bluetooth. The pairing process only takes 2 seconds. The Karaoke microphone will allow grandparents to sing with a real-time output of voice and accompaniment music. 
Now Let's check what are the main features of this tiny mic?
1. Eight Entertainment Voice Effects
There are eight voice entertainment effects, including Default, Karaoke, Pop, Robot, Super Echo, Pro, Anchor, and Baby. By applying these voice effects, you can have an interesting voice role-play game with friends or family. While you are having an online video call, using these effects will bring laughter to the talking. you can use the MKP100 karaoke microphone anywhere or anytime you like during hoilday like Halloween or Christmas.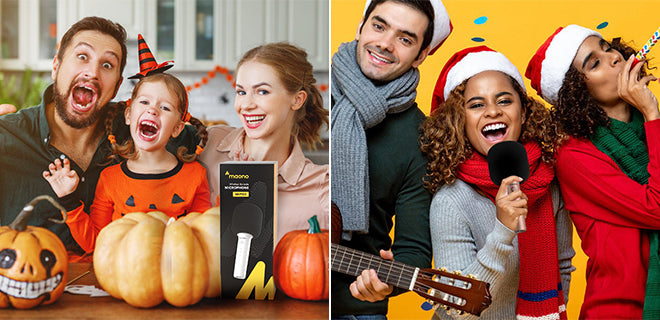 2.One-key TWS wireless interconnection, duet chorus is easier
The MKP100 karaoke microphone can use the TWS interconnection as well, enabling two people each to take a microphone, connect to the same mobile phone, and sing the same song, Whether it is at home or a party, turn on the portable KTV at any time.
3. An Easy-to-Use Wireless Karaoke Microphone
Thanks to the built-in speaker, this Karaoke microphone can also be used as a Bluetooth speaker. Listening to music while doing the housework will definitely create some joyful moments of grandma's day.
4.Long Battery Life
Six-hour long battery life of the microphone means that you can enjoy at least 6 hours of happy singing time. Getting an HD audio microphone for singing is also a good way to bring closer friends and families. There are many Karaoke apps on the Internet, download one and see who will get the higher score.
5. Are You Still Bothered by Long-distance Disconnection?
The microphone adopts the latest Bluetooth 5.0 and TWS pairing mode, which provides fast pairing, stable connection, and long-distance signal transmission up to 66ft/20m. Making it convenient to use. It only takes 2 seconds to pair your device and the microphone. Sing anytime, anywhere, and instantly enjoy a high-quality karaoke experience.
6.Various Color Options and Cute Looking
Maono offers up to nine color options for the MKP100 Karaoke Microphone. such as And the cute-looking microphone will be attractive for kids to try out immediately when they open the gift. Using the eight entertaining voice modes one by one will definitely satisfy kids' curiosity.
7. Widely Compatibility
Compatible with a variety of devices and apps overseas, no software driver is required anymore, just connect with your Bluetooth and you can have fun with your friends any time. this is such a lovely gift choice for children.
Choosing a good birthday or holiday gift for families and friends is always a headache for most people, we are pretty sure the MKP100 karaoke microphone would be the family's best partner, you can carry it anywhere and sing anytime you like if you love singing so much.
Now the MKP100 karaoke microphone only needs $35.99 for the Halloween celebrating, Would you like to sing with your families this Christmas? why not grab the chance and pick up the Maono MKP100 Karaoke microphone and Let's party?