Maono dynamic microphone PD400X completed the crowdfunding goal just 2 hours after its launch. In less than a day, 142 users have successively supported our PD400X and raised $22,230 on Kickstarter. The majority of users expressed their love for this latest coming microphone. Currently, 50 sets of our early bird price are already sold out. now you can reach the latest discount price information on Kickstarter if you like to learn more about it.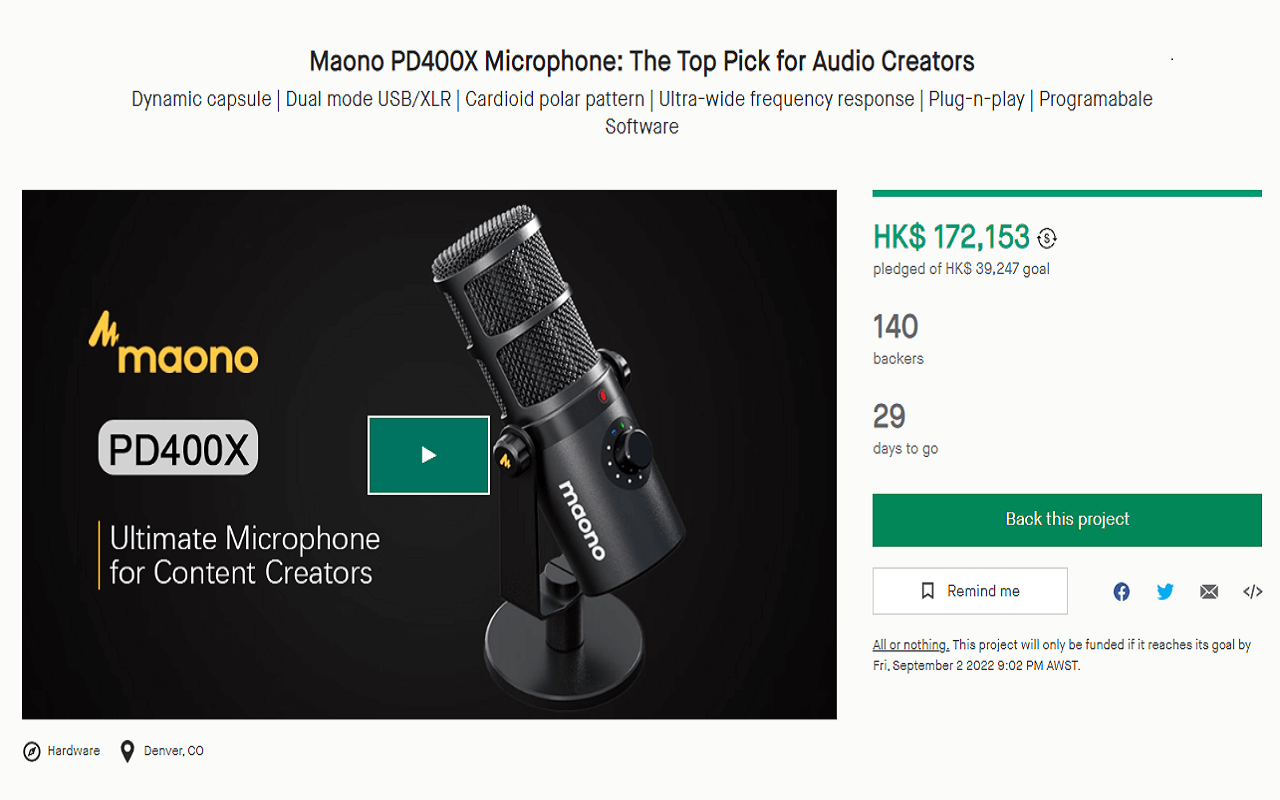 In 2020, Maono debuted its first show on the Kickstarter platform, our Maonocaster podcast production studio had earned a total of 3384 users who supported us and raised over $716,088 in excellent results, and users shows their appreciation for the capabilities of our audio mixer after receiving it on the social medium, which also gives Maono the confidence to do a good job in the further audio products. This summer, in order to bring the MAONO Internet Microphone closer to everyone, our PD400X once again came into view.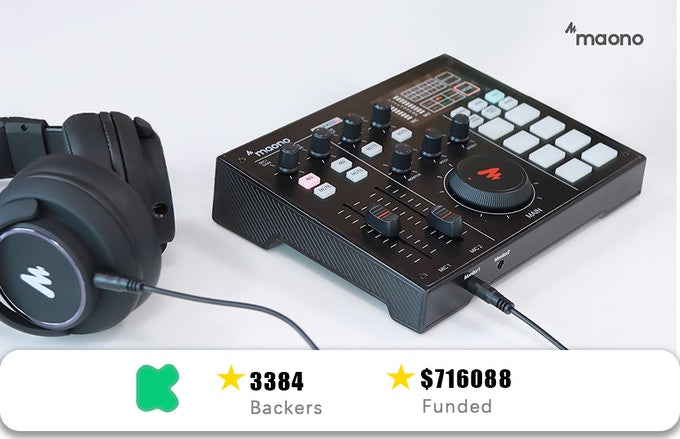 Why Maono PD400X microphone got so much attention? First of all, this is a new upgrade for Maono's most challenging microphone audio projects, creating an Internet dynamic microphone with professional-grade performance that fully addresses user needs. This is the internet microphone of choice for audio creators, breaking the stereotype of traditional dynamic microphones.
With its outstanding appearance, The Maono PD400X USB/XLR microphone features a cardioid polar pattern on the front to cancel out background noise and amplify exactly what you want to hear. This makes it an ideal solution for gamers, podcasters, and any performer with high sound quality requirements.
The state-of-the-art self-developed software with Maono features monitor mixing tools that allow you to freely adjust the monitor ratio between your workstation (PC or Mac) and microphone. The result is perfectly balanced sound and speech with zero audio latency. Hear everything your audience hears for a full-blown listening experience.
Now let's take a look at the real review said about Maono PD400X microphone.
From the early days of its establishment, Maono has been adhering to the original intention of taking customers as priority and has created one highly influential product after another, hoping that young people can enjoy the audio experience of our products.
After several years, MAONO has been widely recognized in the global Podcast & Gaming market, providing products to 3 million users in 153 countries around the world. It is worth noting that we are proud of our live production audio interface being among the top sellers overseas.
Now our PD400X podcaster Mic is available on our Kickstarter and it can be pre-ordered on our official online store if your country is not allowed to place the order on Kickstarter. You can click HERE to place the order directly. And please contact angela@maono.com If you encounter problems during the purchase process,
Be carefully aware that all the pre-orders on our website will be delivered after we complete the shipments for Kickstarter campaign backers according to the KS policy. Don't miss the chance to try out this awesome microphone and this will be the best buy microphone you've ever had.