MAONO HD300T USB/XLR Dynamic Broadcast Microphone
The HD300 is a broadcast-quality dynamic microphone optimized for incredible performance in podcasting, livestreaming, and other speech or vocal applications.
US/CA Countries: 
Free Shipping & Ship from US Warehouse
Estimate Shipping Time: 3-7 Days
Other Countries:
Free Shipping to Most Countries & International Delivery
Estimate Shipping Time: 7-15 Days
Lifetime Support & 30 Days Return Allowed  (If any quality issue happens)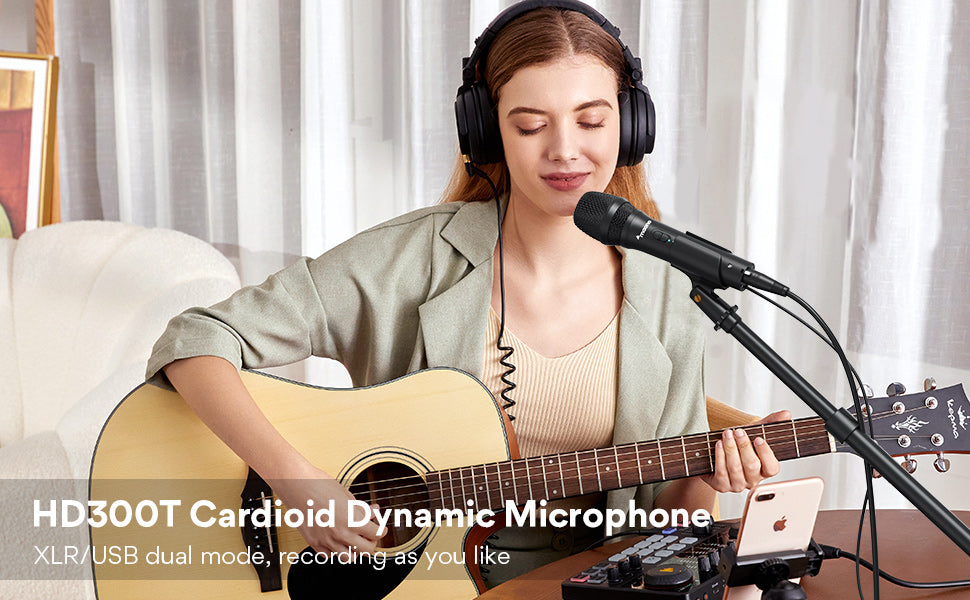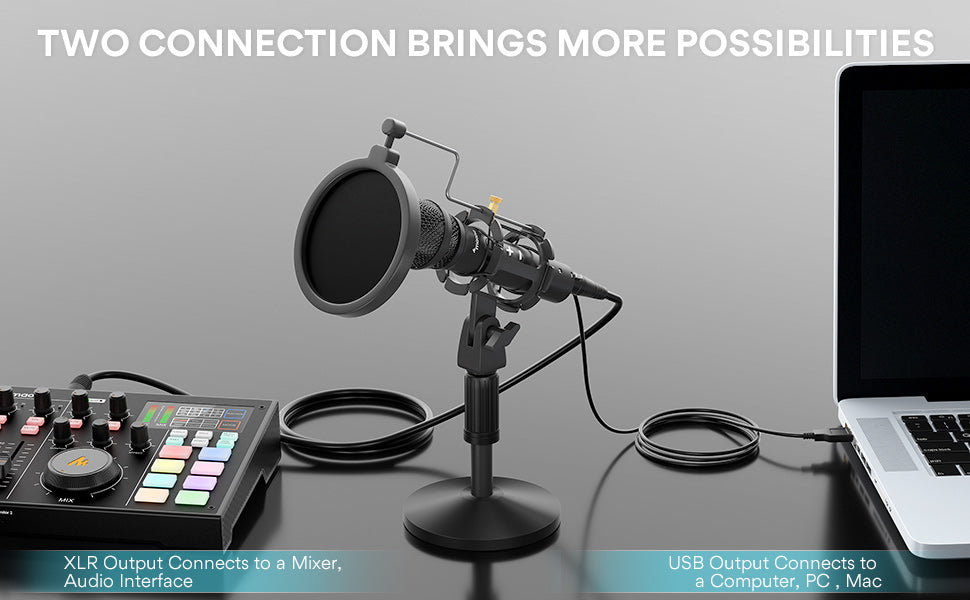 -Why choose a MAONO dynamic microphone?
1. Zero-latency monitor headphone jack
MAONO vocal podcast mic is equipped with a headphone jack for zero-latency monitoring. You can monitor your own voice in real-time through headphones, allowing you to record more freely!
2. Volume control buttons
You can directly adjust the monitoring headphone sound through the volume control button so that you can avoid being too loud and enter the working state quickly anytime and anywhere.
NOTE: Zero-latency monitoring and Volume control ONYL are available in USB mode!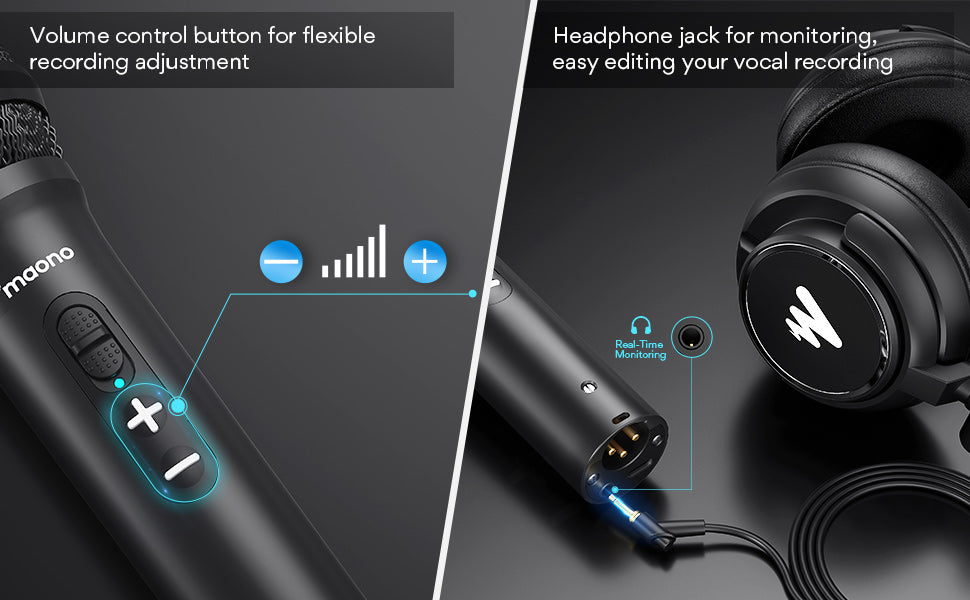 Dynamic mic with cardioid pickup pattern

MAONO HD300T cardioid dynamic microphone captures the sounds with high sensitivity and accuracy from the front of the mic, designed to deliver clear sound, perfect for podcasting, Live vocal, instrument recording, and live streaming.

Take your recording any where: USB/XLR

For wide compatibility, the HD300 to be connected to more devices such as PCs, computers, DJ mixers, and audio interfaces, portable PA systems. The great thing is that HD300T studio mic doesn't require phantom power. 

Start your recording here!

Premium components and extremely sturdy construction deliver clear and natural sound, all in one mic kit Includes a durable desk stand that doesn't slip easily, takes up a small desk area, a pop filter for p-pops reduction, a shock mount for vibration reduction, to ensure better recording.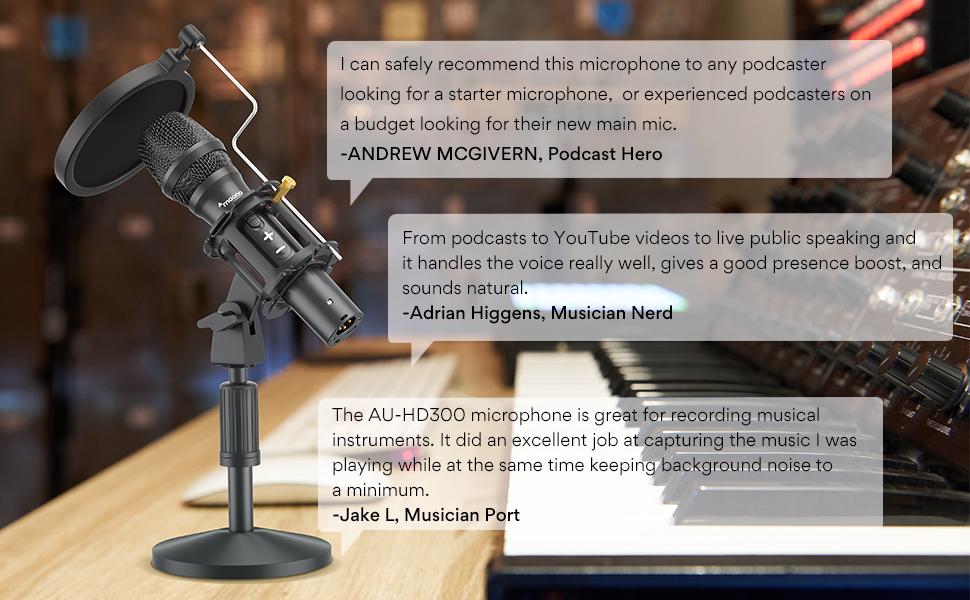 MAONO HD300T is honored to be ranked fourth by the famous microphone magazine website 'Microphone Geeks' under the keywords of 'Best USB microphone'
It says:'' Maono HD300T is a dynamic USB microphone that brings live sound home and packs the best bang for the buck when it comes to vocal recording. It delivers the best traits of dynamics that result in smooth and undistorted sound, saving you from buying expensive equipment such as preamps and digital interface that are otherwise necessary for connecting a dynamic XLR microphone to a computer. This mic comes with handy shock mount & compact pop ''
After years of research, MAONO officially launched this cardioid dynamic microphone with USB and XLR output. (HD300T) We utilize premium materials and excellent workmanship, and we strive to launch a cost-effective dynamic microphone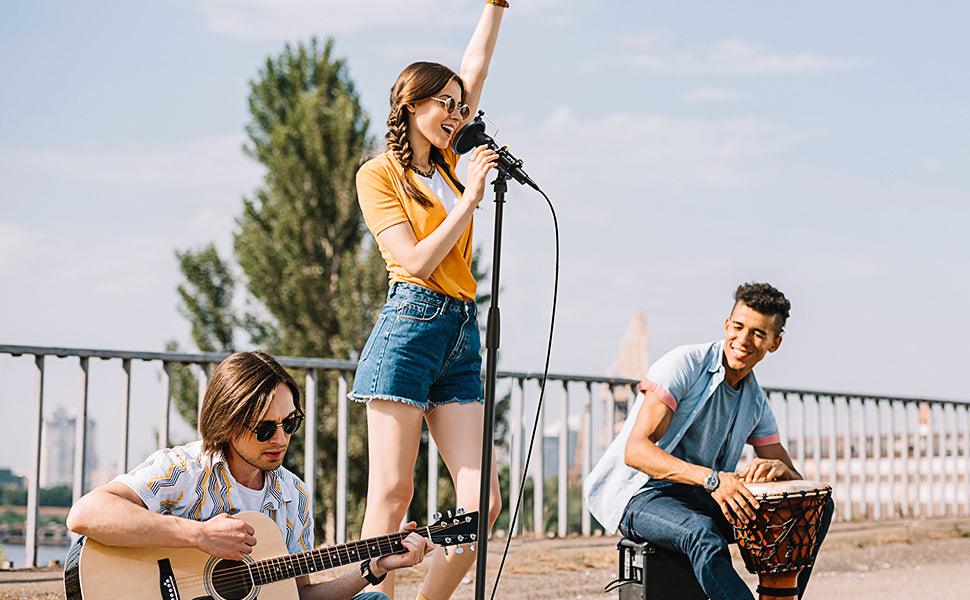 Specification

Microphone-core
Dynamic
Polar Pattern
Cardioid
Frequency Response
40Hz -17kHz
Bit Depth
16 bit
Sample Rate
44.1/48 kHz
Controls
On/ off switch
Headphone Volume control
Available on USB mode
Monitor
Available on USB mode
Headphone Jack
1/8'(3.5mm) TRS Stereo
Headphone Output power
30mW ;32 Ω
LED Indicator
Available on USB mode
Power Requirements
USB-DC 5V
Output connector
USB-C / XLR
Weight
318g
Accessories
USB A to C cable x1 ;XLR cable x1
System Requirements
macOS X; USB 2.0
Windows 7/8/10;USB 2.0
● BROADCAST-QUALITY DYNAMIC MICROPHONE FOR PODCASTING, RADIO PRODUCTION, AND VOICE-OVERS
The HD300 is a professional broadcast quality dynamic microphone, specifically designed to offer no-compromise performance for voice applications such as podcasting, streaming, voice-over, and radio broadcast.

● BEST OF BOTH WORLDS
Professional handheld dynamic microphone with USB/XLR dual-mode output. USB digital output connects to a computer, pc, mac, and XLR analog output connects to a mixer, audio interface, or portable PA system. Ideal for podcasting, recording, live streaming, vocal, voiceover, singing, home-Studio, content creation.

● ZERO-LATENCY MONITORING AND VOLUME CONTROL
onboard 1/8" (3. 5mm) headphone output allows you to monitor your sound while recording without any delay or echo. HD300T microphone also has a control button that can adjust the headphone output volume conveniently.

● CARDIOID DYNAMIC MICROPHONE
Built-in cardioid capsule can capture sound in front of the microphone and reduces possible background noise from the other side and rear. Smooth, extended frequency response for rich and natural vocal reproduction.

● DURABLE METAL CONSTRUCTION FOR LONG-LASTING PERFORMANCE
Rugged metal construction provides outstanding reliability. The stable base with the all-metal and will not be easily knocked down. Height adjustable metal tube is stronger than ordinary plastic tube and easily supports heavy microphones. Shock mount and pop filter for reducing p-pops.

● PACKAGE LIST AND WARRANTY
Dynamic microphone*1, microphone stand*1, pop fliter*1, shock mount*1, 78in USB cable, 98in XLR cable*1, user manual*1. MAONO HD300T dynamic microphone provides a 24-month warranty.

● Question: Can this connect to an android phone via USB-c?
• Answer: Of course, the HD300T dynamic microphone is connected via USB-A. You can use an OTG adapter to connect it to your Android phone.

● Question: Should the indicator light turn on immediately after you turn on the switch button? Do you need batteries?
• Answer: When you connect via USB, turn on the switch and the indicator light will light up. It does not require an additional battery and is powered by USB, but please note that when you use an XLR connection, the indicator light will not light up.

● Question: Above the volume buttons, there is a switch, does this switch function as a mute button or power button?
• Answer: This switch functions as a power button. When you connect via USB, turn on the switch and the indicator light will light up. It does not require an additional battery and is powered by USB, but please note that when you use an XLR connection, the indicator light will not light up.

● Question: Is this mic compatible with ps4?
• Answer: This should work with a PS4 using the provided USB cable, however, it may be difficult to operate because of the style of the microphone and the limitations of PS4 audio software. These kinds of microphones (dynamic cardioid) require you to be very very very close to the front of the microphone (within an inch or so) in order to pick up audio. The PS4 audio settings allow you to increase gain/microphone volume only a small amount which may make it so that it's still hard to use the microphone comfortably if at all. Basically, it should physically work, but I would not recommend it.


● Question: What is the decibel cap on this microphone? I bought this recently to record loud screaming vocals and it always seems to clip. Any advice?
• Answer: when you are 50cm away from the HD300T microphone, the microphone can withstand a 120-decibel cap. (The effect of distance is different) But we need to remind you that long-term screaming into the microphone can easily cause damage to the microphone. If you have any questions about the product, please contact our after-sales team or the official website. The after-sales team will provide you with a corresponding solution according to your problem.