Over the past year, while facing many difficulties and changes, Maono internet microphone brand has been pacing up the steps to provide greater products and service to users. Maono believes in the best product's development is done via technology innovation as well as conversations with end users.
In 2022, through online and offline conversations with Maono users on online community, social media platforms, and offline exhibitions, Maono learns more about users needs, which contributes to Maono's succeeding in making several killer audio products and gaining many awards in 2022. Let's find out what are the meaningful Maono events and achievements in 2022.
Maono

PM500

Won International Design Awards(IDA)2021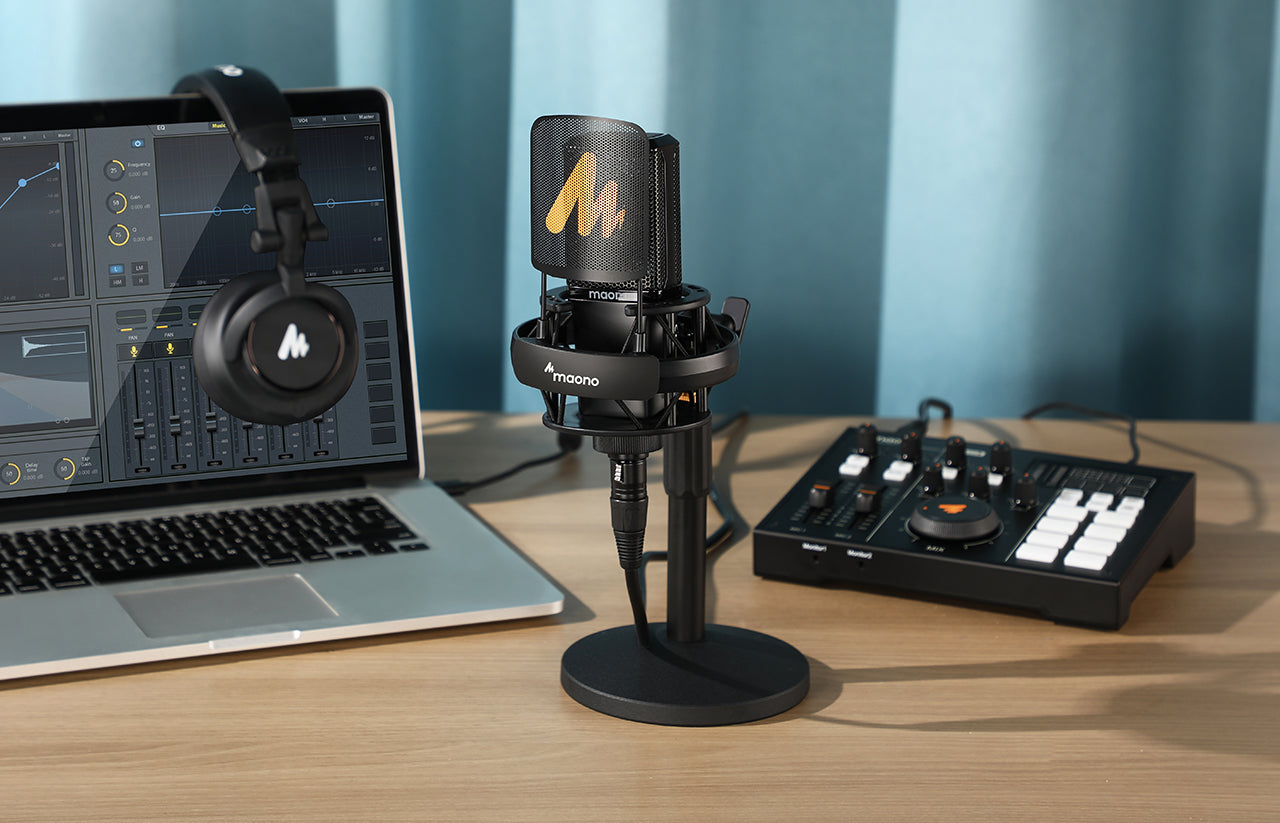 In Feb 2022, Maono has been honored for Maono PM500 Condenser Series Studio-Quality XLR Microphone, in the Media And Home Electronics of Product Design Category. Maono PM500 provides unrivaled audio performance and classic looking to users who are need of a professional level XLR microphone for their content creation.
Several Maono Audio Products are Selected as Renowned Medias' Top Picks
In Feb 2022, Allesbeste, a Germany's leading technology media, recommend PM421 USB microphone as one of the best USB microphones.
Maonocaster Lite Premium Mic Bundle was recommended by the professional technology media Venture Beat as one of the best USB audio interfaces.
In March 2022, A04 USB microphone was recommended by the historic New York Post as one of the best USB microphones.
Aside from the previous recommendation, later in April 2022, it was selected as one of the best microphones for PC gaming by Gadget Review, a professional technology product review media.
Maono Participated in Infocomm India 2022
In September 2022, Maono participated in India Infocomm exhibition show. Maono displayed many of its best products, like Maonocaster Lite AM200 audio interface, Maono DM30 USB microphone, Maono PM500 XLR microphone, etc. More than a thousand visitors came to Maono booth and tried Maono products in person. They were impressed by the quality and performance of the displayed Maono audio products.
In November 2022, DM30 won CES 2023 innovation award in the Computer Peripherals & Accessories category. The USB condenser microphone compact functions like RGB light adjustment, companion software, mute, mic gain adjustment, etc. It is an ideal USB microphone you can rely on for gaming, streaming, chatting, and more applications.
Maono Participated in Bangkok International Photo Fair 2022
In November 2022, Maono attended the Bangkok International Photo Fair 2022 to display its impressive internet audio products like USB microphone, wireless microphone and audio interface. Maono also had  face-to-face conversations with users as well as media worldwide.
Content creation is becoming increasingly popular around the world. Southeastern Asia users are one of the major parts of Maono users, they were happy to touch and try out Maono products in front of Maono booth. Visitors highly praise the easy operation and accessibility of Maono products. They believe Maono offers quick and convenient solutions for content creators.
Summary
2022 is a year filled with small achievements and constant progresses. Maono looks forward to start a bright journey along with Maono users in 2023. And here is a good news, Maono will release two amazing new products very soon. To learn more about the new products, stay tuned in our official channels.