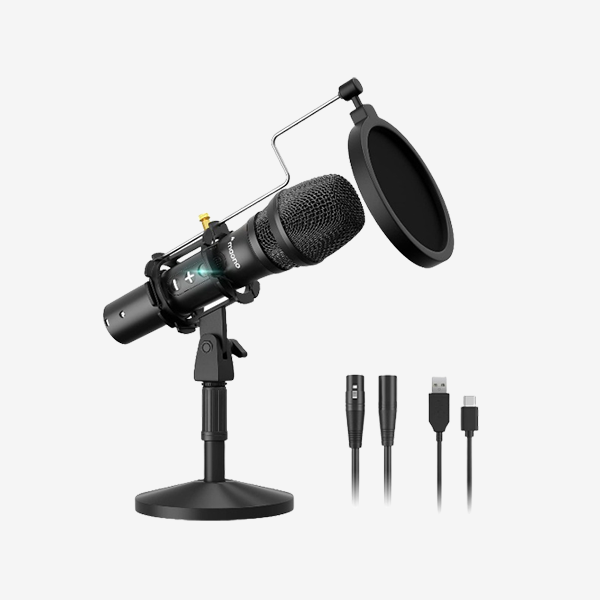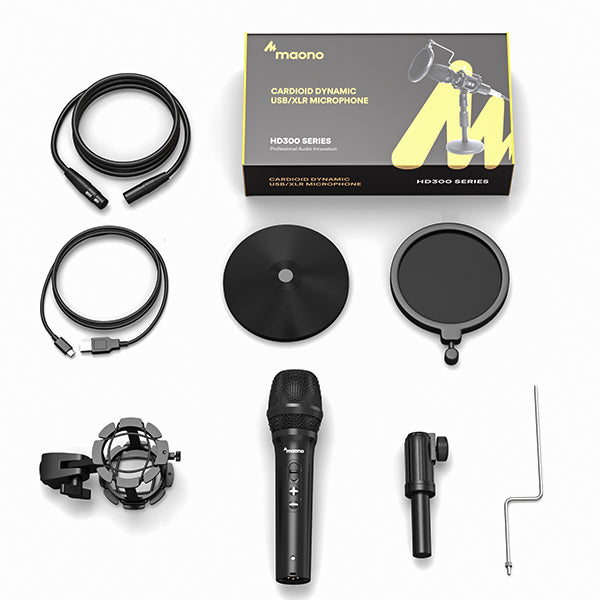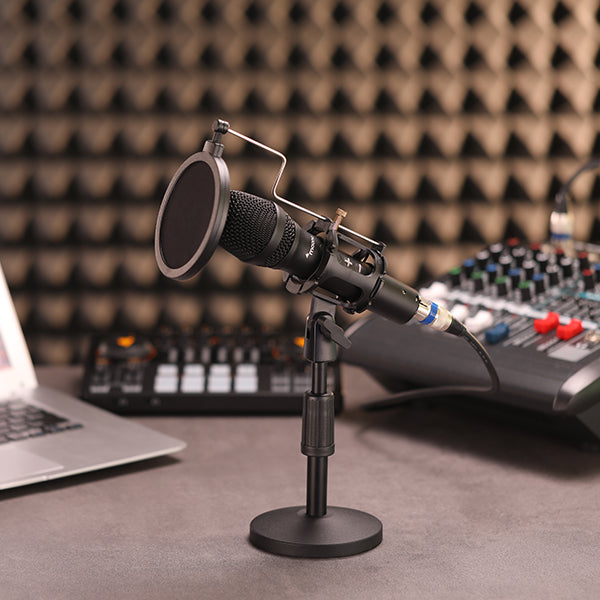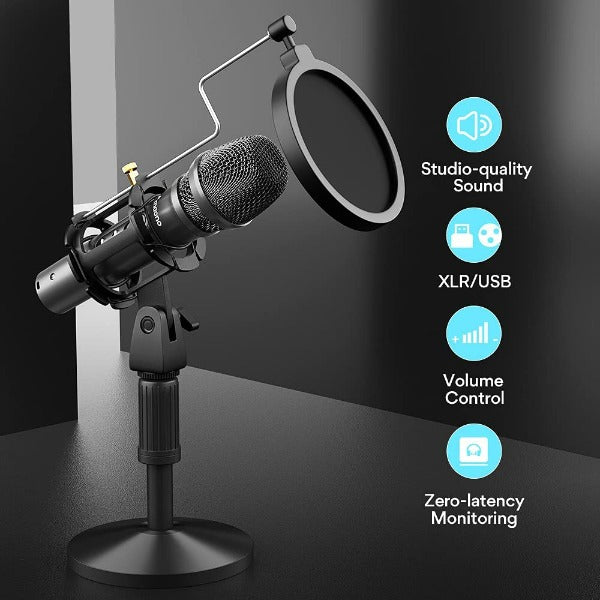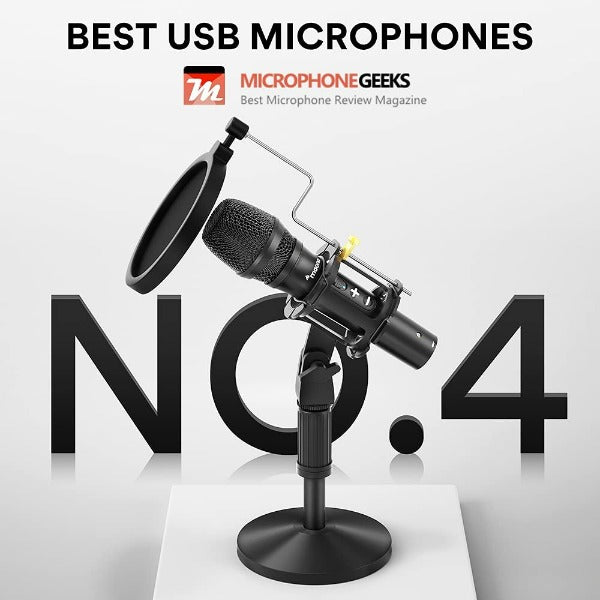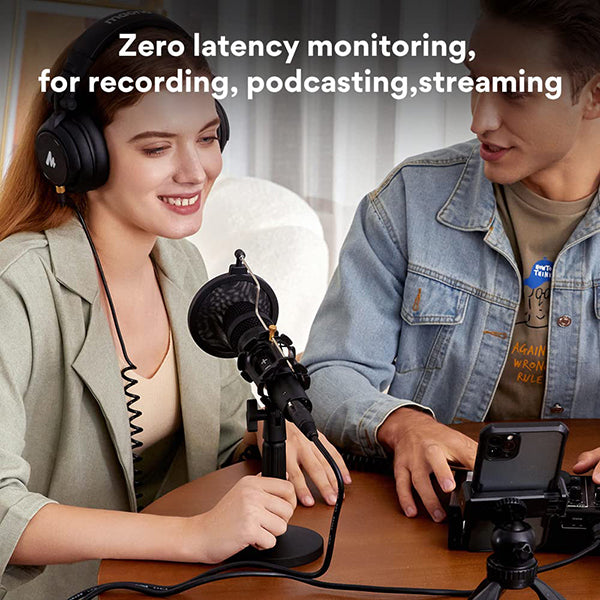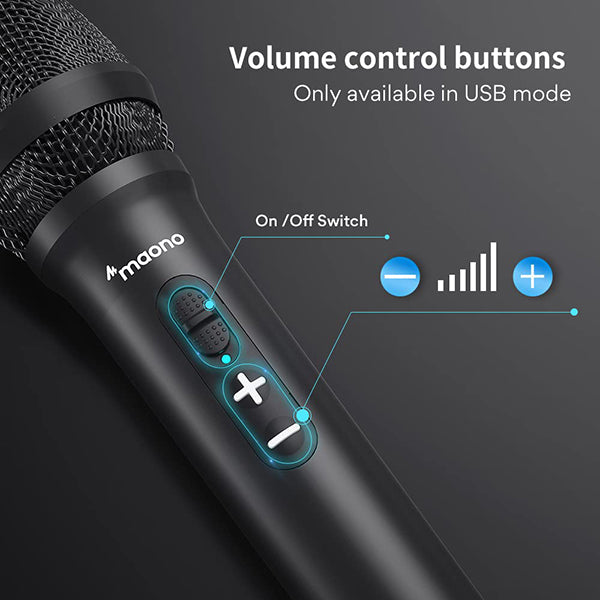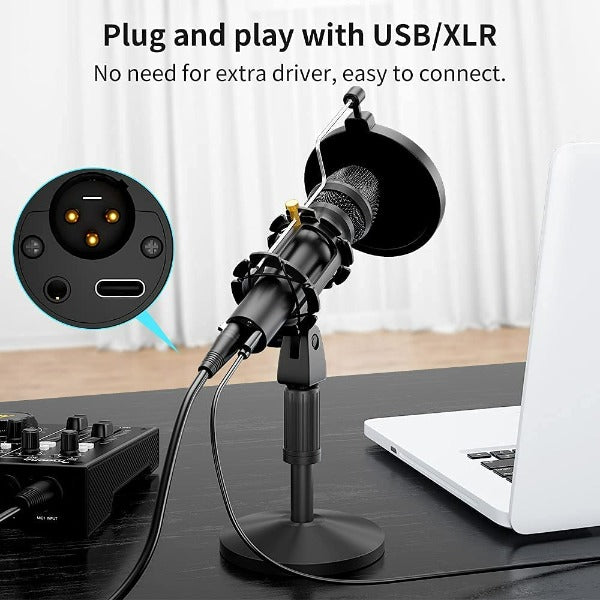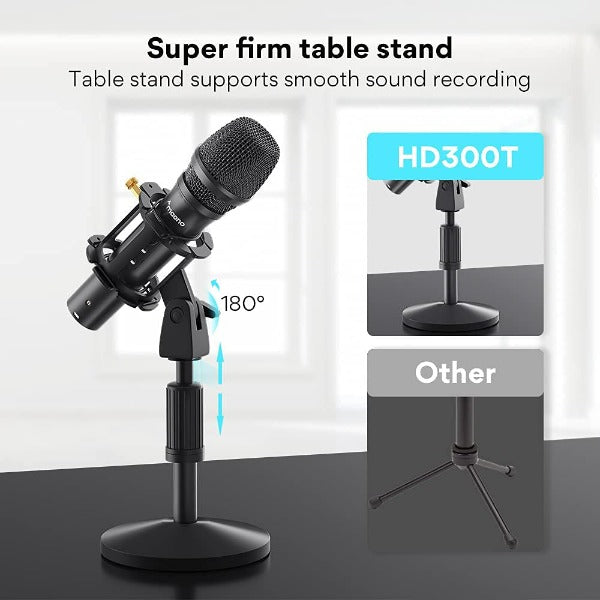 MAONO HD300T USB/XLR Dynamic Broadcast Microphone
● BROADCAST-QUALITY DYNAMIC MICROPHONE FOR PODCASTING, RADIO PRODUCTION, AND VOICE-OVERS
The HD300 is a professional broadcast-quality dynamic microphone, specifically designed to offer no-compromise performance for voice applications such as podcasting, streaming, voice-over, and radio broadcast.
● BEST OF BOTH WORLDS
Professional handheld dynamic microphone with USB/XLR dual-mode output. USB digital output connects to a computer, pc, or mac, and XLR analog output connects to a mixer, audio interface, or portable PA system. Ideal for podcasting, recording, live streaming, vocal, voiceover, singing, home-Studio, and content creation.
● ZERO-LATENCY MONITORING AND VOLUME CONTROL
Onboard 1/8" (3. 5mm) headphone output allows you to monitor your sound while recording without any delay or echo. HD300T microphone also has a control button that can adjust the headphone output volume conveniently.
● CARDIOID DYNAMIC MICROPHONE
The built-in cardioid capsule can capture sound in front of the microphone and reduces possible background noise from the other side and rear. Smooth, extended frequency response for rich and natural vocal reproduction.
● DURABLE METAL CONSTRUCTION FOR LONG-LASTING PERFORMANCE
Rugged metal construction provides outstanding reliability. The stable base with the all-metal will not be easily knocked down. Height adjustable metal tube is stronger than ordinary plastic tube and easily supports heavy microphones. Shock mount and pop filter for reducing p-pops.
"Maono HD300T is a dynamic USB microphone that brings live sound home and packs the best bang for the buck when it comes to vocal recording. It delivers the best traits of dynamics that result in smooth and undistorted sound, saving you from buying expensive equipment such as preamps and digital interface that are otherwise necessary for connecting a dynamic XLR microphone to a computer. This mic comes with handy shock mount & compact pop ''
REVIEWS FROM MICROPHONE GEEKS_BEST MICROPHONE REVIEW MAGZINE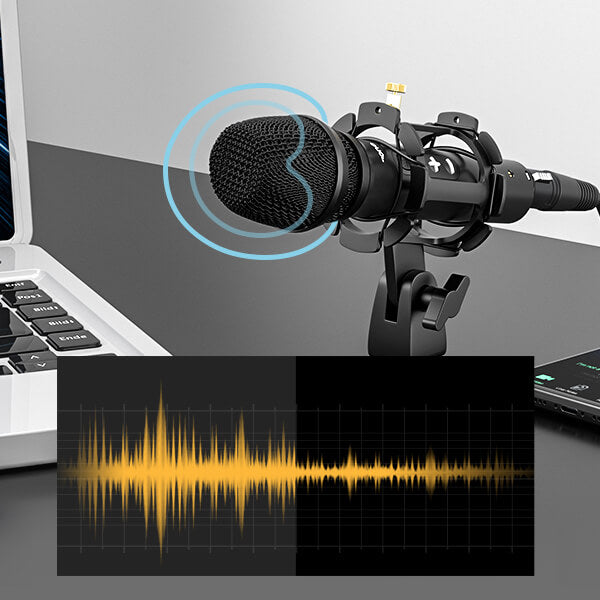 Cardioid Pattern
Cardioid pickup shows excellent off-axis sound suppression capability of reducing the sound pickup from the side and rear, thus eliminating background noise.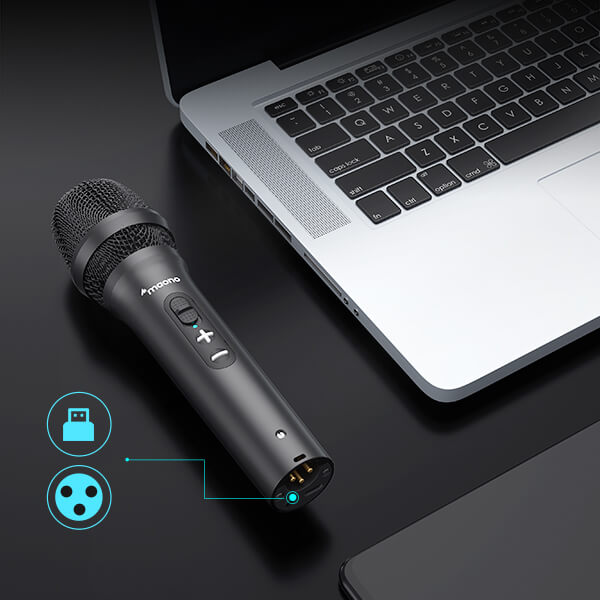 Easy Plug & Play with USB/XLR
Come with USB/XLR dual-mode output. USB digital output connects to a computer, pc, or mac, and XLR analog output connects to a mixer, audio interface, or portable PA system.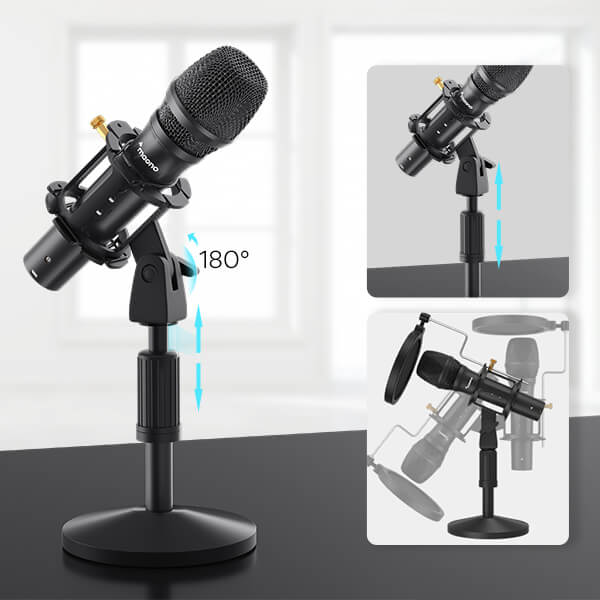 360° Easy Rotation and Free Extension
Friendly Design with Metal sturdy extendable and 360° rotatable table stand, supporting users for good stability and avoiding microphone vibration.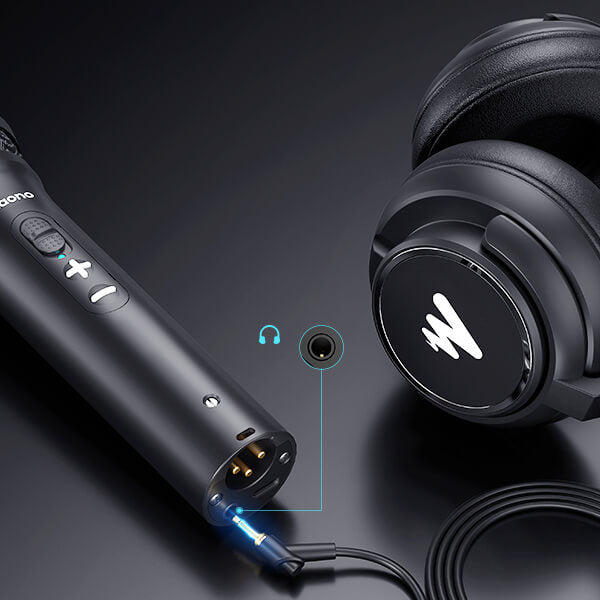 Zero Latency Monitoring in USB Mode
Equipped with a headphone jack for zero-latency monitoring. You can monitor your own voice in real-time through headphones, allowing you to record more freely!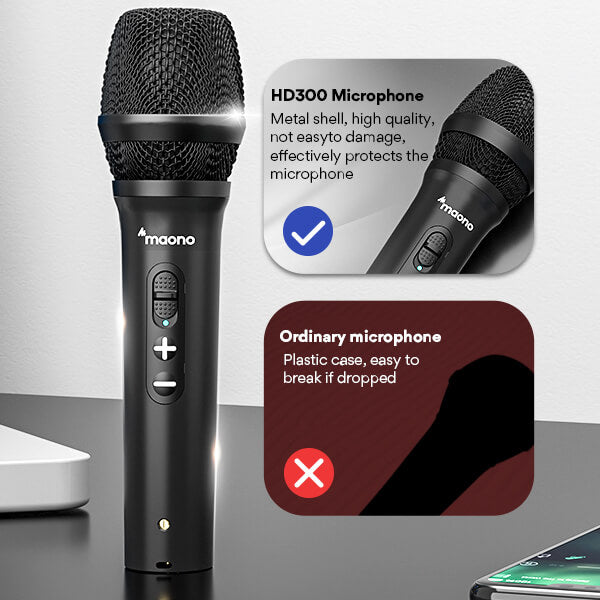 High Quality Metal Shell Design
High-quality metal shell design, not easy to damage, greatly improving the waterproof and fire resistance of the microphone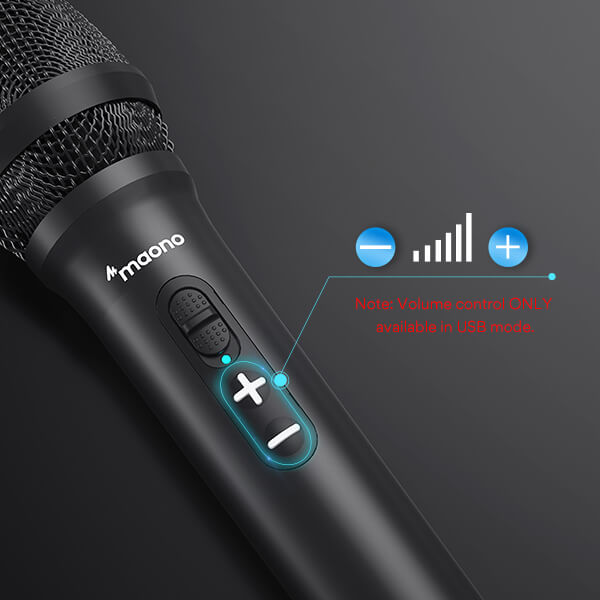 Volume Control
You can adjust the monitor volume via the volume buttons to get more audio detail and ensure better audio output
PACKAGE LIST
Dynamic microphone*1, microphone stand*1, pop fliter*1, shock mount*1, 78in USB cable, 98in XLR cable*1, user manual*1. MAONO HD300T dynamic microphone provides a 24-month warranty.
Microphone-core
Dynamic
Polar Pattern
Cardioid
Frequency Response
40Hz -17kHz
Bit Depth
16 bit
Sample Rate
44.1/48 kHz
Controls
On/ off switch
Headphone Volume control
Available on USB mode
Monitor
Available on USB mode
Headphone Jack
1/8'(3.5mm) TRS Stereo
Headphone Output power
30mW ;32 Ω
LED Indicator
Available on USB mode
Power Requirements
USB-DC 5V
Output connector
USB-C / XLR
Weight
318g
Accessories
USB A to C cable x1 ;XLR cable x1
System Requirements
macOS X; USB 2.0
Windows 7/8/10;USB 2.0
General Product Questions
Yes, the HD300T dynamic microphone is connected via USB-A. You can use an OTG adapter to connect it to your Android phone.
Write content to help your customers to better understand your products orWhen you connect via USB, turn on the switch and the indicator light will light up. It does not require an additional battery and is powered by USB, but please note that when you use an XLR connection, the indicator light will not light up.policies.
This switch functions as a power button. When you connect via USB, turn on the switch and the indicator light will light up. It does not require an additional battery and is powered by USB, but please note that when you use an XLR connection, the indicator light will not light up.
This should work with a PS4 using the provided USB cable, however, it may be difficult to operate because of the style of the microphone and the limitations of PS4 audio software. These kinds of microphones (dynamic cardioid) require you to be very very very close to the front of the microphone (within an inch or so) in order to pick up audio. The PS4 audio settings allow you to increase gain/microphone volume only a small amount which may make it so that it's still hard to use the microphone comfortably if at all. Basically, it should physically work, but I would not recommend it.
when you are 50cm away from the HD300T microphone, the microphone can withstand a 120-decibel cap. (The effect of distance is different) But we need to remind you that long-term screaming into the microphone can easily cause damage to the microphone. If you have any questions about the product, please contact our after-sales team or the official website. The after-sales team will provide you with a corresponding solution according to your problem.
Order & Shipping
We basically will arrange the order delivery within 1-3 days once the order is received, and the delivery time depends on where you live. here is the delivery time for your reference, but the specific time is subject to the delivery time. Maono owns the final interpretation.

1. If you are from the US, we will deliver the product from the US warehouse, it will take 3-5 days for delivery.

2. Out of the US area, it will take 7-20 days for delivery, The specific needs depend on the country you are in. it will take much longer if it is a remote country.
if you would like to know how long it takes, you can write to angela@maono.com. my colleague will get back to you ASAP.
It depends on where you are. Orders processed here will take 5-7 business days to arrive. Overseas deliveries can take anywhere from 7-16 days. Delivery details will be provided in your confirmation email.
For the two situations you mentioned above, we strongly suggest that users check the package first when receiving the product, carefully making sure that the package is not damaged, has not to be opened, or does match the actual weight of the product it should be, please remember to take pictures of the entire package and the entire product or take an unboxing video for the product for subsequent submission of after-sales support for verification and negotiation with the seller for claims if it is one of the phenomena of above.

How to Take Pictures:turn on the camera function of the mobile phone - save after taking pictures of unpacked packages - take pictures of the inside packages after removing the outer box and save them - take pictures of products and parts inside and save them, make sure everything is brand new and didn't damage.

Video Content Shooting Steps:Open the mobile phone video - show the integrity of the unpacked package - unpack - take out the product and components for installation - test - save

Please check ourshipping policypage and move your mouse to the bottom to check more details carefully and learn how we deal with these two kinds of situations first before placing the order. we take that you have read carefully by default if you have successfully finish placed the order on Maono official online store.
Please read the shipping & delivery information, shipping Policy , return& refund policy carefully before placing the order.
Shipping & Delivery
United States:  
Shipping & Delivery: Free Shipping from the US warehouse(we will inform you via e-mail in advance if product out of stock in US warehouse and choose the delivered from factory direct)
Estimate Shipping Time: 3-7 Days
Other Countries:
Shipping & Delivery: Free Shipping to Most Countries & International Delivery, there will be extra shipping fee if address distant.
Estimate Shipping Time: 7-20 Days ( the estimated delivery time will be extended if distant)
After Sales Support: 30 Days Return & Money Back Allowed (If any quality issue happens)
Read More Details : Refund & Return Policy, Shipping Policy
Customer Support
Working Time: Monday to Saturday (9:00 AM-6:30 PM PST)
Customer Service Email: angela@maono.com