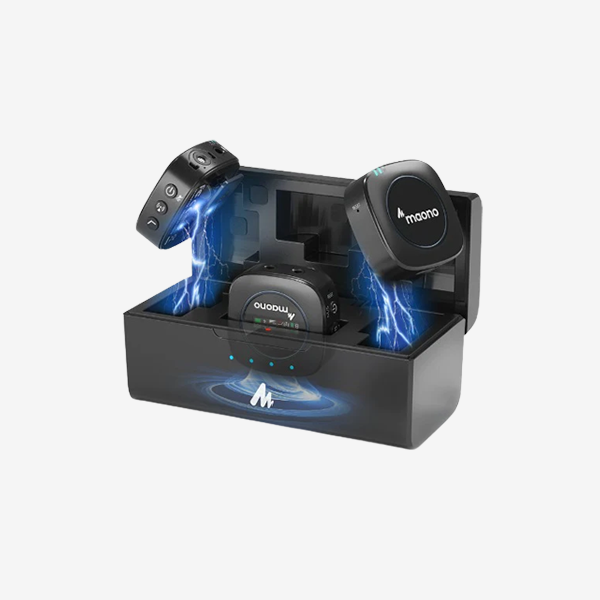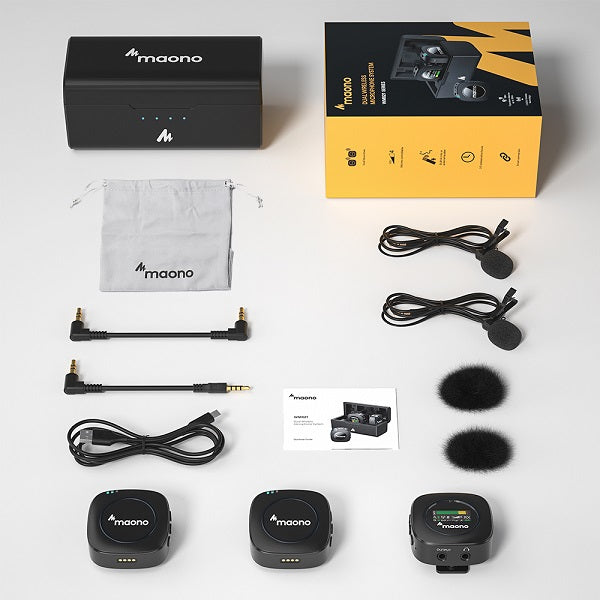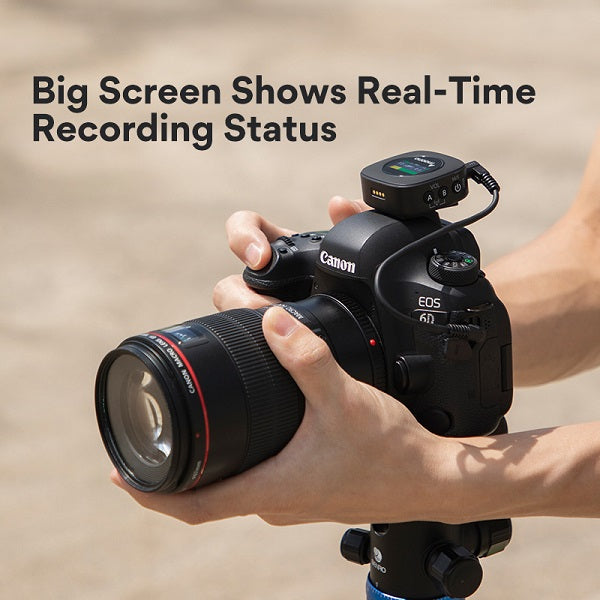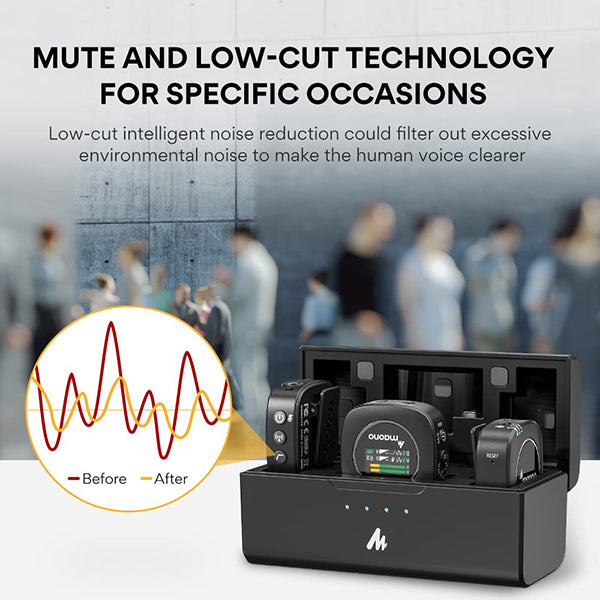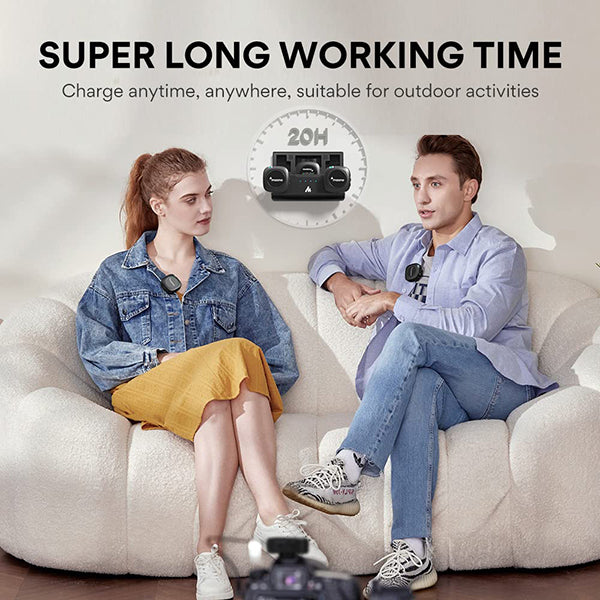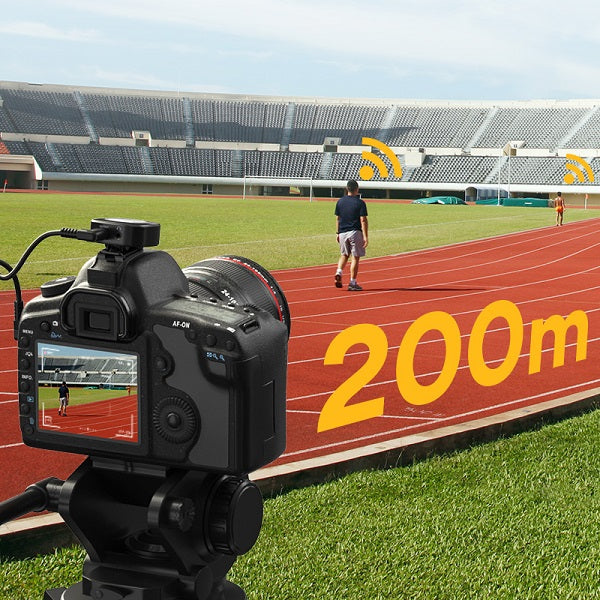 MAONO WM821 Dual Wireless Microphone System
The WM821 MNCT denoise technology and professional audio chip deliver a natural and clear sound. perfect for immediate use and great for live broadcast, vlog, video.
● SUPER LONG WORKING TIME & LED DISPLAY
The total working time is up to 20h, and the compact and portable charging case can charge the whole set up to 2.5 times. Support you working throughout the day without worrying about powering off.
● DELIVER CLEAR AND NATURAL SOUND
Maono WM821 wireless mics use a high-class professional audio chip providing intelligent noise reduction, feature an in-built omnidirectional condenser capsule, and can be used as a clip-on mic or with Maono lavalier included, sending crystal-clear, broadcast-grade audio via 2.4GHz digital transmission to the receiver. The S/N(SIGNAL-NOISE RATIO) is 82dB(82db S/N Ratio). which is suitable for capturing every audio detail. When you start editing, it will be easier to filter out any hiss and other ambient noise.
●REAL PLUG & PLAY
The transmitter is only 1.2 ounces each, and the receiver is only 1.3 ounces. You won't feel the weight if you wear it directly or use the wired lapel microphone included in the package. It only takes 2 seconds to auto-match after turning on the receiver and transmitter. A carrying bag is included in the package for portability and protection equipment
● SUPPORT TUDAL RECORDING, FREE TO SELECT STEREO OR MONO MODE
It comes with two transmitters for recording the voices of two people simultaneously which is super suitable for interviews, wedding vlogs, couples recording, live streaming, etc. You can also use a single microphone for vlogging, YouTube content creation, online teaching, etc. WM821 lavalier microphones also support one-key mute, zero-latency monitoring, and low cut for more occasions.
● STABLE TRANSMISSION RANGE, PERFECT FOR OUTDOOR ACTIVITIES
Up to 328ft transmission range under normal conditions and 400ft in an open environment with no obstacles. Free your hands and move around freely. In-built rechargeable batteries and external charging box that lasts up to 20 hours. It allows you to work outside all day without running out of power
●BUILT-IN OMNIDIRECTIONAL CONDENSER CAPSULES AND EXTERNAL LAV MICS
Built-in Omnidirectional Condenser Capsules and External Lav Mics: Transmitter operates as a clip-on microphone or belt pack for a lavalier/headset microphone. Compact clip-on transmitters can be clipped directly on the shirt collar. Included fur windshields can effectively reduce ambient noise and plosives. One key to mute makes it easier for you to record anytime and anywhere.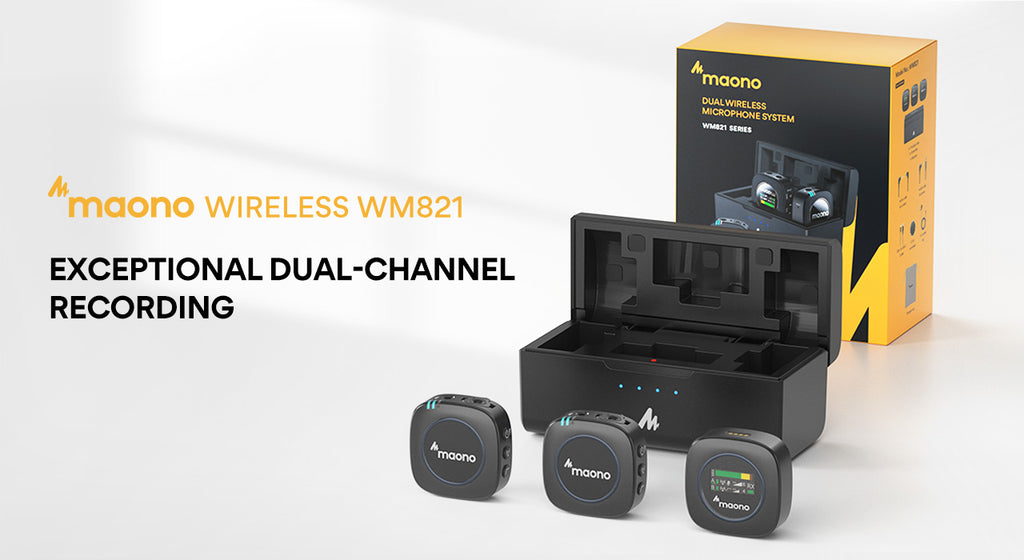 Maono WM821 WIRELESS TIKMIC
Sometimes we need the freedom of cable-free recording, but that doesn't mean we need to sacrifice audio quality. Maono WM821 wireless lavalier microphones allow us to record incredible audio without limitations when you're on stage, on set, or in the field.
The Maono WM821 Wireless Microphones is an ultra-compact and extremely versatile wireless microphone system consisting of a receiver and transmitters. Universal compatibility with cameras, mobile devices, and computers, extended range (328ft line of sight), and improved transmission stability.
Maono-Professional Audio Innovation
With vast combined experience & excellent abilities in electrical engineering, industrial design, and software engineering, we design and manufacture the best quality audio products in-house, and sell them directly to end-users
Join Maono and begin your recording!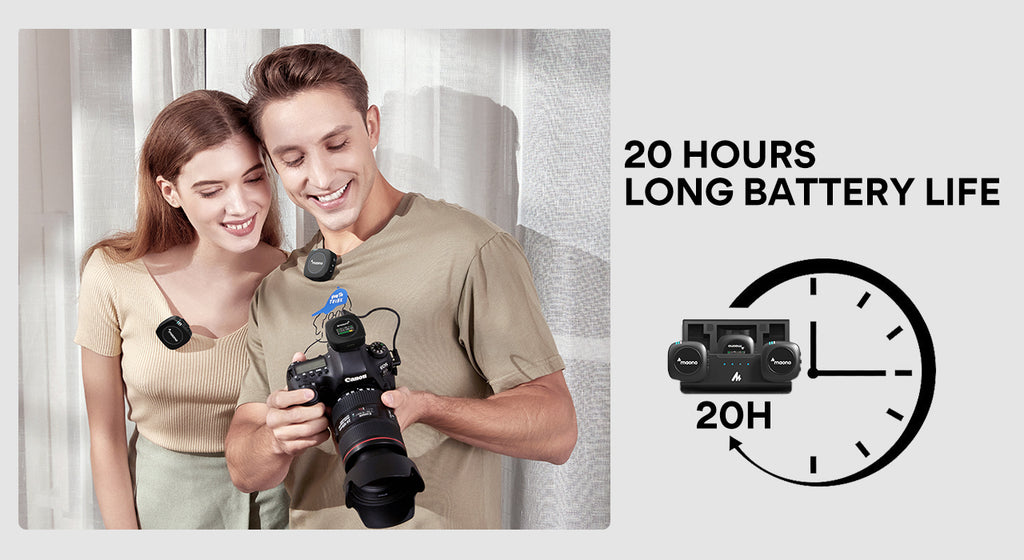 Transmitter

Power button and mute button

Pairing button

Low cut button

Receiver

LED Screen

Power Button and Stereo/Mono Button

Volume control

Receiver

Headphone jack for zero lantency monitoring

Output jack
Professional Sound
Professional Noise Cancelling Technology, wide frequency response, a signal-to-noise ratio of 82dB(82db S/N Ratio) ensures the capture of every audio detail. When you go into editing, you'll have a much easier time filtering out any hissing and other ambient noise. Maono is also supplied with twist-and-lock furry windshields for recording in windy or adverse weather conditions. Crystal-clear, professional sound in any situation
Pocket-sized form factor. The transmitters and receiver weigh less than 1.2 ounces, taking up virtually no space in a camera kit bag, or backpack. Unique clip design makes it quick and easy to mount onto clothing or a camera cold shoe, mobile camera rig, boom pole, or any cold shoe accessory – ultra-compact wireless audio for any recording situation.
The WM821 A2 is a revolutionary compact wireless audio solution that offers broadcast-quality sound in an affordable and compact package.
For many content creators, the WM821 A2 wireless lavalier microphone is the perfect audio companion for a camera. Using the microphone with a camera is great because it means your audio is already in place, sync'd with your video file, making for a very streamlined post-production workflow.
Specification
Transmission Type
2.4GHz Wireless
Polar Pattern (Built-in Mic)
Omnidirectional
Built-in Mic frequency response
80Hz -16kHz
External Mic frequency response
50Hz -18kHz
Maximum Output Level
Line output:-10dBu ; Headphone output:3.2dBu
Maximum SPL
105dB SPL(1kHz@1m)
THD+N
0.009
S/N Raito
Line output:75dB ; Headphone output: 80dB
Battery Capacity
350mAh/3.7V
2500mAh/3.7V
Charge port
TYPE-C,DC 5V
Battery Life
20 

hours

Audio Input
3.5mm TRS lavalier microphone input (Transmitter)

Audio Output
3.5mm TRS (Receiver)

● COMPACT AND POWERFUL CHARGING CASE
Provides 20h consecutive battery life.

● LONG TRANSMISSION DISTANCE
Max working transmission distance reaches up to 328ft(100m) with ultra-low latency.

● DELIVERS NATURAL AND CLEAR AUDIO
The MNCT denoise technology and professional audio chip deliver a natural and clear sound. 80Hz-16KHz frequency response ensures the capture of every audio detail.

● LOW-CUT FUNCTION
There is a low-cut button to eliminate low-frequency noises.

● LED SCREEN SHOWS RECORDING INFORMATION
Displays information including mono/stereo, battery power, low cut, mute, paring status, etc.

● GREAT COMPATIBILITY, EASY-TO-USE DESIGN
Compatible with cameras, phones, ipads, and computers.
Plug-and-play design.
● Question: Is it portable and can it be used for small camera equipment?
• Answer: It's very portable and can be used on any size camera equipment. I use mine with my Samsung Galaxy S7 Edge with no problem. It comes in a box that's 4 3/4" x 4 1/2" x 1 3/4". So yeah, it's portable.

● Question: Can it be used to teach yoga classes on the computer? or only for camera and cellular?
• Answer: Yes, If your computer has a 3.5mm audio interface, you can directly connect the WM821 to the computer via the cable in the package. You need to confirm that your computer interface is 3.5mm TRS or 3.5mm TRRS, then use the correct cables to connect the devices together.
After the WM821 is connected to the computer, it is normal that the computer cannot recognize the microphone. You only need to turn on the recorder of the computer and start testing the microphone.

● Question: Does this work with GoPro Hero 10?
• Answer: Yes, this WM821can be connected to the GoPro Hero 10. There is a 3.5mm TRS cable in the package, so devices with a 3.5mm jack can be connected directly using a 3.5mm male-to-male audio cable. For devices without a 3.5mm jack such as iPhones, or iPad. you should use an MFi-certified Lightning to 3.5mm jack adapter (not included)

● Question: What is the measured latency between transmitters and the receiver?
• Answer: The latency between WM821 receiver and transmitter is about 20ms(1 s = 1000 ms). This WM821 wireless microphone allows you to record outdoors conveniently because it is rechargeable.

● Question: Does the clip double as a cold shoe mount? If not, how to mount it to the camera?
• Answer: Hello, if your camera has a place where it can be clamped, then you can directly clamp the receiver of the WM821on it. Most cameras have a place on the top to mount the microphone so you can see if your camera has a place to hold it. We found a related installation video on youtube, but we can't send it to you directly. If you want to see how to install it, you can contact us by mail.