Vlogging, as a story-telling way in a first-person view to share about one's life, experience, and thoughts, has now become a popular video trend all over the world. Many have shared appealing, entertaining, and engaging content across social media platforms especially on YouTube, and make it a profitable career. In an era when everyone can be a vlogger, what gear do you need to invest in if you wanna be a professional one? Thanks to advanced technology improvement and more affordable equipment in the market, it's now easier to create high-quality content with the help of professional vlog microphones.
If you're heading out on your vlogging journey or expecting to upgrade your gear, here are some great mic options to start with!
First, let's take a look at some popular types of mics for vlogging.
The Most Common Types of Mics for Vlogging
1.USB microphones
If you record near a computer and don't need to move around a lot, we recommend USB microphones for you as it's extremely convenient.
2.Wireless microphones
The subtlety of the wireless microphone is that it allows you to be unrestricted by microphone cables.If you want to record your vlogs at 30-50m intervals, wireless microphone is more suitable for you.
3.Shotgun microphones
As a uni-directional type of mic designed to be mounted on the camera, the shotgun mic provides a high-quality sound, while eliminating environmental sounds. If you're planning to take field filming everyday life vlogs on the move or outdoors, a shotgun mic is more suitable for you.
4.Lavalier microphones
Lavalier mics are small in size, sensitive to close-distance sound, and convenient to use by clipping on a piece of clothing with an omnidirectional pattern. It works well if you want to capture the environmental sounds.
Different types of vlog microphone recommendations 
Best Budget USB Microphone for Vlogging
MAONO PM422

- Excellent Choice for Indoor Vlogging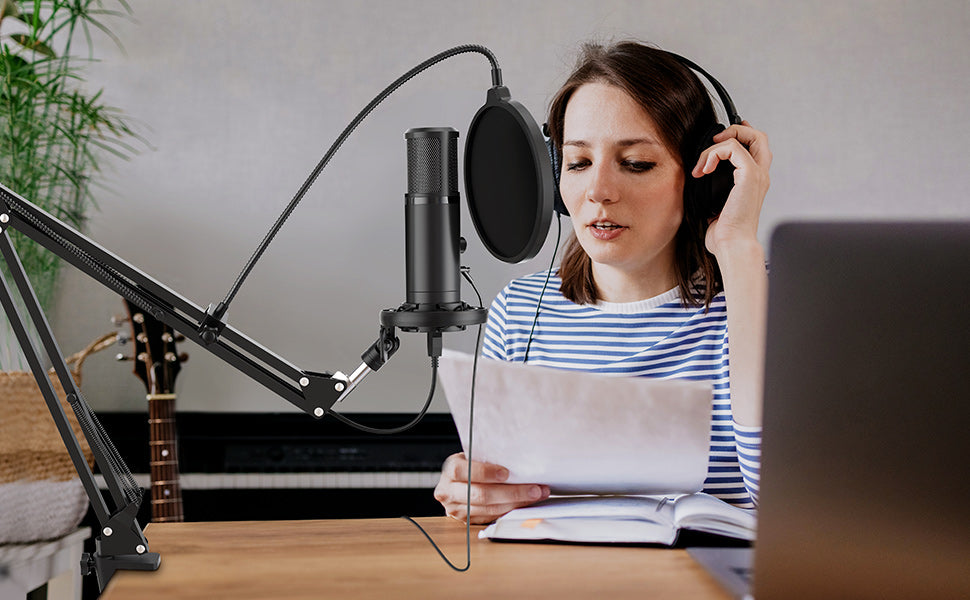 The PM422 USB Microphone built-in professional sound process chipset, the sampling rate up to real 192kHz/ 24bit and is equipped with a USB output for applicate on computer easily. Cardioid polar pattern reduces the pickup of sounds from the sides and rear, improving the isolation of the desired sound source. The microphone has studio-quality articulation and intelligibility perfect for vlogging,

All-in-one set improves your user experience. You will feel convenient, portable, cool. All you need to do is to enjoy your Vlogging,Recording, Podcasts.

At this time, we use IRON NET, ACRYLIC MIRROR, and ALUMINUM ALLOY to design this PM422 USB microphone to be fashionable and durable. You would get a value microphone.
Features
Professional Sound Chipset 192khz/24bit
Cardioid Mode
Zero-latency Monitoring
Quickly Touch Mute
Mic Gain Knob
Plug and Play
Premium Microphone Boom Arm Set
Best Wireless Microphones for Vlogging
Maono WM820 A2

-The Best Vlogging Microphone for iphone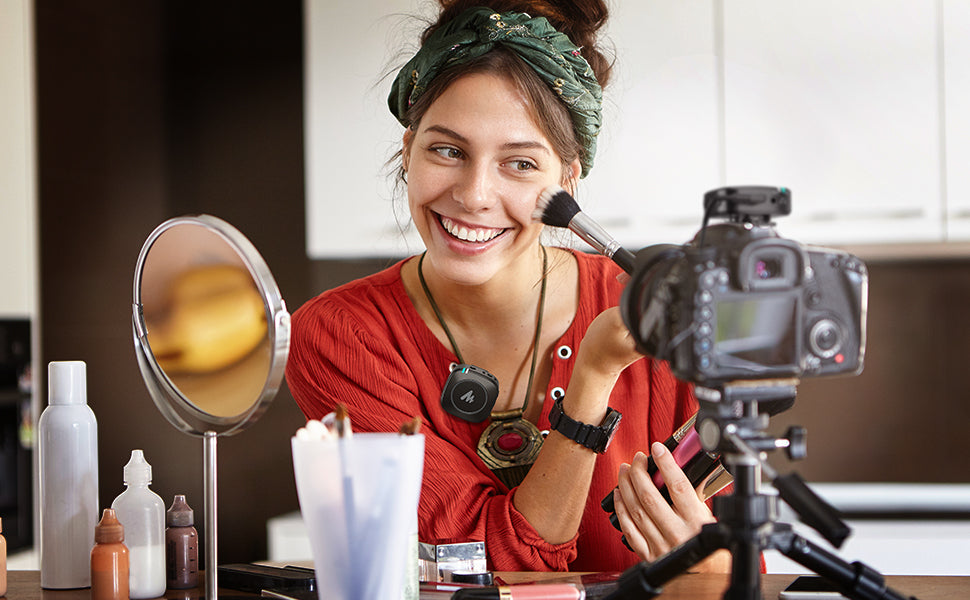 The Maono WM820 A1/A2 Wireless microphone is an ultra-compact and extremely versatile wireless microphone system consisting of a receiver and transmitters. Universal compatibility with cameras, mobile devices and computers, extended range (164ft line of sight), and improved transmission stability.
So, if you need to shoot vlogs outdoors often, WM820 A2 is your best choice for vlogging.
Features
Up to 6h Battery Life
Delivers Clear and Natural Sound
164ft Transmission Range
Easy Operation and Portable Size
2s Auto Pairing
Best Shotgun Microphone for Vlogging
Rode Video Mic Pro- Popular among industry reviewers and users
Rode Video Mic Pro is a compact shotgun mic designed for DSLR cameras and audio recorders. Built-in heavy-duty plastic and weighs only 85 grams, plus 70-hour battery life, it's extremely portable and convenient for out-door vlogging. In addition to a low self-noise at 14db and a selectable high-pass filter, the Rode Video Mic Pro also comes with an integrated shock mount and a windshield to prevent noises.
Features
Lightweight and portable
Comes with an integrated shock mount and a windshield
10-year warranty
4.Best Lavalier Microphone for Vlogging
MAONO AU-100R- Excellent choice for outdoor vlogging
Designed to provide wonderful audio for vocals with a flatter frequency and higher configuration, MAONO AU-100R is also upgraded with a built-in rechargeable battery lasting for over 90-hour working time, making it extremely convenient for outdoor vlogging use. There're also LED indicators of battery capacity. It also features wide compatibility with an extra 3.5mm to 6.35mm adapter in the package. The package also comes with a USB charge cable, a metal clip, a wind muff, a manual and a premium aluminum carrying bag.
Features
Rechargeable battery
Wide compatibility
Flat frequency with great configuration
Flexible wire
Above are our mic recommendations for Vlogs, YouTubers and more, including each type of popular mics in the market.