The Maonocaster AME2 is a comprehensive production audio mixer with features ideal for podcasting and streaming. All of this is available in a package under the price under 200USD. Don't believe us? Keep reading to learn different reasons why you should buy one.
Why Do You Need An Audio Mixer?
The internet has evolved immensely in the last decade, transforming various industries, including the entertainment sector.  People are now able to showcase their creativity in the digital world, which includes two forms of entertainment that have become trendy in the last few years: podcasting and streaming.
Thousands of people consume podcasts and streams, and trends show these media forms will only get more popular. As the competition increases and more podcasters and streamers enter the fray, it means that there is a need for newcomers to find a way to break through. This is where having hi-tech technology also to podcast and stream can help. This technology needs to be affordable, as not everyone has the means to buy expensive brands. Maonocaster AME2 audio mixer is coming to satisfy the need for budget-friendly audio interface!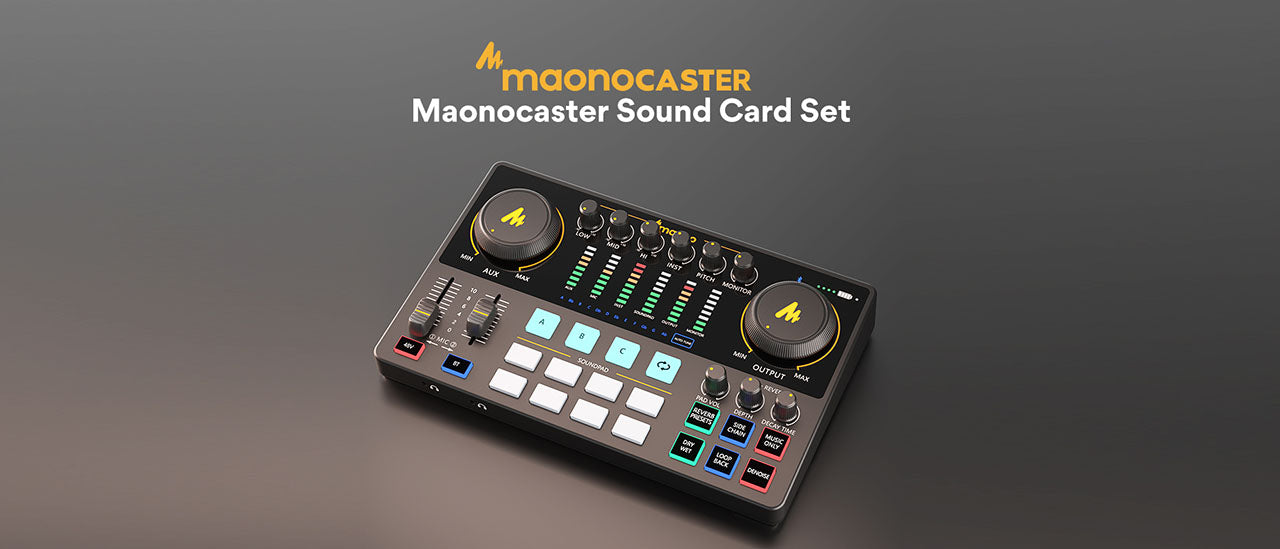 Maonocaster AME2 Audio Mixer Is Best Audio Mixers For Streaming And Podcaster
AME2 audio mixer for podcaster
Comprehensive Podcasting Bundle
The AME2 works perfectly with Maono XLR microphones. You can choose one of the PM500 and HD300 microphones, each ideal for podcasting. In addition, the AME2 audio mixer is an upgraded version of the AM200, which is already a well-known podcast studio advice that has received great reviews. After all, Maono is an established name in the podcast industry. This podcaster bundle is ideal for all audio and visual content creators. This includes audiobook narrators, podcast creators, broadcasters, YouTubers and Tiktokers.
If you are familiar with podcasts, you will know that most popular podcasts tend to have host conversing with at least one guest. This means you need at least two separate audio inputs that you can control separately. The Maonocaster AME2 allows you to connect two microphones (1x3.5mm and 1xXLR) while there is a different input for inputting background music. An XLR input is crucial as it allows you to use a high-performance microphone. In addition, if you require more audio services, you can connect your phone via Bluetooth, giving you various options for your podcast.
Enhance Your Podcast Atmosphere
The large dials on the top of the interface allow you to control the audio volumes for the AUX and Maonocaster AME2 volumes, and there are two faders to adjust the microphone volume. You can add custom sound effects through the 11 sound pads on the interface for background music. This can be an excellent option as intro music for your podcasts or after an advertisement.
AME2 audio mixer for streamer
Comprehensive Streaming Bundle
Maono provides a bundle includes AME2 and a XLR microphone Maono PM320, which is ideal for all categories of streamers, whether it be game streaming, singing, playing music or talking.
Multiple Output Interfaces
Streaming may seem simple on the outside, but an extensive amount of technology and infrastructure behind the screen makes it possible. One key feature is that streamers tend to require various connected screens and devices. Fortunately, the Maonocaster allows you to connect one computer and two phones, allowing you to stream to three devices simultaneously. There is also a DC 5V charging port, and a USB-C port that will enable you to stream from your computer or phone outside. In addition, there is a 6.35mm input port that you can use to connect electrical instruments so you can stream them. This can be a simple electrical drum or guitar you've bought from your local music store, like a music equipment store Pleasanton.
Streamers use many audio and voice changer effects to add a comedic effect to their videos and other entertaining effects. This makes their streams entertaining and provides them with much to work with. The Maonocaster audio mixer comes with preset reverb effects, but you can also add custom effects. You can save eleven of these, with three up to a minute long and the rest up to 20 seconds. Additionally, you have options to play around with these sounds courtesy of the loop-back and side chain features.
Streamers tend to stream for a while, with 3-6 hours on average. Even if your stream will go a little longer, the Maonocaster has you sorted out. It has a built-in battery that can last between 7.5-9.5 hrs. The battery life will depend on if you use the 48V phantom power option, which will reduce battery usage. Regardless, you can still use the interface while you are charging.
Let's Have a Check How Customer Think of our Maonocaster AME2?
Choosing A Audio Mixer For Streaming Wisely
The smart money, when you're looking for a piece of equipment, is usually on finding the item which is specifically aimed at whatever it is you're doing. In the world of podcast mixers, the MAONOcaster AME2 is the clear and obvious choice. It has been designed and built with podcasting in mind and has a number of neat features the other mixers on this list can't compete with.