With YouTube and other social media platforms as the launch pad for the next generation of influencers, Maono is no stranger to their world as they prefer compact wireless audio systems. Delighting customers in over 150 countries, Maono's TikMic Rechargable wireless microphone system series is quickly becoming a popular choice. 
Leveraging on its growing popularity, Maono recently released its new 2-person wireless microphone system, the Maono WM821 TikMic, a professional wireless microphone with speaker, also it is an expanded version suitable for singing and recording. (2TXs&1RX).
The WM821 Tikmic wireless mic is widely compatible with devices such as iphones, cameras, tablets, and PCs. While the WM820 TikMic leads the way in the 2-person compact wireless system, the WM821 TikMic is the updated version. It now comes with a charging case, and a LED screen on the receiver, and it has a low cut feature and mono/stereo audio options.
Easy-Carry Charging Station
The WM821 TikMic's charging case has a built-in battery with a capacity of 2500mAh. It offers 2 full charges for the two transmitters (TXs) and one receiver (RX). After fully charged, the TXs and RX can work for up to 7 hours.
What's more, the power supplied by the charging case, combined with the fully charged built-in battery, allows the WM821 lavaliar wireless microphone system to work for up to 20 consecutive hours. Powering up and charging the WM821 system is extremely easy and with many conveniences. Get a full 20 consecutive hours to use productively. The long battery life works well with content creators who need to produce content most of the day.
You may wonder generally how long is th wireless microphone can be last? 
Most usual rechargeable wireless lavalier microphones in the market are powered by AA batteries last between 5 and 10 hours on a single charge. Some come with built-in batteries, the working time of which depends on the capacity. But generally, they can also last at least 5 hours.

Range and clarity will affect battery life. The longer the signal has to travel, the shorter the battery life.

In most cases, though, the mic will last long enough to complete the recording.

Additionally, the brand, size, and battery capacity of a rechargeable wireless microphone are all factors that determine how long a wireless microphone's battery will last.

Because of all these differences, actually, we might not be able to identify how long your microphone battery will last, but on average, it should last up to 5 hours. Most wireless microphones feature a battery status indicator that lets you know when the battery is low and how much battery life is left, no matter what your environment.
LED Screen 
There is a LED screen on the RX that provides clear visualization of statuses such as mono/stereo mode, battery graph, paring status, and transmitter level meters.  

Mono/Stereo Output Mode
The receiver has selectable mono/stereo output modes.

Low-Cut
The WM821 TikMic's TXs and RX are similar to the exterior look of the WM820 TikMic. The TXs' buttons on WM821 TikMic include a power/mute button, low-cut button, and pairing button. Turn on the low-cut feature so the WM821 TikMic can remove extremely low frequencies to eliminate unwanted rumblings or hums.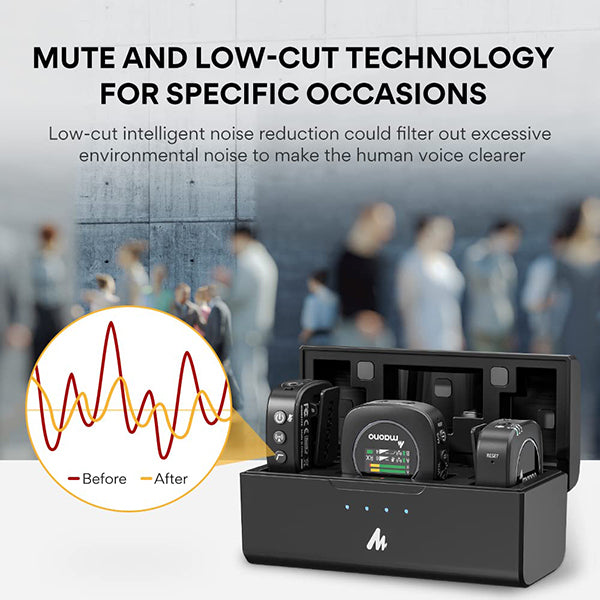 Distance Range
For a maximum of 20 consecutive hours, interviewers may come in pairs and from a distance of up to 100m. Hence, the Maono WM821  lavaliar mic gives you an awesome 328ft range.
Maono WM821 is a best wireless microphone can really meet all of your requirements, allowing you the better finish your recording & singing job. start grab one and you will have a " Pro" sound experience.