The podcast is an audio program that includes a series of audio episodes, you can subscribe to it on your mobile phone and listen to it. It is hardly put aside the fact that podcasting is a product of the mobile Internet. While early podcasts were able to be distributed via MP3, as MP3s slowly exited the market, podcasting went into decline.
Luckily, mobile Internet emerges and develops at a rapid speed. Along with the development, mobile phones, and powerful smart devices, become popular. People started to listen to audio content anytime and anywhere. 
Podcasts can be a very effective tool for brands to advertise their products due to the endless niche of podcast programmes and the very specific audiences interested in niches.
We can not deny that podcasts are now becoming a big part of people's lives as podcasts provide people with a platform to be recognized and heard. Everyone can easily listen to podcast episodes or jump into the podcasting industry as a podcaster. 
If you are planning to start a podcast show, selecting devices can be one of the most vital things. you might wonder what is the best podcast equipment kit for beginners. Let's find out some great pocket-friendly podcast equipment best buy and software that will help you to start a podcast career.
The need for a headphone is obvious while you are doing a podcasting episode with a remote guest. The time length of a podcast episode varies from 10m-180m, podcast hosts exchange opinions via continuous talks. You can imagine the headphone, and how hard it will be to hear each other.
Maono MH501 studio headphone offers great sound quality and a comfortable wearing experience. For podcasters who need to record for 1 hour or longer, the Maono MH501 will be a helpful tool, adding no burden at all. The headphone uses durable material so that it can easily endure frequent use.

Regarding sound quality, Maono MH501 studio headphone can reproduce the audio perfectly and in real time. For podcasters, this means major issues can be found immediately while recording, saving a lot of post-editing time to repair something that could have been avoided.

Aside from using the Maono MH501 studio headphone for making podcasts, you can also use it for listening to music, or podcast, for a full audio experience. While listening to podcasts in a noisy environment, the headphone offers an amazing audio experience by covering your ears firmly.
The headphone plug size is 3.5mm/6.35mm stereo, which means you can use it on a wide range of devices such as phones, laptops, computers, etc.
A microphone is a vital gear for audio recording because it can give you a clear sound, preferred tone, adjustable and functional audio features, etc. Maono PM320T, PD200X, and PD400X represent three levels of microphone, entry-level, medium-level, and flagship-level.

Maono Recommended Podcasting Microphone
PM320T XLR Microphone Kit | Price at About $69.99
Maono PM320T podcast stand microphone kit offers a podcasting XLR microphone, a scissor arm, and complete accessories including an XLR audio cable, a pop filter, and a shock mount. For beginners in the podcast industry, the podcasting microphone kit is ideal for its accessible price, good sound quality, and complete range of accessories. The XLR condenser microphone requires a 48V microphone, so it has to be paired with a mixer or interface that provides 48 volts of current.

PD200X XLR/USB Dynamic Microphone | Price at About $79.99
PD200X XLR/USB podcasting dynamic microphone is ideal for podcasters, music creators, streamers, etc. The highlight of the microphone lies in its dual outputs, smart companion software Maono Link, RGB option, and physical audio controls on the microphone body.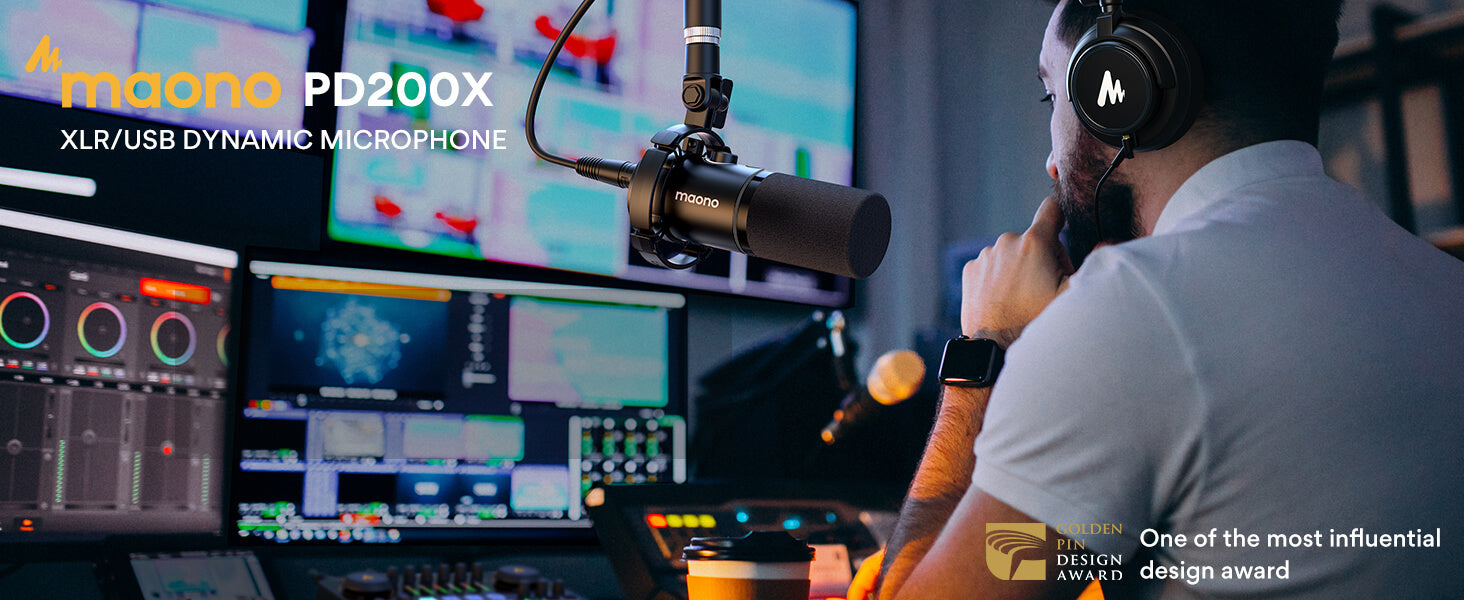 With dual audio outputs, XLR and USB, the mic is designed to satisfy users who only need to record on computers and other users who use an audio interface for audio recording. The mic is a USB podcasting microphone as well as an XLR podcasting microphone.

In Maono Link software, you can find audio features such as mute, mic gain control, monitoring switch, tone options, and more advanced features that contribute to perfecting your recording. Small changes of tone or other details via several clicks on the software may surprise you in an unprecedented way.
In the middle of the mic, there is a narrow RGB ring to offer dynamic multi-color gradients and 8 static solid-color effects. Podcasters can turn on/off the RGB functions as they like.


Most podcast recordings are done at home, or even outdoors, which requires accurate capture of voice details. Fortunately, Maono PD200X does an excellent job of focusing on the speaker's voice while ignoring ambient noises, such as loud hums, barking, sirens, etc. Even in an untreated room, it captures audio full of details.

To summarize, Maono PD200X is a multifunctional dynamic microphone that can be converted between podcasting and gaming scenarios. it is also a best gaming microphone worth the price.
PD400X XLR/USB Dynamic Microphone | Price at About $149.99
Maono PD400X XLR/USB Dynamic Microphone is the flagship product of the Maono PD series microphone. At the first sight of it, you will know it is a podcasting-style microphone. What you can expect from Maono 400X is professional-level audio quality, a 3-in-1 knob, and advanced audio functions in Maono Link.


The microphone is specially tuned for podcasting with its dynamic capsule and cardioid polar pattern providing professional-quality sound and great isolation of unwanted sound.
Via the central 3-in-1 knob, you can control mic gain, monitor mix level, and headphone volume. What Maono Link software additionally offers for PD400X users are some advanced functions such as a limiter, compressor, EQ options, etc.
●

 

Microphone Boom Arm Stand
You can use a desktop stand or boom arm stand to mount your mic. A boom stand with an arm will effectively save your desk space and helps to adjust the mic positioning.

Maono BA90 Recommended Boom Arm Stand | Price at About $79.99
Maono BA90 boom arm, a premium desktop boom arm with internal springs and a built-in cable management system, which is designed for podcasters, streamers, gamers, broadcasters, and anyone who needs a reliable boom arm for content creation.
The boom arm features an easy-to-operate design. With the C-clamp, you can attach the boom arm to a desk whose thickness is up to 2.4in/6cm. The Maono BA90 provides 360-degree rotation. Besides, three joints of the Maono BA90 microphone boom arm offer easy adjustment of the mic's precise angle, with smooth, silent operation. The integrated cable management system delivers a tidy look at your work area while you are using a wired microphone.

Maono BA90 provides standard 3/8-Inch and 5/8-Inch threading and is compatible with all shock mounts.
●

 

Digital Audio Interface/Mixer
For most podcasters, an audio interface is a tool that helps them to mix audio in a more effective way. Maono's all in one production studio maonocaster series are quite popular in the market and was won the CES award in 2021 and loved by users.
Maonocaster AME2 Recommend Audio Interface | Price at About $119.99
Many audio interfaces are available in the market for podcasting or streaming purposes. But for most podcasters, the Maonocaster AME2 is a great choice.
It is an all-in one  podcast studio equipment offering two input  interfaces for 2 mics (1x3.5mm and 1xXLR), 1 6.5mm interface for the Instrument. These input interfaces will greatly satisfy the need of podcasters.
You can stream to 2 phones via the two live output ports, and simultaneously stream to a PC. Besides, 2x3.5mm moniter interface allows you to monitor audio in real time. If you have a podcasting portable microphone, you can connect it to the Maonocaster AME2 podcast starting equipment for recording outdoors or at home.
The Maonocaster AME2 podcast studio  equipment offers 48V phantom power. It comes with 6 preset reverb effects such as Studio, KTV, Church, Hall, Valley, and Room. There are 11 sound pads to import customized audio effects.
May there are some people who are curious about what is the perfect match mic for AME2. AME2A is currently the most popular podcast equipment bundle in the market.

This is a great audio mixer for live streaming. I have used this many times for youtube live streams and it works great. Bluetooth connects your phone to it for music-playing purposes. You can save 3 1-minute soundbites and I think 8 15-second ones. (Check the description to be exact) Those are super simple to save and add a great touch to living streams.
The sound quality on this is great as you can adjust your highs, mids, and lows too. exactly where you want it. For the price, this is a no-brainer and I would definitely recommend this product." Said Traveling Fools, one of our loyal customer. here you might be interested in knowing more why you  should select Maonocaster AME2 Audio Mixer for podcasting.
●

 

A Recorder
Except for using a microphone directly on computers or connecting a microphone to a computer via interfaces, you can also just use recorders for podcasts. The most popular such product in the podcast industry is Zoom's H series of recorders, with the H5 and H6 models having the most users.
●

 

Audio Editing Software
Once we've finished a good recording, we need to edit the audio track. We'll need to trim it, reduce the noise and possibly increase the volume of the voice part. If we also have an intro, a sponsor commercial inserts, we also need to do some mixing work to mix all of these tracks into full podcast audio. There are different editing tools available on the Windows and macOS platforms that are easy to get started with. Some popular audio editing software is GarageBand, Adobe Audition, and Audacity.
Why Select Maono Internet Microphone?
Maono[ˈmɑnoʊ], which means "vision" in Kiswahili, is the world's best-selling internet microphone brand whose products are sold well in 153 countries around the world. With a beautiful vision to become the world's top brand of internet audio products that provide a delightful sound experience, Maono is always working with audio professionals, influencers, and users to create popular microphones and audio products.