Excited to announce that Maono will attend three exhibitions 2023 in Hong Kong and the US in April. we will bring our new latest products like PD200X, PD400X, DM30 RGB, DM70, and DM90 podcasting and gaming microphones as well as podcast production studio like AME3. we sincerely welcome you to visit our booth if you happen to live nearby the exhibition. Below are the exhibition details you will be willing to check out more.
HongKong Tradeshow 2023 |

April 11st-14th
Global Sources Consumer Electronic is held in AsiaWorld-Expo & Hong Kong Convention & Exhibition Centre Hong Kong on 11 to 14 April 2023 showing the companies news of Hong Kong S.A.R., China and internationals related to sectors Consumer electronics, Electronics
From the 11th to 14th of April, Maono will exhibit at the Global Sources April 2023 HongKong Show. We will be there at Booth 8D16 of Hall 8 in Asia Exhibition Hall. Maono will bring great audio products to meet visitors and partners, including some new audio products such as Maono PM482, Maono DM90 multifunctional USB microphone, upgraded audio interface Maono AMC2, etc. To meet us in the exhibition, Here you can click the link for visitor registration.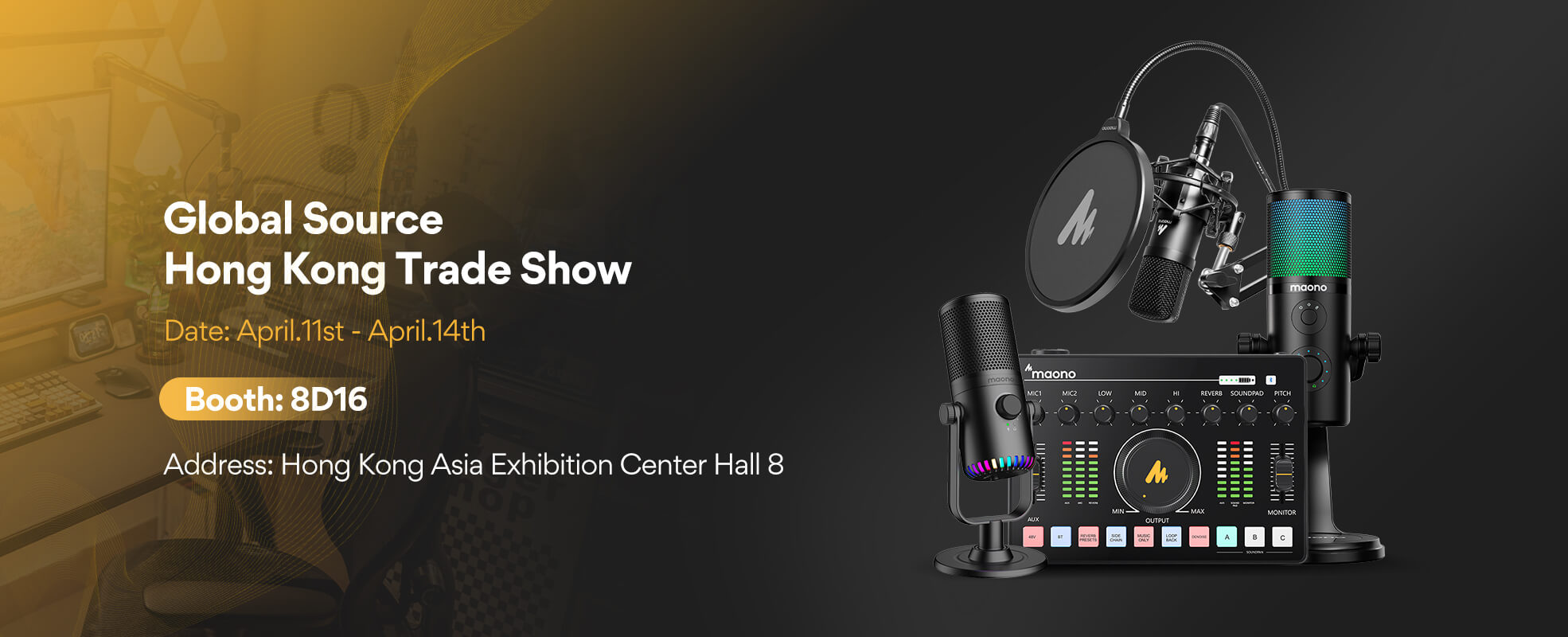 NAMM Show 2023 | 

April 13rd-15th
The NAMM show 2023 is well known as the most important event for all music professionals and students. it's all about music, sound, and life event industries, we will be together for three days of shows, business exchange, and learning. The annual NAMM Show, organized by the National Association of Music Merchants has a stellar reputation for driving impetus through the music industry and helping musicians accelerate their career progress.
Following the Hong Kong show, from April 13th to 15th, Maono will take part in the NAMM show 2023 at Anaheim Convention Center in Anaheim, California, US. The NAMM show is one of the largest music product exhibitions in the world. It offers a global platform for brands in the music, sound, and entertainment technology filed to exhibit their best products and latest innovative achievements. Maono will exhibit key products such as Maono PD series products: PD200X, PD400X XLR/USB dynamic microphones, DM series products: DM30RGB, DM70 USB microphone, and DM90 USB microphone, as well as audio interface products Maonocaster AME2, AME3, etc. Maono's booth No. is 11233.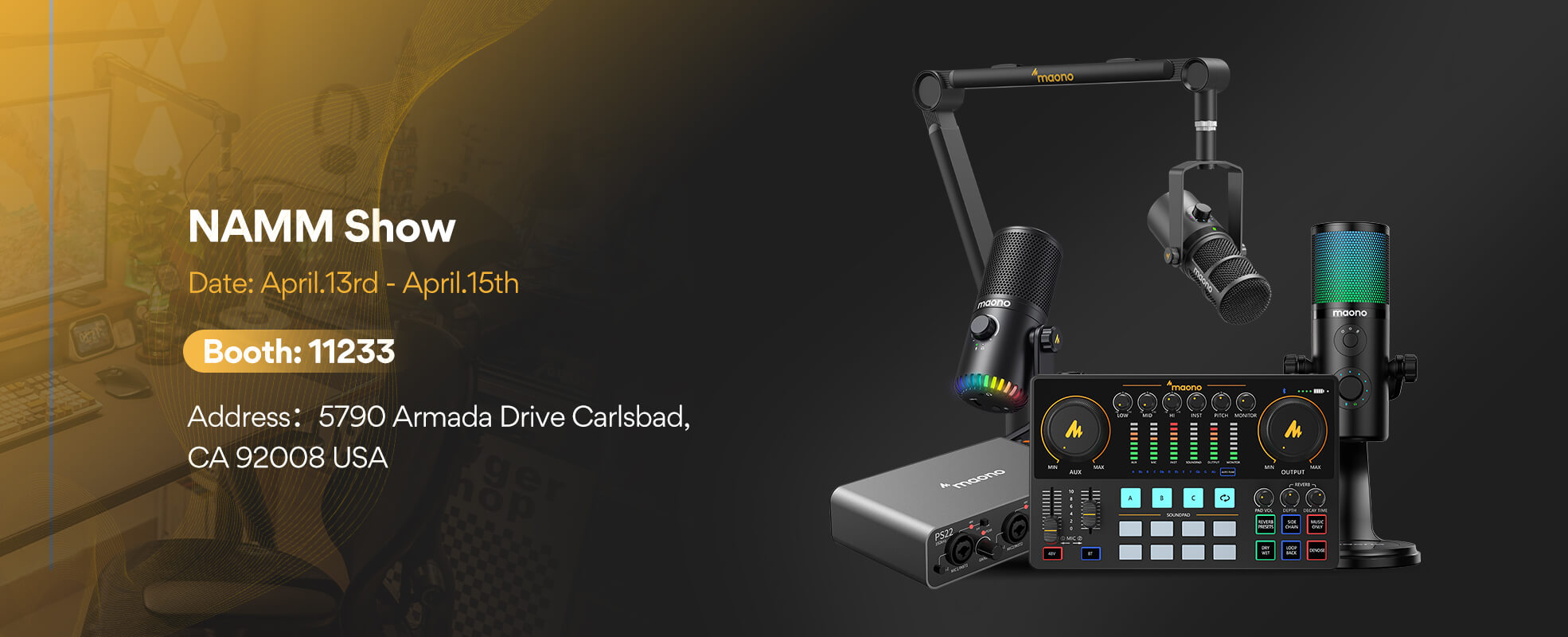 NAB Show 2023 | 

April 16th-19th
The 2023 NAB Show will be the ultimate marketplace for people passionate about media, entertainment, and technology. it is quite an awesome show for all the talents and famous directors, producers, and creators in the world, who will share their experience, and knowledge, build a connection with all new ideas together, and hear new thoughts that come from everywhere.
Maono will also be exhibiting at the NAB show, a place where you can discover new products and build professional connections. The show will be held in Las Vegas, US, from April 16th to 19th. At the No.C3635 booth, Maono will show a wide range of audio products, including the latest launched Maono PD200X XLR/USB microphone, as well as the flagship PD series product PD400X, DM series products, such as Maono DM30RGB, DM70, and DM90.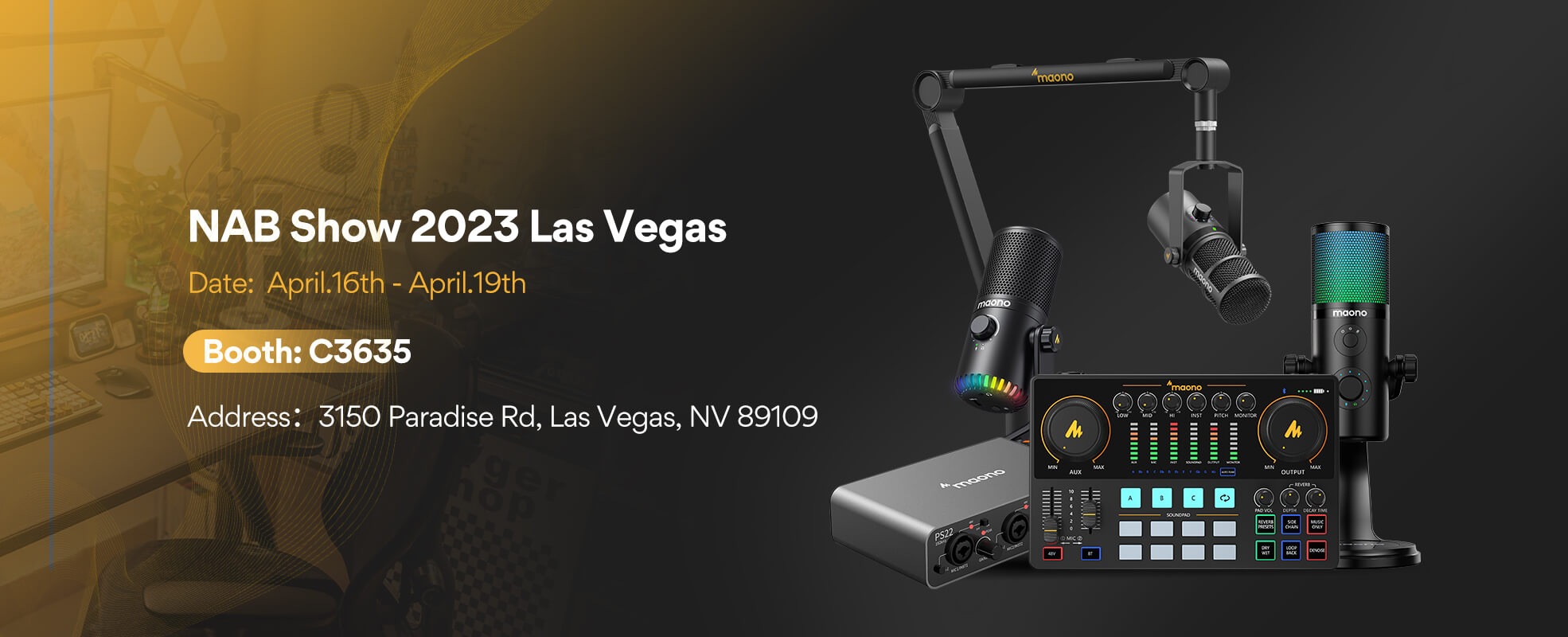 Our AM100 maonocaster audio interface and PD400X dynamic microphone have been successfully launched on the Kickstarter project and have been well received by the majority of users. they are the perfect match designed for all podcasters, gamers, recorders and  live streamers. Also, Maono microphone have won CES awards and Taiwan Golden Awards during 2022 to 2023, such as AM100 maonocaster, DM30, etc, which help encourages us to move forward and product more high-quality audio products for customers in the future. 
Maono is ready to meet you in person and experience can't-miss products together. We believe the exhibitions will show all visitors and brands an exciting way to discover possibilities.

Maono[ˈmɑnoʊ], which means "vision" in Kiswahili, is the world's best-selling internet microphone brand whose products are sold well in 153 countries around the world. With a beautiful vision to become the world's top brand of internet audio products that provide a delightful sound experience, Maono is always working with audio professionals, influencers, and users to create popular microphones and audio products.