Choosing the best vocal mic is a hugely personal thing. The style you opt for, and the way in
which you use it, depends entirely on the voice it'll be capturing.
And, with so much in the way of choice, it can be daunting to know where to start. It's easy to
look to our favourite recording artists and see the gear they used, before a look at the cost of
high-end recording equipment brings us back down to earth with a crash.
Here are our top choices for the best mics for live vocals on the market today.
Why choose a MAONO dynamic microphone?
1. Zero-latency monitor headphone jack
MAONO vocal podcast mic is equipped with a headphone jack for zero-latency monitoring. You can monitor your own voice in real-time through headphones, allowing you to record more freely!
2. Volume control buttons
You can directly adjust the monitoring headphone sound through the volume control button so that you can avoid being too loud and enter the working state quickly anytime and anywhere.
NOTE: Zero-latency monitoring and Volume control ONYL are available in USB mode!
t says:'' Maono HD300T is a dynamic USB microphone that brings live sound home and packs the best bang for the buck when it comes to vocal recording. It delivers the best traits of dynamics that result in smooth and undistorted sound, saving you from buying expensive equipment such as preamps and digital interface that are otherwise necessary for connecting a dynamic XLR microphone to a computer. This mic comes with handy shock mount & compact pop ''
After years of research, MAONO officially launched this cardioid dynamic microphone with USB and XLR output. (HD300T) We utilize premium materials and excellent workmanship, and we strive to launch a cost-effective dynamic microphone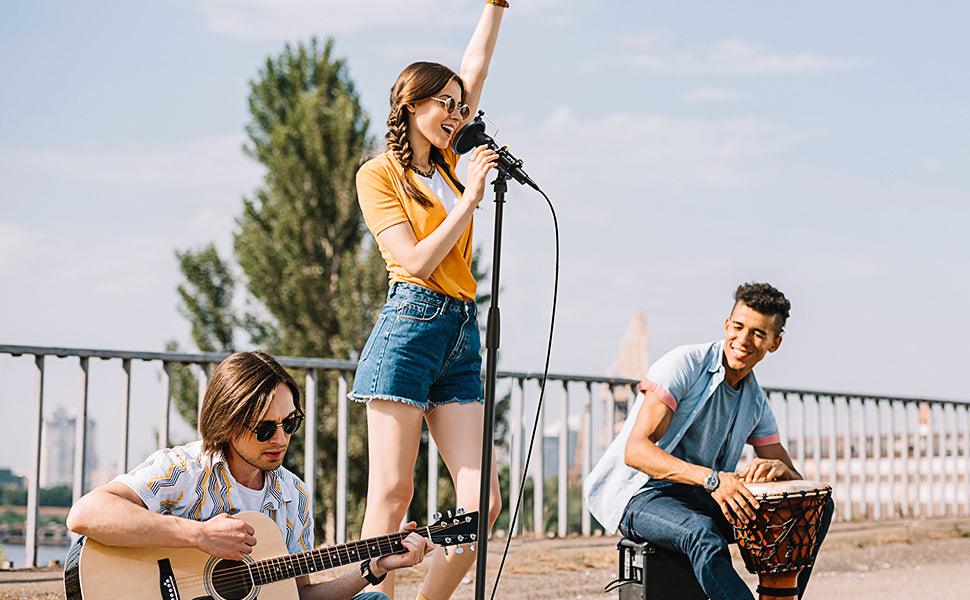 Shure SM7B microphone
As an all-rounder vocal mic, the Shure SM7B takes some beating. Over the years it's been
adopted by some of the music world's biggest names – Michael Jackson swore by them –
while its rich, balanced tone has found it adopted more recently by the
podcasting  community.
AKG C636
The AKG C636 features a uniform cardioid pattern, designed to accentuate only what it's
meant to, while its design is geared towards reducing the vibrations caused when hand-
holding the mic. Sure, music and singing situations may require a different tool, but for
speech tasks this is a great choice.
At the end of the day, it's important to have a quality mic so that you can move on to the
performance-part of your art-form and get to work… and hopefully, this article has helped you
to identify what you'll be needing in a live vocal mic.