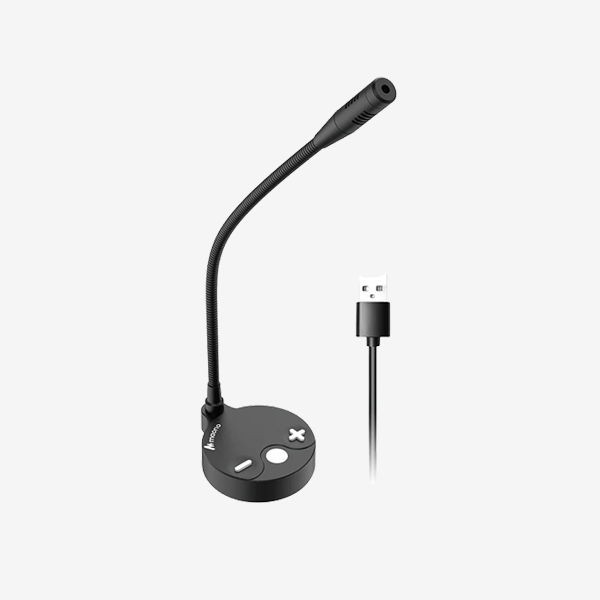 MAONO GM30 USB Gooseneck Condenser Microphone



MAONO GM10 USB Microphone - Plug and Play



No need for additional drivers, Perfect compatible with Windows, Mac OS, PS4, Desktop, Laptop, and All-in-one PC.
Excellent Sound Quality: Whether you're a singer, musician, podcaster, gamer, or videomaker, this outstanding quality microphone will provide you with clearer and richer sound.
The set includes a condenser microphone, foam windscreen, and 70 in a USB cable.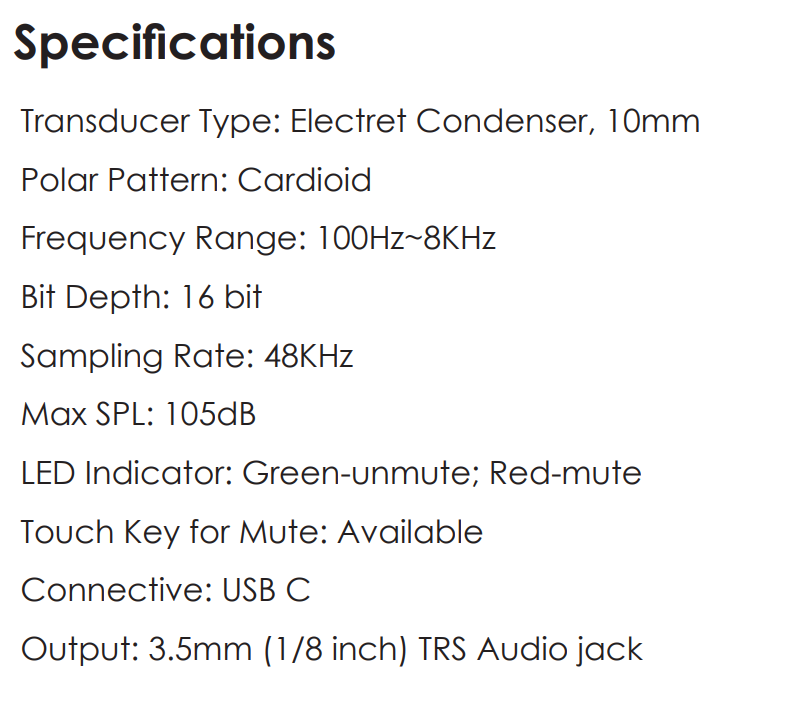 ● Dia.10mm Microphone Capsule
MAONO GM10 microphone is equipped with a Dia.10mm microphone capsule and professional sound chipset, which lets the microphone perform perfectly in reproducing your voice richer and thicker than the Dia.6mm microphone capsule. Flat frequency response: 100Hz-8kHz, --Extended frequency response is excellent for a meeting, speech, conference. The cardioid pick-up pattern minimizes background noise and isolates the main sound source

● Totally Touch-key Mute Button
Touch the key to quickly mute/unmute your microphone, No button sound. LED indicator light shows you the working status at any time (Green Light: working mode, Red Light: mute mode). The microphone comes with a 3.5mm audio jack for playback to quickly check your recording(Not real-time monitor, but you still can make a conference call). Large volume buttons give you more convenience to adjust the playback sound

● Premium Full Metal Construction Protects Microphone From Being Broken and Extends Service Life
Not only microphone we use metal material, but also a microphone base. Anti-fall and durable. The anti-slip mat at the bottom of the microphone base keeps it stable on desktop. 360-degree flex microphone angle and 70 in the USB cable to meet your needs

● Wide Compatibility
Plug&Play, no drivers to install. Simply plug a microphone into any available USB port, select and default it as your input device in software settings. Perfect compatible with Windows (7, 8, 10, 2000 and XP), Mac OS, PS4, Desktop, Laptop, and All-in-one PC. Suitable for SKype, Meeting, Conference, YouTube, Twitch, Facebook, etc

● Better Shopping Guarantee
Maono provides up to 20 months warranty. Package list: 1x USB Microphone, 1x 70in USB A to C Cable, 1x Foam Mic Windscreen and Instruction Manual
● Question: Will this convert my voice into text for writing papers?
• Answer: The microphone is just an input device. The function of converting sound to text may depend on the software you use.

● Question: How to increase output volume?
• Answer: By pressing the plus button on the product.

● Question: Does it have a switch to power on/off the mic? Or do you just have to unplug it?
• Answer: This microphone has a mute button.

● Question: Can this be used with a desktop computer with Windows 10?
• Answer: Yes. This microphone can be used on Windows 10 computers.