Live streaming is an existing trend that is growing rapidly due to the COVID-19. Watching live streams has become one of the daily leisure activities for many people around the world. With the advancement of digital technology and the advent of 5G network services, the expansion's speed of the live streaming industry has accelerated.
It is predicted that the live streaming industry will reach $70 billion in 2021 (Findstack, 2021). Live streaming audience rating in 2021 has increased by an average of 49% compared to 2020 (Stream Hatcher,2021). According to online sources, for example, American users has installed 9.5 live video streaming softwares in average in 2021 (Oberlo).
In line with the development trend of the current live streaming era, Maono has continuously improved its own R&D technology and launched the AM200-S1. Since the launch of AM200-S1, it has received a lot of praise from consumers.
Why is the AM200-S1 liked by so many users?
It is simple to use and allows users to quickly get into live streaming within minutes without wasting their valuable time with complicated operations. AM200 is not only small in size and lightweight but also plug&play, with clear text markings on the operation interface giving users a great deal of convenience, especially for novices who are just starting to try live streaming.
AM200 provides four audio mixing channels that can be easily connected to smartphones, microphones, and other devices. Maono uses advanced technology that allows users to use AM200 to avoid laborious post-editing work.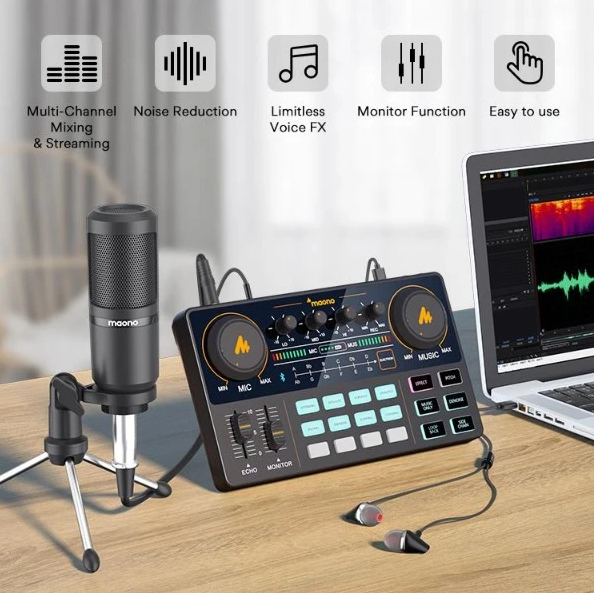 In addition to 8 preset sound effects, AM200 also allows users to customize 4 types of sound effects. This provides a great help to anchors to liven up the atmosphere during the live broadcast.
For anchors, it is important to interact with audiences. AM200's SIDE CHAIN button automatically reduces the volume of the music when users speak, and the music returns to its previous volume after the words are finished, making the whole switching process natural and smooth, reducing a lot of trouble for users.
PITCH button can change your voice into some different voices. Attractively, the noise reduction function of DENOISE button can make the user's tone output more excellent.
AM200 can be compatible with many live softwares. What's more, in AM200's electric sound adjustment area, a change from the previous traditional button mode, has been upgraded to a touch screen mode. This change solves the problem of the noise from the keys affecting the live broadcast effect.
When you want to broadcast live with ease but are not sure what gear to buy, Maono's AM200-S1 is just what you need.
Shining Points of AM200-S1:
Plug and Play: A portable all-in-one podcast production studio
Support 4 devices to broadcast live at the same time
Support dual microphones to broadcast live at the same time
Bluetooth accompaniment
8 preset sound effects and 4 custom sound effects
Lighting can be adjusted to liven up the atmosphere of the live streams
DENOISE button--one-touch to noise reduction
SIDE CHAIN button--automatically lowers the music volume when speaking
PITCH button--change the voice, make the voice more interesting
Condenser Microphone: Pro-Grade Studio Design
AM200-S1 is a good choice for those who like live streaming or want to try it out. If you also want to get a sound card, why not try it?