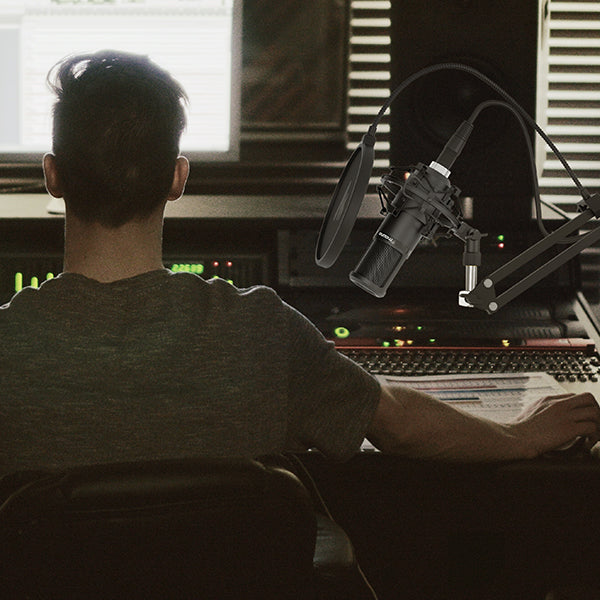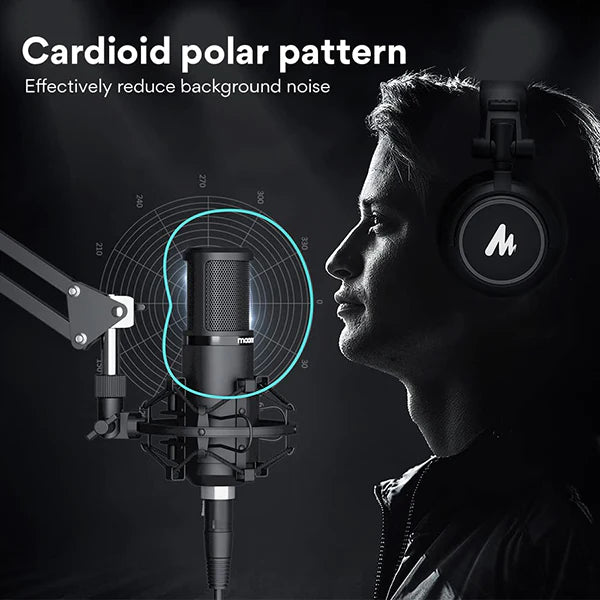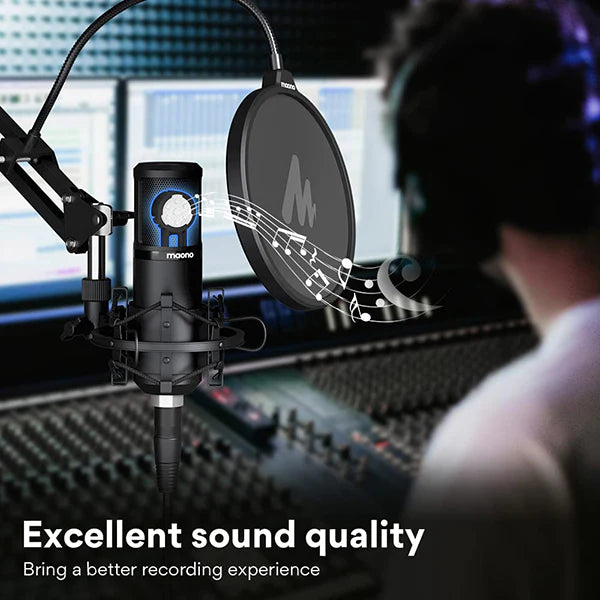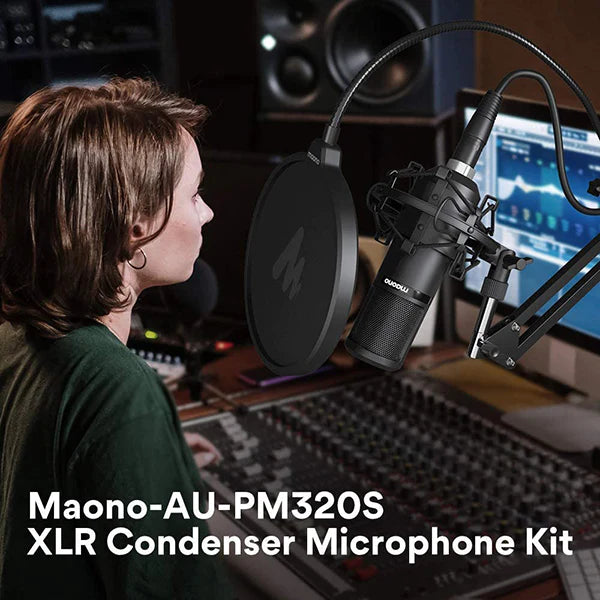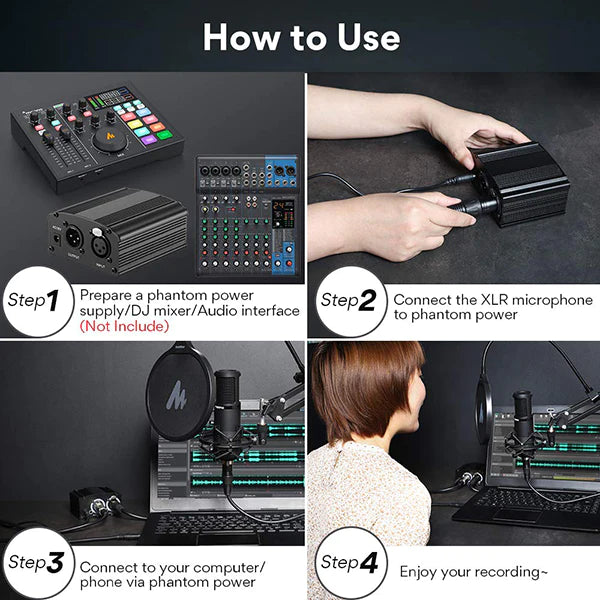 MAONO PM320 Studio Condenser XLR Microphone
The PM320 delivers the ultimate streaming studio setup to your desktop. you have everything you need for professional podcasting, game streaming, YouTube videos, and voice-over work.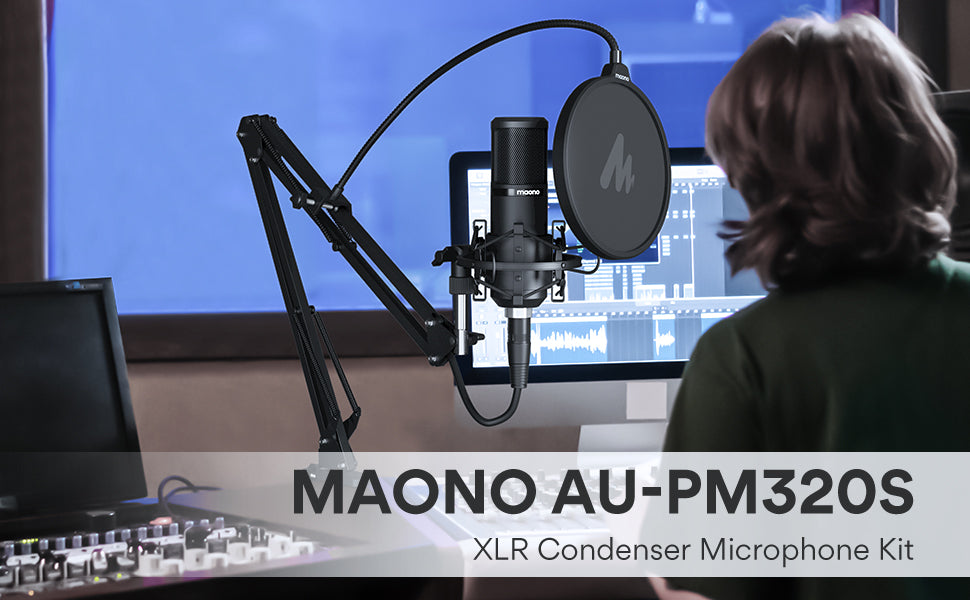 The PM320 XLR Cardioid Condenser Microphone is a professional-grade XLR condenser microphone designed for vocal recording, music creation, and sound productions. Copped with premium circuit components.
PM320 Studio Microhpne can capture any audible sound naturally and engagingly. From the recording of the drum to the string instrument, it is always an ideal choice.
Whether it's big-time broadcasting, professional podcasts or critical studio recordings, this powerful condenser microphone delivers smooth, warm vocals every time. The Maono PM320 XLR microphone captures and enhances the finer details of the human voice.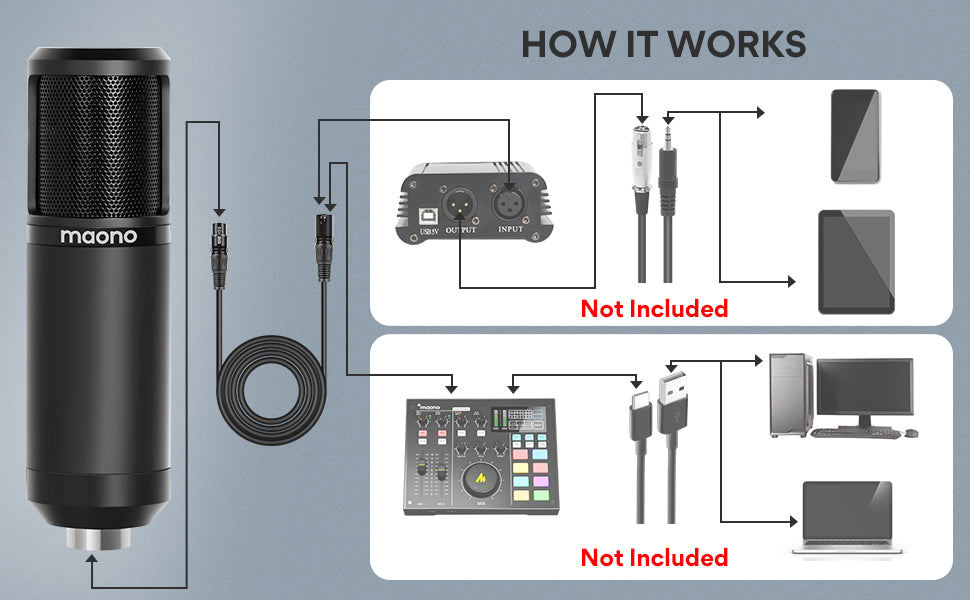 Notice:
Considering the complexity and affordability of the product, the product may have some shortcomings in your application. We kindly suggest that you read the following notes carefully before making your purchase decision.
1. Need additional power
Due to the professionalism of XLR microphones, they must be driven by an additional 48V phantom power supply or audio interface, so you must connect an additional power supply.
2. XLR connection
The cable of this microphone is XLR F to XLR M, so you cannot directly connect to your computer or connect to your computer via XLR-USB cable. You should connect to the computer via the USB cable that comes out of the phantom power supply.
3. Compatibility
This microphone cannot be used with XBOX series products.
Specification
| | |
| --- | --- |
| Polar pattern | Cardioid |
| Frequency response | 20-18,000 Hz |
| Sensitivity | -34dB±3dB |
| Impedance | 200ohms ±30% |
| Max. Input sound level | 140dB SPL, 1kHz at 1% T.H.D. |
| Signal to noise ratio | 76dB |
| Phantom power requirements | 48V DC, 3mA typical |
| Output connector | 3-pin XLR |
● 48V PHANTOM POWER REQUIRED
When you want a great audio experience with the PM320S XLR condenser microphone, you need to connect the microphone with 48V phantom power/an audio interface/a mixer/a preamp first!

●HIGH CONFIGURATION AND EXCELLENT SOUND
Built-in large Dia.16mm condenser capsule, Custom-engineered low-mass diaphragm provides extended frequency response and superior transient response. High-SPL handling and wide dynamic range make wide versatility. This high-quality PM320 XLR microphone is ideal for recording sounds and suitable for podcasting, recording, streaming, vocal, and online chatting.

● LOW NOISE
This PM320 XLR microphone uses a 98 in male to female XLR cable connection, and the Pro-grade microphone cord is designed for microphones. Cardioid pointing can reduce the pickup of surrounding noise and bring you an immersive recording experience. The shock absorber can reduce the noise caused by vibration. Pop filter and windscreen cap can lower wind and Saliva interference and make your voice clear.

● FULL METAL CONSTRUCTION
Higher standard microphone craftsmanship, PM320S cardioid microphone uses high-quality materials to protect the microphone from being hurt easily as well as the internal structure. The adjustable scissors arm bracket is made of an aluminum alloy structure, which is durable. Foldable, easy to carry. After professional multiple drop tests, the quality is worth guaranteeing!

● PACKING LIST
package includes microphone*1, boom arm*1, metal shock mount*1, pop filter*1, windscreen*1, XLR to XLR cable*1 and User manual*1.
● Question: Do you need a software program to use this microphone?
• Answer: Not need, it's plug and play, no need to install any software and drivers.

● Question: If I buy this mic, do I need to buy anything extra? does this microphone include a cable and stand?
• Answer: Not needed. It provides XLR Condenser Microphone, Adjustable Scissor Arm Stand, Metal Shock Mount, Pop Filter, Foam Mic Windscreen, Table Mounting Clamp, XLR Cable.

● Question: Is the mic good for a female rock singer to use for recording vocals?
• Answer: Yes, the AU-PM320S microphone is the ideal recording tool for podcasting, recording, streaming, vocals and online chat. Cardioid pointing reduces pickup of surrounding noise, giving you an immersive recording experience. Shock mount reduce vibration-induced noise. Pop filters and windscreen caps reduce wind and saliva interference, giving you a clearer sound.

● What XLR adapter does it need, does it need a female or male adapter
• Answer: The AU-PM320 microphone interface is a male XLR interface. If you need to connect a microphone, you need a female XLR interface cable to connect to the microphone end. But AU-PM320S needs phantom power to be used normally, please make sure your connected device has phantom power.

● How long are the arms of the mic holder?
• Answer: The height of this microphone stand is adjustable, up to 30in, you can adjust it to a comfortable angle to record.