An online radio station is a radio that is streamed over the internet, which means that an internet connection is required to tune in. With the evolution of technology over the past 10 years or so, listening to (and creating) content online has become increasingly popular. In this article, we're going to explain how you can easily start your very own online radio station in just a few easy steps. 
1.Find an idea
The first thing you'll need to do when starting an online radio station is to find a concept. To differentiate your radio from the thousands of others out there, you must choose a theme or genre. Not only will this help define your radio project, but it will also make it easier for you to decide what you would like to broadcast on your station.
Once you have chosen the concept of your radio station, it's time to decide what type of content you want to broadcast. Will you create a 100% musical radio station? A talk radio station? Or a mix of both? 
Don't forget that if you're planning on broadcasting music on your radio, you will need to obtain the necessary licensing to comply with copyright laws. The best option is to contact your local music authorities to get all the necessary information.
Creating an identity for your radio station is also an essential step. When thinking of a name for your radio, remember to keep it short and sweet! The name should reflect the concept of your radio and should be easy to pronounce and remember. 
Your identity also includes the logo of your radio station. Again, it's important to include a visual element that conveys the concept of your station. Your logo should include no more than 3 colors and should include the name of your radio.
When starting your radio project, you need to define a target audience. Who is your radio station aimed at? Having a clear idea of who will be listening to your radio will help you adapt your tone and content to please that specific audience.  
A radio hosting service provides radio broadcasters with online streaming servers. This is, essentially, what allows you to broadcast your audio to the internet. You start by sending the audio from your computer to a dedicated radio server provided by your hosting service. This audio is then sent out via different media connected to the Internet such as a listening link, a website, a mobile application, a connected car, and even connected speakers!
Many hosting services, such as RadioKing, also provide additional features to help manage and share your radio station. These additional features may include various widgets, such as a radio player, to help you give easy listening access to your audience.
2. Get the right audio microphone equipment
The equipment you need to start an online radio station will depend on the type of content you wish to broadcast (live or automatic), as well as your budget. But don't worry, there's no need to break the bank to get what you need to start broadcasting!
Computer & Internet connection
The only equipment you need to start your radio station is a computer and an internet connection. Most computers and laptops made in the last 7 years are more than capable of doing the job! 
When it comes to choosing your operating system (Windows, MacOS…), your choice will largely depend on which live broadcasting software you want to use. Some software, such as Mixxx or VirtualDJ, is compatible with both Windows & MacOS.
If you're planning on broadcasting live on your radio station, we suggest that you invest in a microphone to ensure good audio quality. There are many different types of microphones available, today we're going to distinguish XLR and USB mics: 
USB Microphone: the Maono PM422 USB Microphone is a great choice for beginners with a cardioid polar pattern, meaning it will focus on your voice and ignore background noises. You can easily connect the mic to your computer thanks to the USB output. It includes a wide range of essential features such as a built-in professional sound process chipset, a one-touch panel mute button, and a flexible gain knob. This particular model has a sample rate of up to 192kHz/ 24bit, as well as a 3.3.5mm headphone jack for zero-latency monitoring.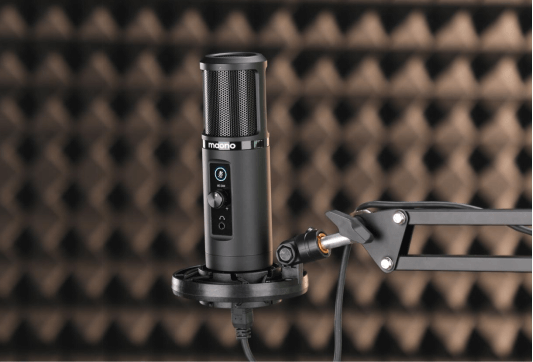 XLR Microphone: this type of microphone requires an audio interface or mixing desk to connect to your computer. The Maono PM500 XLR Microphone is a sturdy solution that's built to last, with zinc alloy and multilayer coatings. It acts as an electromagnetic shield to provide a crystal-clear audio signal. Benefit from a dynamic range of 20Hz - 20KHz thanks to a custom-designed 34mm gold spluttered condenser capsule.
The circuit design is made from high-quality components and a custom-made permalloy audio signal transformer which provides low self-noise and remarkable sound capturing for all your audio needs.
Mixing desk or Audio interface
As mentioned before, if you opt for an XLR microphone, you will need an audio interface or mixing desk to connect it to your computer. These devices also allow you to use more than one audio input, such as multiple microphones or a smartphone.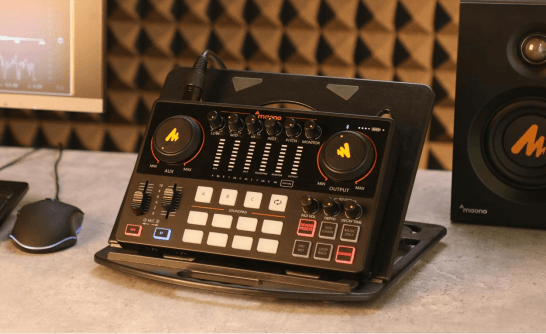 The Maonocaster AME2 Integrated Audio Production Studio has built-in high-quality pre-amps and also includes phantom power, necessary for condenser mics. It provides up to 11 customized sound pads to enhance your broadcasts, as well as a 32Bit high-performance chipset and DENOISE function that reduces any noise or grain. There are many great features to enhance your recordings, such as 6 reverb modes, 12-step auto-tune, 3 modifiable tones (treble, mid-range, bass), and even pitch changer knobs.
Plus, it's compatible with most devices such as PCs, smartphones, tablets, cameras, Windows, Mac OS, etc.
Headphones are the last piece of essential equipment for your radio broadcasting needs. You may feel a bit lost when searching for the perfect pair, as thousands of different models exist.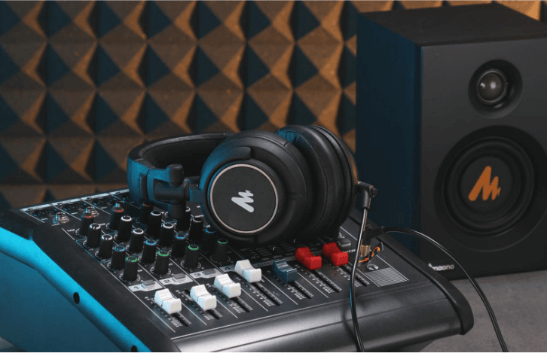 The MAONO MH601 headphone set is an excellent choice, as they have protein leather memory foam for maximum comfort, a 1.50mm driver for deep bass, vivid mids & stereo, and a 3.5/6.35mm jack. They are also extremely convenient and lightweight, folding up to 90° in both directions. 
Conclusion: 
As we've seen, to start your own radio you need to come up with an original idea that will differentiate you from other stations. Make sure to create a strong identity that is reinforced through your name, your logo, and audio elements such as your jingles. Then, once you have chosen a radio hosting provider and have purchased the necessary equipment, you're ready to start broadcasting to the world!
Author Bio: Anaïs Salenbier
Anaïs has been the International Content Manager at RadioKing since 2018. Her main task is to create written and video content to help people develop and improve their radio projects. Born in the UK, she has lived in France for the past 10 years and has a real passion for music and audio.